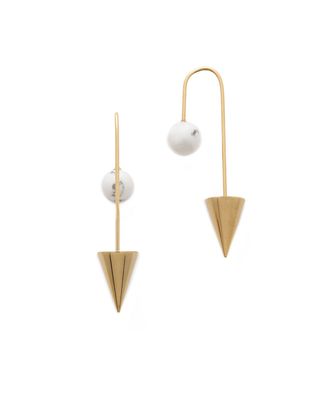 This week, the Cut is doubling down and grabbing life by the BALLZ.
As seen on Golden Peacock Margaret Zhang, Australian brand Amber Sceats's jewelry incorporates your typical "rock" embellishments like spikes and chain links in fresh and minimalist-inspired ways. Take these Eleanor earrings. With points of interest at both ends, they're not exactly the same old studs you're used to wearing. Instead, you unscrew the spike and then thread the chain through the ear so that the two different attachments dangle below the lobe. They're subtle enough to wear with a work-appropriate dress, though if you're more ballsy, you could also sweep your hair up and use them to highlight other piercings.
Amber Sceats Eleanor Earrings, $119 at Shopbop.