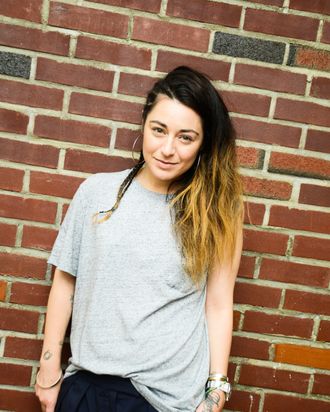 Photo: Carly Erickson/BFAnyc.com
In a year when crop tops, floor-length capes, and jumpsuits were considered on-trend for a modern bride, Houghton — the New York–based brand created in 2012 by designer Katharine Polk — has forged its own path in offering alternatives to traditional bridalwear. Or, as the designer herself calls it, "ready-to-wear you can get married in."
Named as a tribute to Katharine Hepburn — whose middle name was Houghton — the brand draws inspiration from the Hollywood icon's nonchalant aesthetic. At Houghton's gypsy-inspired April bridal show, highlights included a floral wide-leg jumpsuit (worn with a shearling gilet), a sleeveless metallic sequined sheath, and a dreamy fluted pink halter-neck gown. There were even a few oversize, minimal men's looks in the mix, for the groom who loves Public School. The collection was bold, radical, even, in the context of New York Bridal Week, usually the province of floaty, hyperfeminine white gowns. 
A Badgley Mischka alum, Polk launched bridalwear after Houghton's debut ready-to-wear collection for Fall 2012 — filled with understated ivory gowns — caught on with bridal clients. The brand has produced twin lines since then, with styles from its ready-to-wear collection often appearing in white or ivory for bridal season. Polk's past bridal offerings have ranged from minimalist separates, Rihanna-esque sheer-mesh gowns, trapeze jumpsuits, floor-length Chantilly lace capes, and filmy T-shirt styles paired with fuchsia heels. Though Houghton is not the first brand to integrate ready-to-wear elements into its bridal collections, it's tastefully defied the basic poufy wedding dress in a way that speaks directly to a younger generation of women. As the New York Times noted, brides are increasingly veering from tradition in favor of bridalwear that's more in line with their personal style, like crop tops and drop-crotch trousers.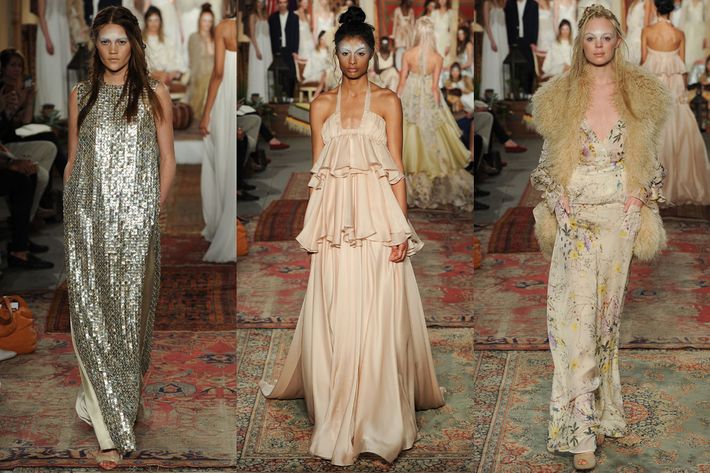 Houghton's growing influence in the bridal sphere has been duly noted by fashion editors, and its clothes have developed a loyal following among celebrities such as Lily Collins, Kate Mara, and Zosia Mamet. While some stars wear Houghton's bridal gowns on the red carpet, other clients marry in its ready-to-wear. This blurry divide between ready-to-wear and bridal — "Why should people have to label it?" said Polk — is why the designer will drop the title "Bride" completely as of this season, lumping both collections under one name. For September's Fashion Week, the designer has promised "Summer of '69"–inspired beachy whites and is teaming up with M.A.C for the nail and beauty selections. For October's bridal market, she has more up her sleeve: Think lingerie and menswear.

A self-described '90s girl, Polk draws inspiration from the strong women she admired growing up, like No Doubt–era Gwen Stefani.  On her Instagram, you'll find photos of '90s Kate Moss, T.L.C., and Sarah Jessica Parker. Polk's uncontested favorite "Houghton girl," though, is the founder of Milk's Made program, Jenne Lombardo. "She gets how I would style it, taking the lace and putting it with a cargo jacket and crazy suede platforms. Or dirty old Converses, or dirty Doc Martens."
Though Polk loves to see how people interpret her clothes, Lombardo's pared-down style speaks to the Houghton aesthetic Polk envisions when she designs. "Sometimes the clothes get misinterpreted as super-feminine and a little too ladylike," Polk says. "I see it styled as more grungy, which is the fun part about it. You can wear it to work or some dirty dive bar." 
Polk answered our Taste Test to gauge some of her fashion and pop-culture preferences.
Elaine from Seinfeld or Rachel from Friends?
Rachel.
Silk or velvet?
Silk.
Romper or jumpsuit?
Both.
Alexa Chung or Chloë Sevigny?
Chloë.
Song of the summer?
[Fifth Harmony's] "Worth It." It's so "pop cliché." It's a guilty-pleasure song of summer.
Favorite retreat in the city?
Chelsea Piers. I have a little knoll by the water.
Drink of choice?
I'm on a hiatus, but when I'm not, Heineken, Champagne on the rocks, or a mezcal margarita.
Favorite bridal moments in pop culture?
Gwen Stefani in pink, because I'm obsessed with Gwen everything. Pamela Anderson in a bikini [marrying] Kid Rock. Cindy Crawford on the beach.