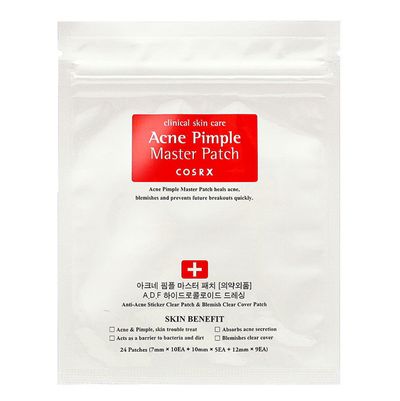 The spot-treatment solution to attacking pimples is as old as pimples themselves: Dab some goo over the area, wait a few days for the blemish to shrink, and then pray that the surrounding area doesn't shrivel, scar, or flake. It's a basic formula in desperate need of an update, which is why Cosrx's Acne Pimple Patches — tiny stickers that claim to target gross zits without any irritation — are particularly intriguing.
The pimple patches from Korea are round, clear, and available in three sizes — from the size of a pea to a dime. Each patch holds a tiny amount of salicylic acid to penetrate zits and reduce their size, and the hydrocolloid in the stickers is recognized by the Korean Drug and Safety Department as a wound protectant, meaning it reduces the chances of scarring and irritation. The instructions are straightforward: Peel off a sticker, place it over clean skin (save the serums and moisturizer for later), and wait for your blemish to shrink.
I tried the patches on a few medium-size blemishes for several nights in a row. Though I slapped on a serum and night cream before I went to sleep, the stickers didn't migrate, holding steady over my zits until the sun rose. Each morning revealed smaller and smaller zits until they fully disappeared on the third day. Sometimes I scar after a breakout, but the stickers protected from my skin from irritating bacteria, keeping it totally calm. By design, the salicylic acid patches won't dry skin like traditional benzoyl peroxide treatments, but they also have the benefit of a targeted approach, attacking zits directly without disturbing the rest of your face.
Though you can wear the patches under makeup during the day, I wouldn't recommended it — their smooth texture doesn't look entirely natural. You want people paying attention to your face because your skin is so perfect, not because you've got stickers on it.
Cosrx Acne Pimple Master Patch, $4 at Cupidrop.