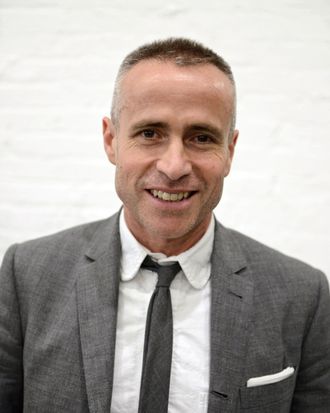 Thom Browne.
Photo: Vivien Killilea/Getty Images
It's been a summer of devastating breakups. Ben and Jen. Gwen and Gavin. Wang and Balenciaga. Today in high-profile splits, fashion edition, we bring you Thom Browne and Brooks Brothers. The patron saint of short-suit wearers, Browne has been designing the Black Fleece line for the brand for the past eight years, but that is coming to a close, according to WWD. The line will be put on hiatus after the fall 2015 season, and it's still unclear what will be done with Black Fleece's three brick-and-mortar stores.
It sounds, at least, like a conscious uncoupling. Browne mentioned to the Cut during NYFW: Men's that he opened his own tailoring facility for his namesake brand, so it's possible he wanted to focus on that. "We had a discussion with Thom and he also had other things he wanted to do, so we thought it was a good time to stop [Black Fleece]," Brooks Brothers CMO Lou Amendola told the paper. He added, poignantly, "Nothing is forever." At least we'll always have those pink-and-green suits.