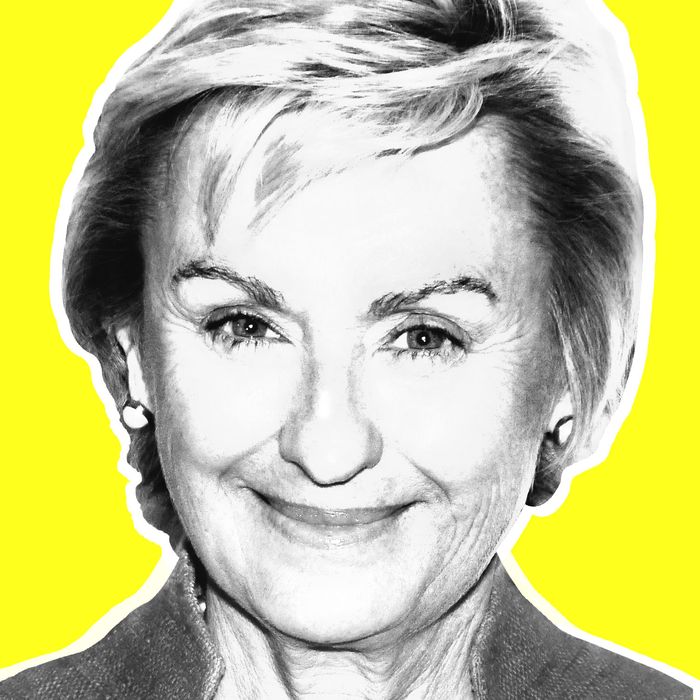 I always found being a woman was a Trojan horse for disarming male interview subjects. An early piece I did in the Oxford undergraduate magazine, which helped launch my career, came out of an invitation to a lunch at the satirical magazine Private Eye. In those days, it was a bit like being invited to come to an inner-circle lunch with Jon Stewart's staff. I was the only girl with all these political journalists, snarky Private Eye editors, and various leaking members of the Labor cabinet, competing with each other to be clever and risqué. No one paid much attention to this 20-year-old student. But I wrote it all up in the same kind of satirical terms they would have done themselves, which was kind of naughty of me, because it was kind of off the record. When it appeared, they jumped about because, as a young woman who didn't say much, they just hadn't registered me.
After I left Oxford and started plying my trade, I felt some of the downside of being a "girl." I joined the staff of Punch as a columnist and was sent to do sexy-babe pieces like being a go-go dancer at a bar in Hackensack, New Jersey, where I gamely put on a beaded G-string. It was a totally male staff, I was the only young woman, and everybody was being witty, and I knew I had just as insightful things to say, but I couldn't make myself speak up. I would be thinking, I should have said that, you know? Which is a classic woman thing. I got frustrated with my own lack of confidence.
I think that experience of feeling ashamed of being so recessive made me want my own team to be clever and define the terms of the conversation. And I got that when I was asked to become editor-in-chief of Tatler at 25, and hired all my young Turk friends. That's when I realized how much I loved being the leader of handpicked people and being part of their raucous learning curve. In the end, what won me confidence was passion — which allowed me to forget self-consciousness. I became passionate about putting out a great magazine, talking about it and promoting it and fighting for it. Leadership per se was never a quote-unquote "goal" for me. It's always been just a desire to get something done. The self-esteem cult is an absolute waste of space. I think you only get self-esteem by having accomplishments. Then you have to learn how to own them, like the boys do.
At Condé Nast, the chairman Si Newhouse and editorial director Alex Liberman always treated me as a creative partner, which I loved. But I found an increasingly irritating sexist outlook from the business side. When I took on Vanity Fair, there were 12 ads in the issue. It was dying. So I had to go out and convince people that this was something they wanted to advertise in. But even though I was the prime business-getter, they pushed aside instincts I had. They fought my event marketing concepts, which is funny when you consider the Vanity Fair Oscar party and the Vogue Met Ball. I always believed The New Yorker subscription price was way too low, and that was a battle only won by David Remnick fairly recently.
There's nothing wrong with holding back at the beginning. Everybody laughs at Hillary Clinton's listening tour, but she's smart about that, because what you don't want to do is to assert yourself before you know anything, you know? When I came to The New Yorker in 1992, I spent the first six months very carefully listening to and interviewing everybody on the staff. The New Yorker was a very male domain. I remember meeting with the top executives, all these men in their horn-rimmed glasses. Funnily enough, the most hostile to me were the cartoonists. Bob Mankoff was convinced I was going to put Demi Moore on the cover and kill all the cartoons! But I did the opposite. I made Mankoff the cartoon editor, and we created the Holiday cartoon issue, which was all cartoons. But I could feel that "Who the hell is she, coming in here?" At one point, George Trow, one of their top writers, referred to me as "the girl in the wrong dress."
I hired a slew of great women at The New Yorker — Dorothy Wickenden as executive editor, Pamela McCarthy as deputy editor, Lee Aitken and Susan Morrison as senior editors, all women, who, like me, had young children. We all had each other's backs. There was a wonderful female complicity at The New Yorker because we wanted to get home to our kids, so we didn't muck about at the end of the day. Instead, we would fax each other half the night — the faxes would start whirring after 9:30 p.m. We did really well together, as a group of working women. And I was so happy there, I probably would have never left, but I got so frustrated with my exclusion from the business vision. I was always fond of the ebullient president of Condé Nast, Steve Florio, but I would find that if I disagreed, he would say to the management, "Tina's having a tantrum about this." I'm not having a fricking tantrum — I just don't agree! It's not a tantrum. By the way, there's nothing wrong with being emotional about something. If you care about something, if you're passionate, you should be a bit emotional about it. Eventually, Si Newhouse deputized Steve Florio to take me to lunch and "settle me down." I told Florio that I was restive because I wanted The New Yorker to move into books, radio, independent film production, and animation for the cartoons. Florio replied, "You'll never leave Condé Nast. Who's going to give you a dress allowance?" "Okay, that's it. I'm leaving." And I did.
What was exciting to me about launching Talk with Harvey Weinstein and Hearst was the opportunity to do all of that. And indeed, our Talk book company was a great success. We had six best sellers in two years. The magazine failed, but it remains, I feel, one of the best I have done. But Harvey was the boss, not me! I wanted it to be a high-low, gritty European newsmagazine on newsprint. And he wanted it to be a "glossy magazine." And then just when it was starting to work, 9/11 killed all the ads. The closing of Talk taught me so many things — primarily much greater care in the forming of partnerships and what the expectations are.
I got another great opportunity when Barry Diller asked me to come and found a news site, which became the Daily Beast, in 2008. I wasn't in charge of anything to do with the business side, but while at the Beast, I started a passion project called the Women in the World Summit. From the first year, it became clear how much energy and momentum the summit was generating, and how we had stumbled on to a rising global women's movement with extraordinary voices, now fueling so many entrepreneurial efforts, new conferences, political action, and video growth online. Because it was a sideline, I was able to start building Women in the World — business and content — and it excited me so much I decided that's what I wanted to do next. I formed Tina Brown Live Media and I asked IAC if I could take the summit with me. (They still own 20 percent.) And, as CEO of TBLM, now is the first time where I am really the boss! It's wonderful! It feels absurd that I've been an editor all my life, but never in charge of the enterprise as a business. It's very exciting to be able to create and hone a company exactly as I wanted, to come to work for my own company. I wish I had done it before. But now, you can't just walk out the door and say, "You know what? I'm leaving." You can't say, "I've had it with this." So it's more onerous. You're the face of it.