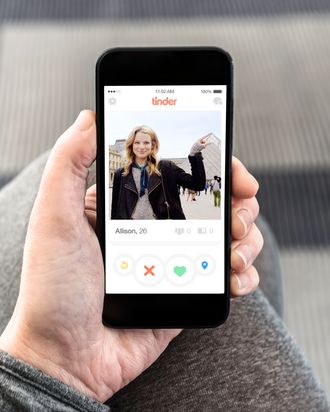 Photo: Getty Images, Courtesy of Tinder
After last week's much-discussed Vanity Fair story that painted the app horny millennials use in a negative light, Tinder is now taking a swipe at the magazine and the writer of the piece, Nancy Jo Sales. When Sales tweeted a link to a survey that claims 30 percent of Tinder users are married, Tinder's Twitter account decided to snarkily fact-check her — and then some.
Saying their internal data proves only 1.7 percent of their users are married, Tinder got more and more combative:
The company continued to say that millions of matches had been made through the app, and especially in countries where connections might be all but impossible or even illegal.
"The Tinder Generation is real," the app tweeted. "Our users are creating it. But it's not at all what you portray it to be."
Vanity Fair has not replied, but Sales, who was initially polite, grew snippier as Tinder users also challenged her story; she then returned to retweeting supporters of her take on dating culture and her interaction with Tinder.
The whole thing reads like one of those great couple fights you overhear on the subway. Let's hope these two crazy kids do end up together. (Unless one of them is married.)