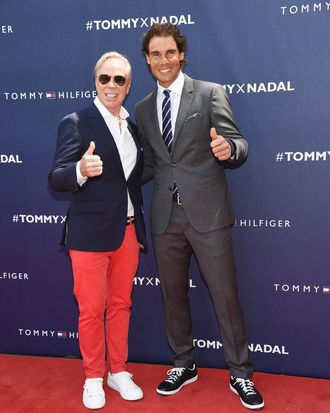 Photo: Gary Gershoff/Getty Images
Tommy Hilfiger hosted a tennis match in Bryant Park on Tuesday featuring Rafael Nadal squaring off against fashion models Chanel Iman, Constance Jablonski, Hannah Davis, and Noah Mills, with blogging icon Bryanboy serving as ball boy. Rafa is Hilfiger's newest brand ambassador, showing skin in steamy underwear and fragrance campaigns.
Tennis and fashion often go together; look at Anna Wintour, who is famously often found in the bleachers at the U.S. Open. Why does the sport hold such appeal for fashion people? "Because it's one-on-one, it's not one team against another, the challenge is quite competitive," Hilfiger told the Cut. "Serena [Williams] is out there on her own, playing someone who is trying very hard to beat her, and it's a lot of tension, a lot of effort. A lot of training goes into it, a lot of mental [drive] goes into it, so it's an exciting sport."
But the designer is not in love with what pros wear on the tennis courts these days. "I think the clothes could be much better," he said. "I really do. I think the clothes were incredible in the '80s, when Fila did the striped shirts, and McEnroe and all these guys were wearing really cool tennis clothes." Hilfiger doesn't think that today's tenniswear is as exciting, but don't look to him to redefine the uniform. "The Nikes and Under Armours and Adidases of the world really have that cornered," he said.