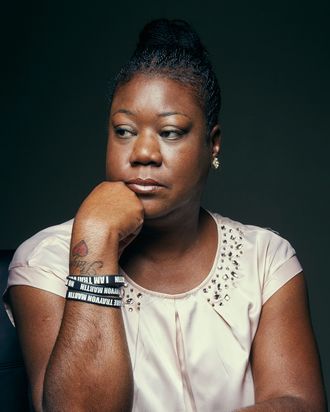 Black Lives Matter is, in a sense, Trayvon Martin's legacy. The hashtag first began appearing when George Zimmerman, the neighborhood-watch volunteer who fatally shot the 17-year-old as he walked home in a small Florida town, was acquitted in July 2013. While Zimmerman walked free, Trayvon's parents, Tracy Martin and Sybrina Fulton, found themselves at the forefront of an urgent new national movement that has only been fueled by a series of other shootings of black youth by the hands of police, as well as several deaths while in police custody. Fulton, at first unwilling to be a spokesperson, has since grown into her role, traveling around the country to speak about racial violence on behalf of the Trayvon Martin Foundation, and connecting with the "Circle of Mothers," women who have lost children to gun violence. This week, one year after Michael Brown's death and more than three after Trayvon's, Fulton spoke with us about healing, justice for her son, and why, for her, there is no moving on.
Since Trayvon's death, we've seen story after story about the murder of young black men and women. What is that like for you?
It hurts every time I see another tragedy in the news. I feel for those families, I can understand that mother's cry, and that father's yelling. I can understand those things because I've been through it, and I'm still going through it years later. The pain is so fresh, it's like it never goes away. It's better at some times, but it never goes away.
With the Foundation we reach out to the families but I don't like to get involved prior to the funeral. I usually wait until after they have buried their loved ones. Then either Tracy or I, or sometimes both of us, will fly to that city and just show that family support and love. In the past year I've met with the families of some of the high-profile victims like Sean Bell, Amadou Diallo, and Ramarley Graham in New York; Hadiya Pendleton in Chicago; Oscar Grant in Oakland; Michael Brown in Ferguson; Tamir Rice in Cleveland; Jordan Davis in Florida — the list goes on. Last week, I met with Sandra Bland's mother and sister. It's just unfortunate, the shoes they have to walk in and the journey they have to take.
I have a group called the Circle of Mothers that brings together mothers from all over the United States who have lost their children to violence. We had a retreat in May. It was an opportunity to be in the same room and to say to each other, "I know how you feel." I noticed that women tend to heal in a different manner than men, so I felt that it was necessary for women to come together and heal together, laugh together — to try to take the grieving process, absorb it, and realize that this is a stage and we have to move to the next step. We have to do something with that grief, we have to do something with that pain, and that hurt, and that disappointment. I want to give mothers a way to remember a child that has been a victim of senseless violence.
You were put on the national stage when Trayvon was murdered. Are you comfortable with your role?
No. I wanted the position to go to somebody else. I wanted somebody else to be the spokesperson for the victims that you don't know the names of, and haven't seen on the news. I struggled with this for a long time. After many tears, and many nights on the floor, and many prayers, I said, "I can do better." I knew I could do better than to open my eyes, look in my hand, and just have nothing there but tears. I have to do my part, I have to do something to remember my son. I have to do something to try to make a difference in this world and try to do something to bring awareness to racial profiling, gun violence, and just the evilness that's going on right now.
We just passed the one-year anniversary of Michael Brown's death. How do you cope with anniversaries like that?
We celebrate when the day Trayvon was born, which was February 5 — we don't mark the day he was murdered, and we encourage other parents to do the same. Because Trayvon was walking home when he was killed, we hold a peace walk. We want our young people and our community to know that they have a right to walk in peace without being followed, chased, pursued, profiled, or murdered.
Just days after the Charleston shooting, many victims' relatives said they'd already forgiven Dylann Roof. Your response was a bit different. After George Zimmerman was acquitted, you said that as a Christian you have to forgive him, but it would take time. Have you gotten there yet?
I'm very honest about my feelings and I have not gotten there. I think the wounds to me are too fresh, and everybody forgives in their own time. I'm just not there. I will never forget, and I have not forgiven. It's a process. I carry it every day and I'm just not there.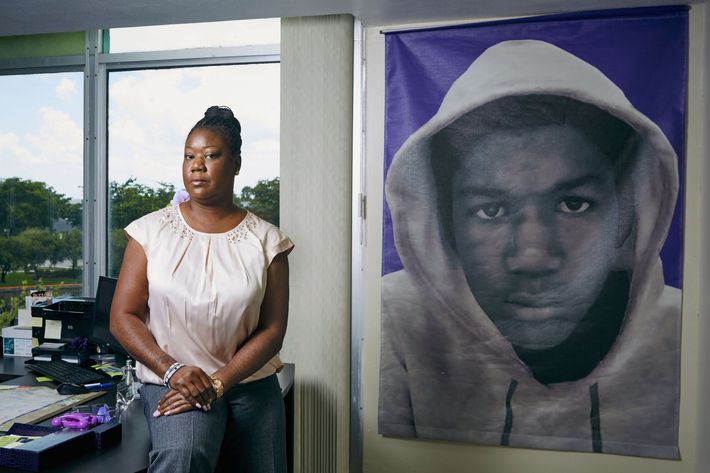 I'm sure you've been watching the situation in Ferguson over the past few days. What's your reaction to seeing a new round of clashes between police and protesters?
I don't think it's everybody in Ferguson that's causing problems and [holding] violent protests. I think there is a small group that actually wants violence. The people of Ferguson have a right to protest. I think the violence comes in because people are so angry that nothing is being done.
Do you think the federal government is doing enough to address violence against people of color?
Absolutely not. I just don't feel like it's enough. If the tables were turned and it was their family member, if it was their friends, and if it was happening to their community, then they would be doing a lot more. I think because it's African-Americans it doesn't seem as important.
We all feel that the government should be more of the voice for the people. I mean, I am an American citizen and I have certain rights, but I feel like those rights are being ignored by the government. When one of these tragedies happens and the victim is unarmed, it seems like there should automatically be an investigation by a third party. It should not be somebody from that same department investigating their own.
It just does not feel like the scale of justice is in our favor at all. A lot of times [the government] concentrates so much on other countries, but right here in our own country, we have not only whites murdering our young African-American men and women, but also black-on-black crime. That should be a major focus as well.
What would be success for the movement? 
I probably would never say we'll ever reach a point where we don't need to protest. But for me to say I'm comfortable, laws would have to be changed, people's awareness would have to be changed, people's minds would have to be changed, the percentage of people going out to vote would have to change, the amount of people reporting for jury duty would have to change, and the education system would have to change. A whole lot of things would have to change in order for me to feel like the movement has been successful, because there are a lot of components.
What do you think about how the 2016 candidates have responded to the Black Lives Matter movement so far?
They just recently had a Republican presidential debate and not one single person spoke about the issue of racial discrimination, or racial profiling, or the racial injustices that are happening here in the United States. You want to be the president of the United States and you can't even address those issues?
You often mention the victims of mass shootings along with those killed by police, but a lot of people consider those separate problems. How are the issues similar to you?
It does not matter who's behind the gun when you're talking about senseless gun violence. I know a lot of people want to separate them and say, Okay, well, this was a police shooting, this was a neighborhood-watch shooting, this person was just a citizen, this person was a foreigner, or an immigrant. We're talking about the method by which they were murdered. They were murdered by a gun, whether it was a machine gun, an automatic, or a semi-automatic. People are being murdered on these streets every single day. What is America doing about that issue?
Well, let me ask you that. What should we do? 
Don't wait until something tragic happens to you, or someone in your family, or a close friend, or a neighbor — get involved now. Don't just get angry and "like" a post on Facebook or other social media. Try to do something where you are volunteering your time, where you are volunteering your talent, or making a donation. These organizations that are fighting this fight cannot do it without the proper funding. It's important to contribute to nonprofit organizations so that they can do the work.
If you want change, it starts with you. I can't expect anybody else to make change if I'm not doing anything. That's why I try to do my part, I try to do what I can to help my community, and what I can to help other families.
This interview has been edited and condensed. Learn more about the Trayvon Martin Foundation at the organization's website or on Facebook.