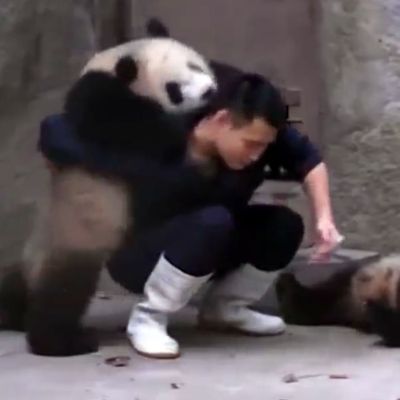 It's the last weekend in August, which means it's the last "Summer Friday" you can duck out early without your boss thinking you're super-lazy. Gather some snacks and read these eight good things that happened this week before you head home for the weekend.
1. Colorado will remain a birth-control utopia, at least for another year. A group of foundations banded together this week to extend another year of funding for a state-wide program that provides free IUDs to teens in the state. The program has dropped the teen pregnancy rate by 40 percent since being implemented in 2009.
2. These pandas fought the enemy, and the enemy was their medicine. Two pandas are no match for one human.
3. The last Sierra Leone Ebola patient left the hospital this week. If no more outbreaks are reported in the next 42 days, the country will be declared Ebola-free.
4. A North Carolina man who lost the engagement ring during the proposal got it back — and she said yes. Matthew Picca dropped the engagement ring into ocean while attempting to propose to his girlfriend, Kayla Harrity, but with the help of some good Samaritans and a three-hour search he was able to recover it and give Kayla the proper proposal she deserved.
5. A baby porcupine went on display at the Bronx Zoo. And despite his spikes, he is adorable.
6. Jennifer Lawrence and Amy Schumer announced they're writing a movie together. The two are 100 pages into the script and will play sisters.
7. A new study shows school lunches are getting much healthier. Nearly 80 percent of schools offered two or more vegetables per meal in 2014, according to the Times.
8. A stolen pug was reunited with his owner. And neither could be happier.