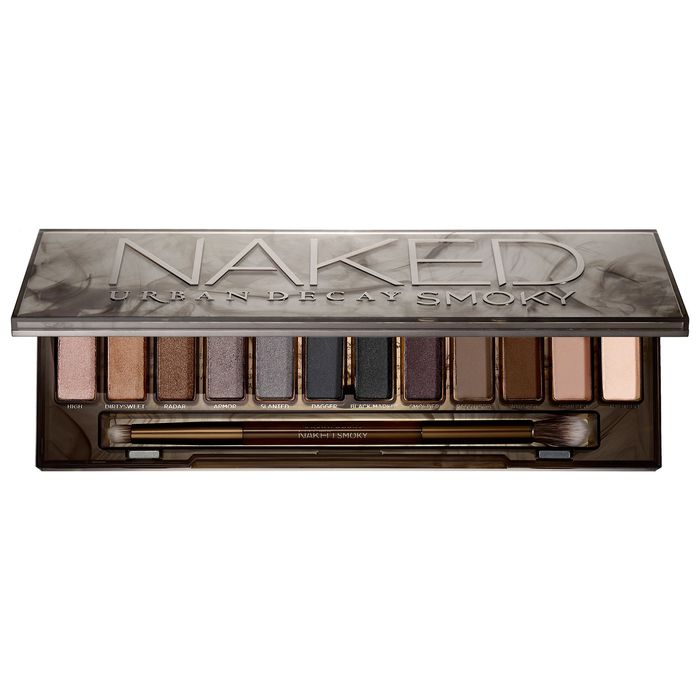 Urban Decay began its reign of "naked makeup" with the original Naked Palette, an assortment of brown shadows that co-founder and creative director Wende Zomnir thought any woman would appreciate. Wildly successful and perennially in-demand, the wait list for each iteration of the cult product grows faster than brows on a wonder drug. But the latest, Naked Smoky, looks and feels very different from its predecessors. Does it live up to expectations?
It threw me off to learn that the palette is designed around creating smoky looks. Urban Decay's Naked range is built on a platform of natural-ish eye looks, and the smoky eye is anything but. I tried the "Smoky Cat" look from a guide enclosed with the palette because its brown base seemed the least dramatic and the most amenable to daytime wear.
Following the instructions, I began shading the inside corner of my eye with High, a shimmery Champagne hue, and then blended Dirtysweet, a bronze color, in the center of my lid. Over Dirtysweet I applied Radar, a shimmery deep brown, which created a rich dimension that looked natural yet fancy. Using the palette's brown matte, Whiskey, I shaded the crease above my eyelids, which rounded the final step for me (I opted to skip the "cat-eye steps" because they required additional products that weren't provided with the Naked Smoky palette). The result was a subtle daytime smoky eye that lured me into understanding why this palette was generating as much positive buzz as its predecessors. My eyes were brighter and softly contoured to look bigger (thanks to the brown shade swept over my crease). It was certainly a smoky eye, but it wasn't too much, ringing true to the "Naked" franchise. Over the course of a day, I discovered that the colors were fairly long-lasting, too. As the evening neared, I started to notice a few smudges, but even that was okay, because a smoky eye is flexible in that a smudge or a smear can look intentional.
In terms of color payoff, the shimmery shades — High, Dirtysweet, Radar, Armor, and Slanted — are extremely sheer and require additional coats to show off their color. On the flip side, the matte shades are so opaque that just one swipe deposits more than enough color. All of the shadows are encased in a sturdy compact that feels expensive, although the accompanying brush is lousy and can hardly grab even a moderate amount of color. It's so bad that I eventually employed my Artis Fluenta brushes to get the job done. But bad brush aside, I think I get it. Urban Decay's naked version of the smoky eye is a soft brown, gray, or eggplant that looks subtly enchanting but not overwhelming. It's the smoky eye on sedatives, and that, I think, is what all the fuss is about.
Urban Decay Naked Smoky Palette, $54 at Sephora.