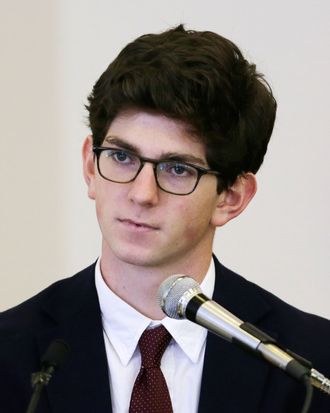 Owen Labrie.
Photo: Charles Krupa/Corbis
After hearing closing arguments this morning, jurors began deliberations in the case of Owen Labrie, a 19-year-old graduate of St. Paul's School in Concord, New Hampshire, who's accused of raping a 15-year-old freshman during his senior year. She says he raped her; he maintains that isn't possible, because they didn't have sex. They agree that, in the days before he graduated in June 2014, Labrie sent an email to the girl inviting her to join him for a "Senior Salute" — an apparently long-standing ritual at St. Paul's whereby older students try to hook up with younger girls before they graduate. After some initial reluctance, the girl agreed to meet Labrie. Using a key passed around by students, Labrie took the girl to a mechanical room on campus, where the alleged assault occurred.
Labrie says the encounter was consensual. Yet the case has exposed a disturbing — though not exactly surprising — culture of sexual entitlement at the elite boarding school. This morning, in the closing arguments, defense attorney J.W. Carney blamed the school's "Senior Salute" culture for the "tragedy that befell both these kids." According to reporter Jessica Bidgood's tweets from the courtroom this morning, Carney emphasized the accuser's cordial emails with Labrie, a friend's account that she said she might give Labrie a blow job, and the fact that she shaved her pubic hair before the encounter. He said that, looking at the accuser's words, statements, and actions, it was "impossible" to conclude she wasn't consenting, and suggested that maybe she was lying about the assault because her sister had previously dated Labrie.
Prosecutor Joseph Cherniske countered that Labrie purposefully chose a dark room "where no one would hear a 15-year-old girl say no." He pointed to a message Labrie had sent a friend, writing that he "pulled every trick in the book" to convince the girl to have sex with him. "You only need tricks if someone says no," Cherniske said. He pointed out that the girl told Labrie no, resisted when he tried to remove her underwear, and pulled his head away when he tried to perform oral sex. "Each of these things alone is enough under our law to tell you she didn't consent," he said, adding: "She can agree to kissing without being fingered. She can agree to taking off her pants without agreeing to take off her underwear."
Like many rape trials, the jury — made up of nine men and three women — is now tasked with determining credibility within an elaborate he-said-she-said narrative. Here's a breakdown of what we've learned from the witness testimonies so far.
The Accuser
When Labrie's accuser, now 16, took the stand last week, she said that she was initially put off by his advances. However, when a mutual friend of theirs urged her to give him a chance, she agreed, as long as he promised to keep it secret. "I didn't want it to be publicized or boasted about," she said. She followed him to the roof of a campus building to which he had the key. She says she thought they might kiss, but nothing more. He took her into a dark maintenance room. They started kissing, and she didn't object. When questioned, she said she lifted her arms so he could take off her shirt, and lifted her hips so he could remove her shorts. When Carney asked if she told Labrie she was uncomfortable with him kissing her breasts, she said she did not.
Then, she says, he began to grope her and bit her chest, and tried more than once to remove her underwear. "I said, 'No, no, no, keep it up here,'" she said in court, signaling above her waist. "I tried to be as polite as possible … I wanted to not cause a conflict." On the stand, she described Labrie "scraping" the inside of her vagina with his hands, and said he licked and penetrated her. Because both his hands were visible near her head, she said, "it had to be his penis." Though it was painful, she said, "I felt like I was frozen."
In court, she said that during the assault, she was afraid of offending him or seeming naïve. "I didn't want to come off as an inexperienced little girl," she said. "I didn't want him to laugh at me. I didn't want to offend him." She said at some points during the encounter, she laughed so that he wouldn't know she was uncomfortable. She said it was nervous laughter. "I was trying to be cool," she said.
"I didn't kick or scream or push. I didn't — but I did say no. I said no three times," she said. "I felt like I had objected as much as I felt I could at the time. And other than that I felt so powerless. I was telling myself, 'Okay, that was the right thing to do, you were being respectful.'"
After the encounter, the girl says she blamed herself for the events. "I thought, I'm at St. Paul's right now, this is graduation weekend, I cannot be dramatic about this." She went to the school nurse for Plan B. When the nurse asked if the sex she'd had was consensual, she said yes. "It was so much easier," she said, explaining that at the time, she was running to save a seat for her parents at her sister's graduation. "It's been really hard to stand up," she said.
Later, she called her mother, and went to get a rape-kit exam at the hospital. Her mother testified that when her daughter called, "she just sobbed hysterically, shaking uncontrollably."
"I was raped. I was violated in so many ways. Of course I'm traumatized," the girl said on the stand.
After talking to friends, she said she messaged Labrie to ask if he'd worn a condom. He said he put one on halfway through, and asked if she was on the Pill. Later, he messaged her, writing, "People have been saying some scary things, considering we never had sex." In court, she said, "I was utterly disgusted and offended that he would believe I was so … able to be manipulated."
The School Nurse
The nurse at St. Paul's who gave the accuser Plan B said that the girl appeared "anxious" and "teary-eyed." When the nurse asked whether she'd had consensual sex, the girl said yes.
The ER Nurse
The nurse who examined the accuser when she went to a nearby hospital for a rape kit said she noticed redness and abrasions on the girl's genitals that were consistent with penetration.
The Classmates
On Monday, four current and former St. Paul's students testified that Labrie told them he had sex with the accuser after the alleged assault.
Andrew Thomson, Labrie's roommate at St. Paul's who is now a student at Brown, said that on the night of the alleged assault, Labrie told him he had taken the girl's virginity. "He seemed a little taken aback, but overall happy," Thomson said. According to Thomson, Labrie had "always had a kind of crush" on the freshman, whom he described as a "princess." Thomson said he cautioned his friend that hooking up with the girl "probably wasn't a great idea, and I warned him that she was a lot younger than us." Thomson denied rumors that he and Labrie were having a "Senior Salute" contest to see who could "slay" more girls.
Another one of Labrie's friends and former classmates, Tucker Marchese, Facebook-messaged him after the incident. "I can't believe you poked her dude," Marchese wrote. "How'd it go from no to bone?" "Just pulled every trick in the book," Labrie replied. In an email Labrie sent Marchese before graduation, he wrote, "Welcome to an eight-week exercise in debauchery … An exploration of the innermost meanings of the word sleazebag." The same email also included the question, "Can sisters be slain in the same evening?"
A current St. Paul's student, who's not being named because he's a minor, testified that he convinced the girl to accept Labrie's "Senior Salute" invitation after Labrie asked him to "put in a good word for him." In court, the student read a series of messages Labrie sent him after he persuaded the girl to meet him: "I will owe you 10,000 BJs," Labrie wrote. The student also said when a group of students asked Labrie whether he'd had sex with the girl, he smirked and nodded, though he verbally said he had not. The student said Labrie later told him that he did have sex.
Malcolm Salovaara, a former St. Paul's student who now attends Dartmouth, said Labrie had told him in January of 2014 that he was making a list of girls he wanted to meet up with before graduation. When Salovaara asked Labrie his favorite, Labrie responded with the name of the accuser. (On the list of 19 girls, which was presented in court, the accuser's name appears in capital letters.) In a Facebook chat from the same month, Salovaara asked Labrie, "Who do you want to pork, more than anyone, bro?" Labrie responded with the girl's name.
The Detective
Detective Julie Curtin said in court that Labrie cried when she first called him to say that she wanted to interview him about allegations that he raped a teenager, and denied the charges. Curtin says Labrie told her that though he put a condom on, he then had a moment of "divine inspiration" and left the encounter with the condom still on. "He said at no time was there penetration," Curtin said. "He said he was 18, she was much younger than him, he would not do that. He said when he got back, people were high-fiving him and congratulating him for, the word he used was 'boning,' the accuser."
The Forensics Specialists
Katie Swango, a state criminalist, said she found "strong indication of the presence of semen" on the girl's underwear. Though tests of the sperm were inconclusive, they did find DNA that matched Labrie's on the underwear. A state police forensics specialist, Kevin McMahon, said that tests for semen on the accuser's genital area came back negative.
Owen Labrie
Labrie testified in court yesterday, highlighting his achievements at St. Paul's: He was a straight-A student, soccer team captain, prefect, and Harvard-bound. He described himself as a child of divorce (his parents divorced when he was 2), and explained that he was on full scholarship at St. Paul's, adding that he was considering becoming a minister after college.
He reiterated that the encounter had been consensual, and while he and the girl had kissed and rolled around in their underwear, they had not had sex. "It wouldn't have been a good move to have sex with this girl," he said. "It wouldn't have been a good choice for me."
Describing the "Senior Salute," as a way "to hang out before the older student graduated," Labrie said that he messaged the girl with good intentions. "I wanted to ask her out," he said. He admitted that he had previously dated the girl's sister for "about a week," and said he had heard that the girl had wanted to keep their encounter secret so that her sister wouldn't find out. When asked about the line in his email "Can sisters be slain in the same evening?" Labrie responded: "That's a rhetorical question, and, um, it's a joke. It's not that funny now, however."
Labrie said that the girl didn't show any hesitation when they started to kiss. "She giggled and I giggled," he said. "I thought she was having a great time." When his lawyer asked whether he "aggressively kissed" the girl's breasts, he said, "I may have, I may have been a little carried away." Labrie said they were dry humping, and he had an erection.
Carney asked Labrie whether, at any point, he put his fingers, tongue, or penis in the girl's underwear; he said no. When asked whether the girl had, at any point, expressed a desire to stop, or whether she had recoiled or drawn back, Labrie said she had not. He said he thought they were going to have sex, so he put a condom on. Then, he says, he changed his mind. "I thought to myself, 'Maybe we shouldn't do this.'" After that, he says he left abruptly, with the condom still on: There was an a capella event he wanted to get to.
Labrie says when he returned to his room that night, he was greeted with high fives and congrats from classmates. He said he lied to his friends about having sex with the girl because "I wanted to look good." He said that the encounter ended awkwardly, but he "wanted everyone to think it had gone great … It was easier for me to just go 'yeah' and change the subject … than try to talk to them about what actually happened," he said.
According to Labrie, he asked her whether she was on birth control after their encounter "because she seemed nervous," and he wanted to reassure her. On the stand, he also said he remembered noticing his boxers were wet — a detail the prosecutor pointed out he didn't tell detectives. ("That wasn't important enough until you found out there was sperm in [her] underwear?")
After the fact, Labrie messaged the girl, writing, "When a boy actually takes your virginity, I hope it's golden," and, "There's a difference between making love and messing around." Yesterday in court, however, Labrie admitted that since the accusation, he has deleted 119 online messages with his friends.