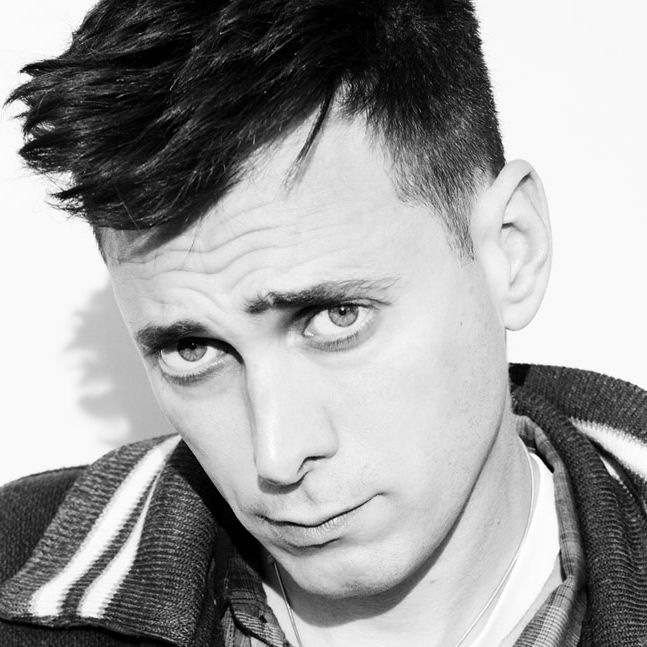 "He spared us nothing. His collection was a tour de force of bad taste. Good taste may be considered ghastly, but nothing could exceed the horror of this exercise in kitsch." A review of Hedi Slimane's latest Saint Laurent collection? No, that's a quote from The Guardian back in 1971, when Yves Saint Laurent showed his controversial Scandal collection. That particular show made people uncomfortable for a number of reasons — not just because the '40s clothes evoked an era of wartime occupation, but due to the ready-to-wear, street feeling of a supposed couture collection, seemingly assembled from flea-market finds.
And it wasn't the only YSL move that would shock the public — he was also accused of glamorizing drug use when he released his Opium fragrance and experienced blowback when he posed nude for his Pour Homme campaign. Even back in his Dior days, he'd undergone ridicule for a 1960 beatnik-themed collection, one of his first attempts to bring what he saw on the street into the elitist fold of couture.
Today, in The Independent, fashion critic Alex Fury trains his sights on the designer who dared to reimagine the house of YSL, arguing that he has "ripped apart [and] quietly gutted" it. There's been nothing quiet about Hedi Slimane's ascent, but that aside, it's striking how much Fury's criticisms fall in line with the same ones leveled at YSL early on in his career. In fact, so much of what Slimane has done in his three-and-a-half-year tenure is straight out of YSL, the man's, playbook. Which is exactly why it seems so preposterous to accuse him of sullying the house's legacy.
As Fury points out, there are striking similarities between the two — and not just the fact that they kind of look alike. Both men worked at Dior, and both introduced new silhouettes there — YSL, the then-revolutionary trapeze dress, and Slimane, the cellophane-tight Dior Homme silhouettes that trickled down into a new ultraskinny norm for menswear. I'd add that both came from immigrant backgrounds — YSL grew up in Algeria, while Slimane was born to a Tunisian mother. (Saint Laurent's upbringing outside France contributed to the furor about the Scandal collection, with critics pointing out that because he didn't experience the Occupation, his callback to the era as a mere aesthetic was offensive.) And as teens, both were bullied for seeming (and being) gay — Slimane recently opened up to Dirk Standen in a rare interview, saying that his affection for ultraskinny styles came from being bullied for his ultrathin, "queer" appearance.
In other words, both were outsiders in more ways than one, and neither seems to have felt entirely comfortable in Paris's hermetic and traditional fashion environment. Each turned to personal retreats — YSL in Morocco, and Slimane in Los Angeles, where he's made his home since leaving Dior Homme, and where he effectively relocated house operations after taking over at Saint Laurent. Most crucially, like his predecessor, Slimane wants to dress the cool kids, though his definition of that might skew more neo-grunge rocker than flower child.

Now, Slimane is receiving some of the same critiques YSL once did. "Slimane's Saint Laurent appeals to the lowest common denominator," complains Fury, echoing the critics who seethed at the house's founder alchemizing streetwear and vintage into an haute couture collection. At the same time that Fury attacks Slimane's designs for appealing to too many people, he says that his planned return to couture is too exclusionary. Huh? Well, Slimane plans to make one-off clothes for friends of the house (presumably including rock stars and actors), rather than show as a part of couture week and design for clients. "Although haute couture is exclusive, it's open to anyone with enough money," Fury writes. But a couture gown can run hundreds of thousands of dollars — that's hardly democratic. As far as the customer base goes, we're talking about a couple thousand of the world's richest people — not even the one percent, but the .001 percent. And designers have been making custom pieces for celebrities forever.

Sure, Slimane could have stuck to slavishly reworking the house's motifs — churning out Mondrian dresses, safari jackets, and Ballets Russes getups — but he was canny enough to avoid playing that card. Most likely, he realized that rehashing those familiar tropes would only bring up constant comparisons. You have to know history to upend it, and Slimane is extremely versed in all things YSL — part of the reason he renamed the house was to pay tribute to Saint Laurent Rive Gauche, its original name. And there's a definite through-line from YSL's '40s flea-market inspirations to Slimane's haute op-shop dresses and ripped tights (the same looks that have been compared to Topshop). But that doesn't make them a retro rehash. As Slimane told Standen, "Yves Saint Laurent invented the idea [of playing] with elements or proportions of past decades in his collections (the 20s, the 30s, the 40s), but it was always in the end about his own time and a creation of its own, the attitude of the moment, the polaroid of a generation."

It seems old-fashioned, when high-low is old hat and a Balmain for H&M collection goes unremarked upon, to be so precious about a brand like YSL. Fashion houses aren't historic landmarks, whose every cornice and molding needs to be preserved. To survive, they need to be living, breathing, relevant entities. YSL's legacy was provocation. In that sense, Slimane couldn't be more on-brand.