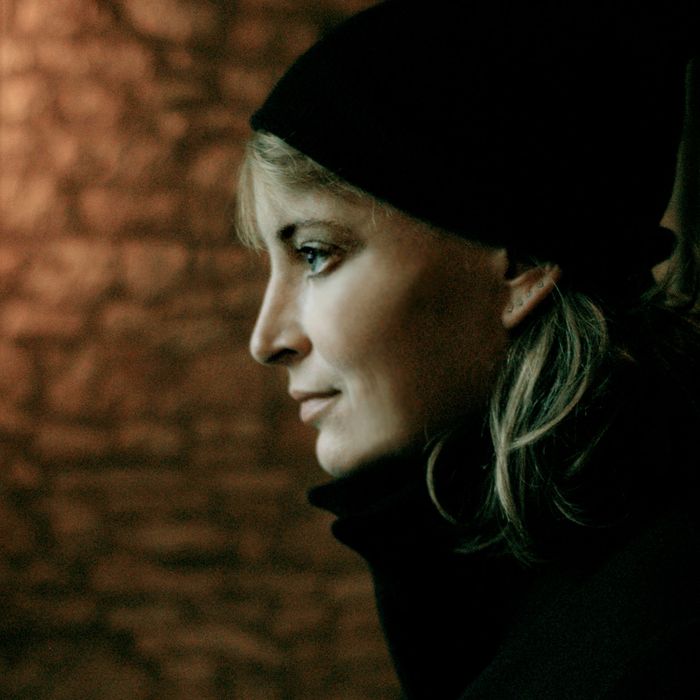 Makeup artist, photographer, and entrepreneur, Ellis Faas.
Photo: Courtesy of Ellis Faas
Ellis Faas is a cool customer. Born in the Netherlands and a veteran makeup artist for over 30 years, she's been the beauty force behind campaigns for Louis Vuitton, Chanel, Gucci, and Givenchy. A few years ago she shifted gears slightly to launch her self-named makeup line. Mostly liquid and cream formulas, the makeup is packaged in slim, silver dispensers that resemble a cross between a pen and a bullet. You could say that Ellis Faas, the makeup brand is much like Ellis Faas, the woman: cool, sleek, and extremely versatile. The Cut caught up with the makeup titan to find out why shimmer is better than contouring and how YouTube makeup videos are like sex.
How do you approach a face?
I'm not a celebrity or red-carpet makeup artist — I'm a storytelling makeup artist. I tell a story on a face — you create a woman that fits a story. The technique of it, the way you make an eye bigger or make it longer, that's something that comes naturally. I use a sponge for foundation because I started a long time ago. Brushes came up 10 or 15 years ago — that was something new. If you've grown up as a makeup artist when that was around, you'll probably always use a brush. I don't think one is better than the other. Fingers work well, too.
What's the longest you've spent transforming a model to fit a story?
I'm really quick. If it's spontaneous and you put it on and it looks right, then it's much more poetic than something you slave over and are really finicky about. It sort of becomes flattened then. I'd rather do it quickly because I want to make it feel alive, and then if it doesn't work, I take it off and start again. The girl is still the girl, even though there's a lot of makeup on her. They call me Ellis Fast. On a shoot it's normal for me to spend between half an hour to an hour for full makeup. A lot of people take three hours.
How do you feel about the increasing popularity of contouring makeup?
I think it should stop. It's like sculpting, and not everyone is a sculptor. It's so technical and it can look so silly if you do it wrong. When you contour, you look different in every light. If the light comes from this way, it looks horrible, if it comes from another way it can look okay, but not all the time. You can always put a little shimmer. Shimmer will always make things come out. You can play with shimmer and matte-ness, but use it subtly. If you want the bridge of your nose to stand out more, then yes of course, put some light shimmer on it and it will come alive. Shimmer is the most subtle way to do it. If you start putting dark shadows under your cheekbones, it looks so wrong because it doesn't become one with your face.
What are your thoughts on how makeup artists are now turning to social media to teach techniques?
I started noticing the YouTubers. It's like sex to them. They know so much and they are so obsessed with it. I thought I was obsessed, but these women are completely obsessed. I love the way they play with it. I would completely encourage it. Go ahead, do your contouring and look like Kim Kardashian, that's fine to play with it, but it's not for real life. Just don't expect to look natural and gorgeous. But if you want to look mask-y, then go ahead. You can't really contour and look natural at the same time. For a picture, yes. For a movie, yes. But for real lighting on the street, it's too much.
What are your hero products?
My eye shadows are my hero products. The best-selling products are the mascara and concealer, but eye shadows are more different from anything else. It's a whole new way to do makeup. It's also a bit scary because it's a different technique. I want to persuade people to try it. It's a creamy eye shadow and you have to get used to it, though it's very easy. You can shape with it, line with it, and basically do whatever you want with it. There are 21 colors. You can also use the lighter colors as a base for anything because there is a bit of stick to it. And it stays. I would like to do eyebrows next, because I can't find a texture that I like.
Your makeup packaging is so different.
I wanted something compact. The inspiration was the military because they carry so many things on their bodies, but still have their hands free, like makeup artists. Makeup artists always have to carry everything around set, but still have their hands free. [Picks up makeup holder.] This is the gun that you load. [Picks up eye shadow.] And this is the bullet. You can have this at home or travel with it. I wanted it to be long and elegant, and I wanted it to also feel like a pen.
I call all of my colors "human colors." For example, my red lipstick is the color of blood. All humans have the same blood color. My red lipstick, 101, is the color of blood and looks good on all skin colors. There's also a red that is the color of a bruise. The whole is meant to fit anyone, because they are colors already found in people.
This interview has been edited and condensed.