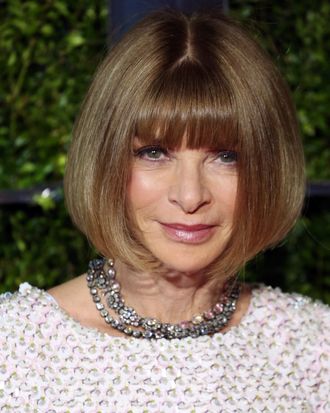 Photo: Walter McBride/Getty Images
Get ready to revise your estimation of Anna Wintour, because, per a WWD report today, she's a fan of imperfection — and also of Zara. Huh? Well, the Condé Nast artistic director spoke to the Glamour staff last week, according to the paper's "Memo Pad" column, and she addressed some burning staff questions, notably the topic of perfection. The paper's source said she emphasized the importance of "not hyperventilating about perfection," adding, "Imperfection is fine." But really, how many people have paid open lip service to perfection? It's one of those things everyone says is unimportant, but then seems to fetishize, kind of like nice handwriting.
Wintour also talked about Zara — not the Zéline and Zalenciaga offerings on display, but rather the way the fast-fashion giant has become what it is today. After Burberry's Christopher Bailey told her that the company doesn't believe in holding meetings, Wintour fomented a plan to check out the company's headquarters in Spain. Surely that qualifies her for superfan status — after all, the rest of us just shop there.