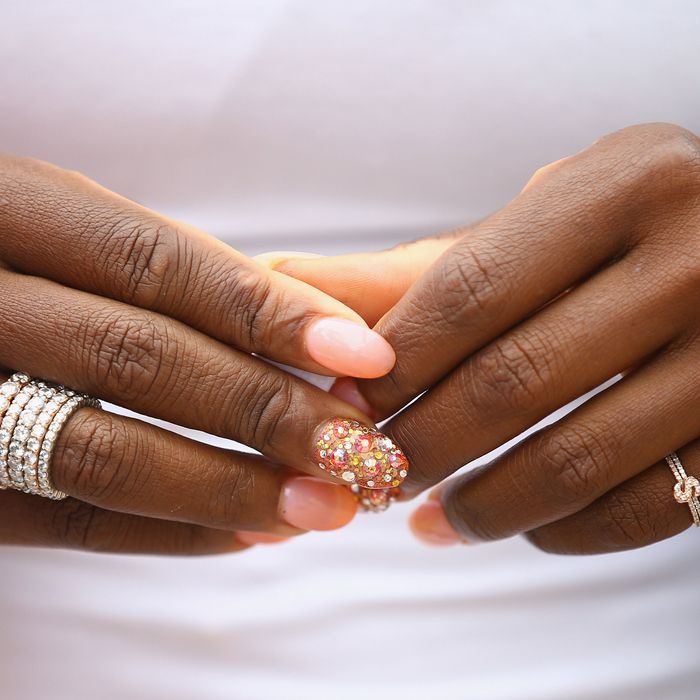 Serena Williams at the Sony Open in 2014.
Photo: Al Bello/Getty Images
Five years ago, somewhere between bouncing back from a nearly career-ending knee injury and regaining her spot as the No. 1 seed in women's tennis, Serena Williams decided to become a nail technician. In the years since, her tennis career can be mapped not only by her quickly growing wins, but by her wildly decadent nails. Colorful, often bedazzled, and unapologetically long, they are her personal trademark amidst tennis's ho-hum dress codes. Here's a look at her most memorable manicures, including the brightest, the boldest, and the most badass.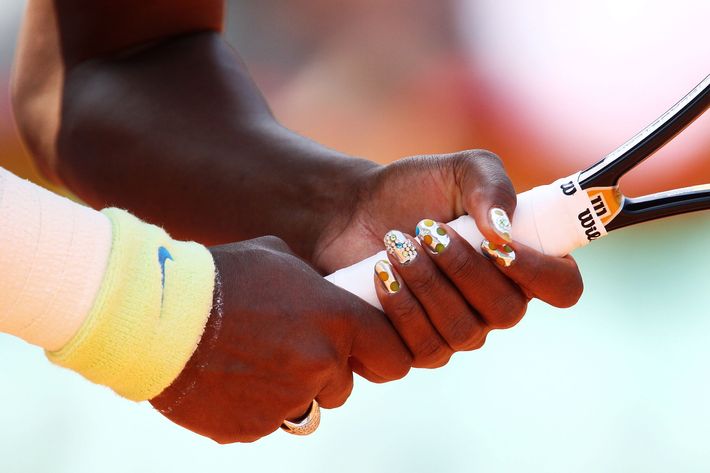 The Easter Eggs
During her 2010 appearance at the French Open, Serena's nails were a bit spotty. Maybe she was really vibing with polka dots — but on closer examination, maybe these tips were inspired by a certain Mario Bros. sidekick.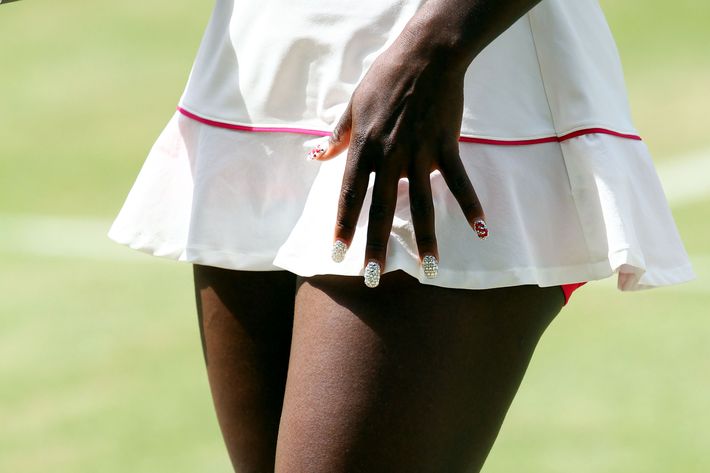 The Crown Jewels
Here's one way to lighten the prim mood at Wimbledon: Bedazzle with reckless abandon.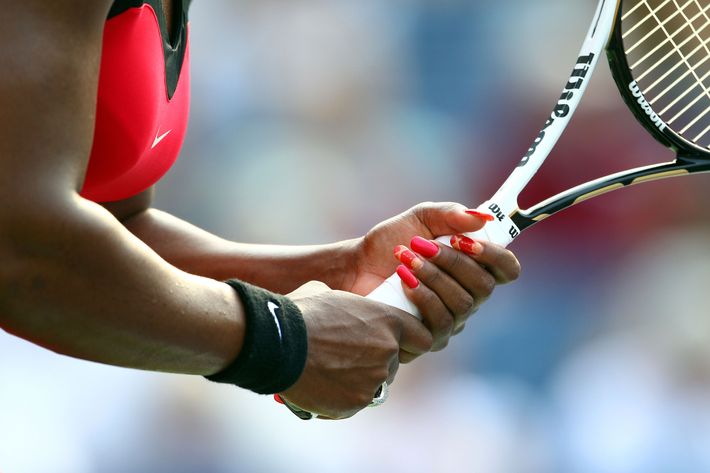 Magic Spike XXL
What, you thought this was a game? Clearly chugging biotin by the pound, Serena paired two-inch nails with an easy win at the start of the 2011 U.S. Open.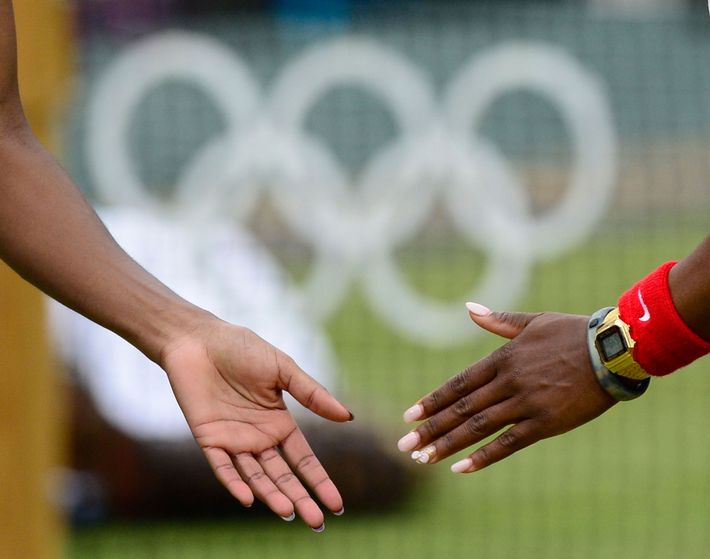 Sister, Sister
When it came to the doubles round at the London Olympics with her sister Venus, Serena switched things up a bit. This time she chose a pale-pink base and a pretty accent bow for her manicure. Kind of cutesy — but there's power in being underestimated.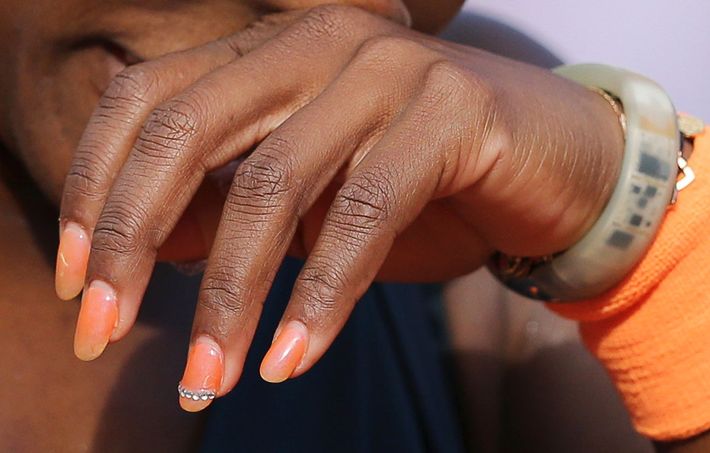 The Fitbit Upgrade
How does one balance out an unstylish but utilitarian fitness accessory? With sherbet nails and rhinestones, of course. The nails were carefully painted to match Serena's wristband at the 2013 French Open.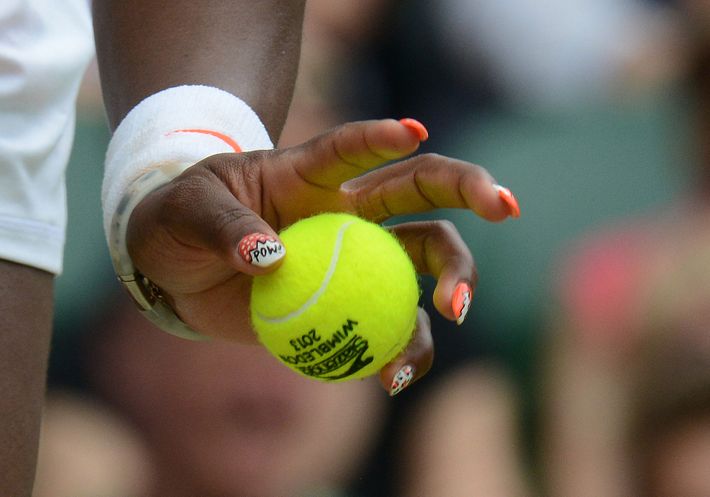 The To-Do List
Most people require a notebook or calendar to keep track of their duties for the day, but Serena only needs one inch of nail. "Pow" was first on her to-do list at Wimbledon in 2013.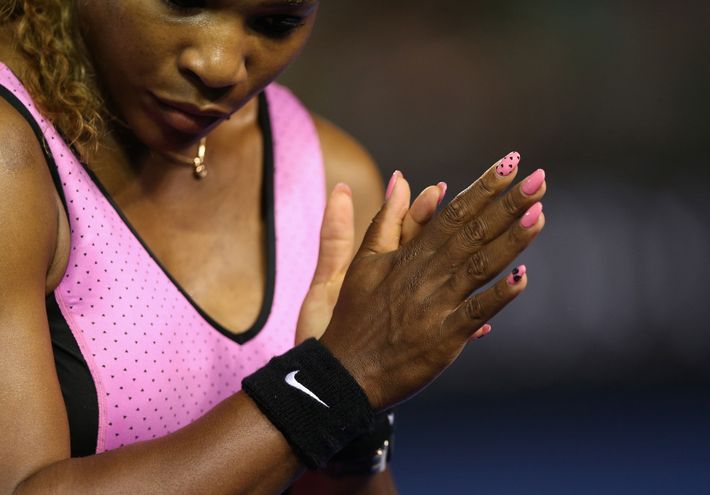 Matchy-Matchy
During the 2014 Australian Open, she matched her nails, dress, and wristband with painstaking detail. For Serena, the path to the winner's circle is paved with color-coordinated gel.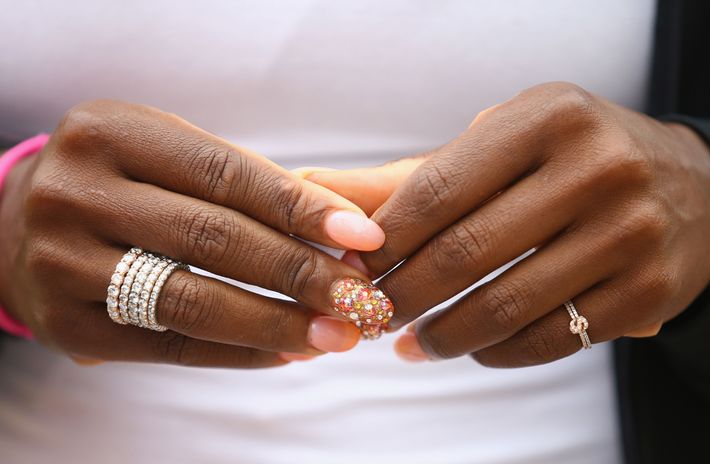 Bling Ring
When life hands you two giant diamond rings, you must complement the accessories with an equally bold accent nail.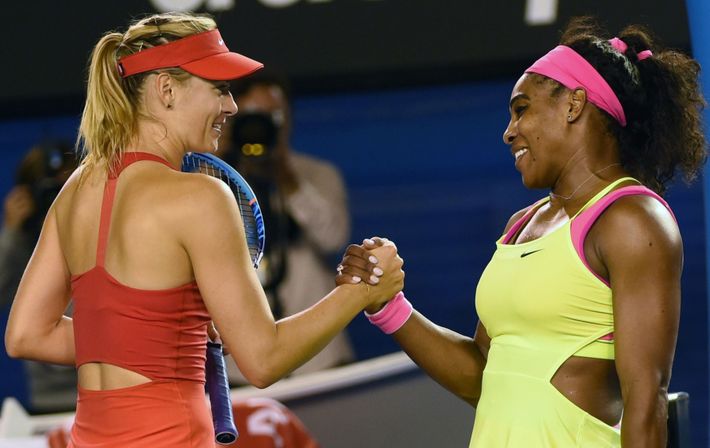 Minimalist Mantra
Could a Canadian hip-hop song be the inspiration behind this look? It looks like just the nail pairing to go with "sweatpants, hair tied, chilling with no makeup on."