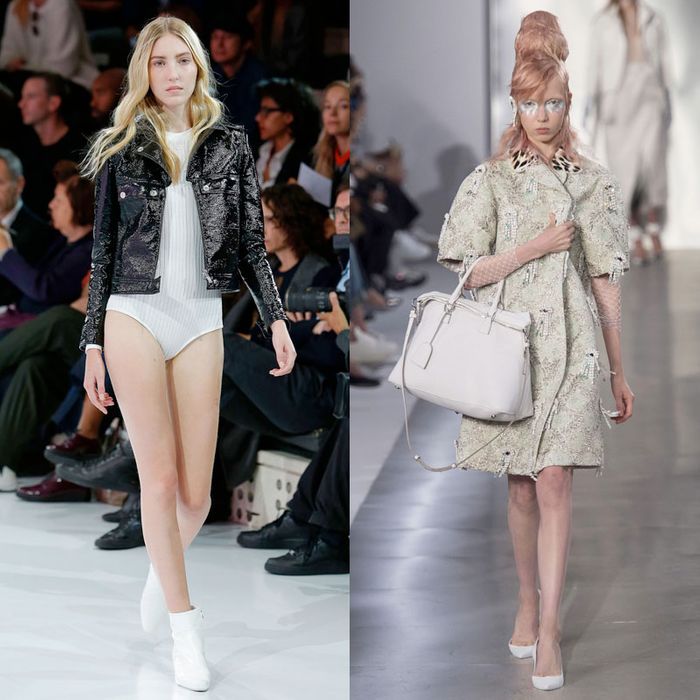 Courrèges, Maison Margiela, and Dries Van Noten.
Photo: Imaxtree
Fashion month usually brings over-the-top looks and accessories designed with editorials in mind. But we always have to ask ourselves: What would we want to wear? Throughout Milan and Paris fashion weeks, the Cut brings you editors' picks, rounding up items from the runways we'd actually buy.
1. The shirting and proportions at Jacquemus were interesting and childlike at the same time. This shirtdress, with longer cuffs hanging well past the fingers, inspired me to try a new trick when it comes to getting dressed: Wear an oversized shirt backwards.
2. Wednesday morning started out chilly, but not as cool as the first Courrèges show by Arnaud Vaillant and Sébastien Meyer. At first view — the first look, actually — I immediately wished I had one of their trendy gleaming jackets to layer into my wardrobe.
3. Eccentric ladylike style spoke to me at Maison Margiela (I appreciate quirky fashion more for work than for personal dress). I loved this embroidered mint-green coat, embellished with sparkling bursts of what would make fantastic chandelier earrings and layered over a punky white mesh top.
4. The piled-on prints and colorful embroideries at Dries Van Noten may have served as Instagram bait — they were the most eye-catching parts of the show. But these exaggerated front-pleated blue jeans, in a perfect denim wash and worn high on the waist, made for a super cool silhouette that I would love to try for myself.