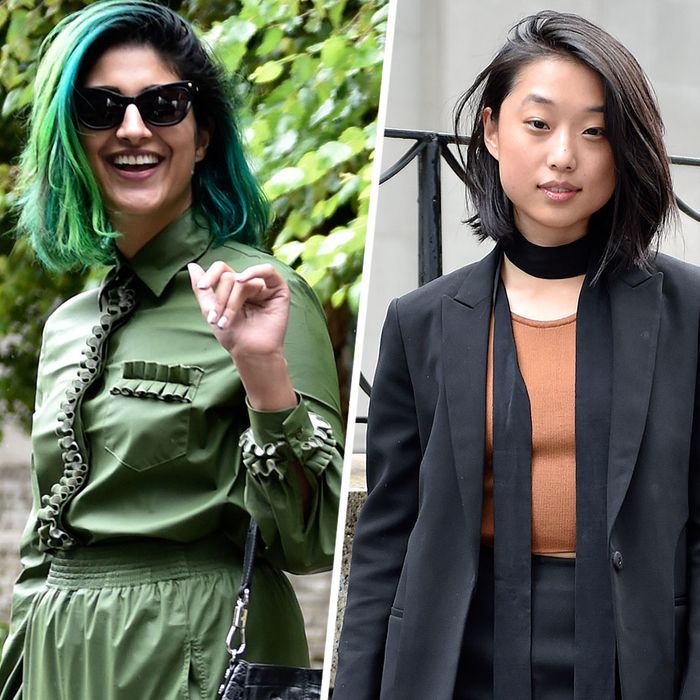 All throughout fashion month, the Cut will be ranking street-stylers on their outfits, ultimately bestowing a coveted Golden Peacock award on one winner for each city. Photographer Youngjun Koo will be shooting all of our contestants, and Cut contributor (and last year's winner!) Shiona Turini is back to help with the selection process. Unlike last season, only five stylish contenders get a spot on our list each day — and we'll be asking you to vote all week to pick the final champion. 
Day one of Fashion Week turned out to be warm, muggy, and rainy, but that didn't mean people weren't ready for the camera. Preetma Singh went for a head-to-toe green look — especially appropriate given the weather — while former Golden Peacock winner Rachael Wang opted for a long, flow-y pink dress. And making her New York debut is Gilda Ambrosio, a European street-style favorite from Milan. Click ahead to see our own rankings, and let us know what you think in the poll below.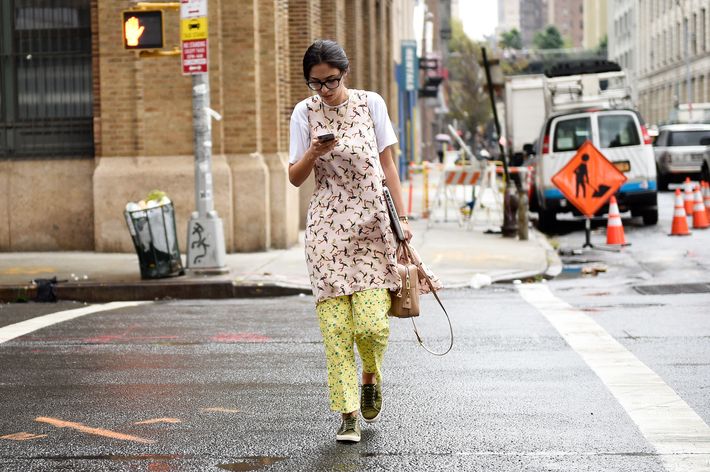 Second Runner-Up: The Girl in Mismatched Prints Who Is Here to Work
Now this is an accurate portrayal of a busy show attendee. Her clashing prints say, I'm not afraid to bait you, photographers, but that laptop and giant tote mean she's probably about to duck into a Dunkin' Donuts to write up a story.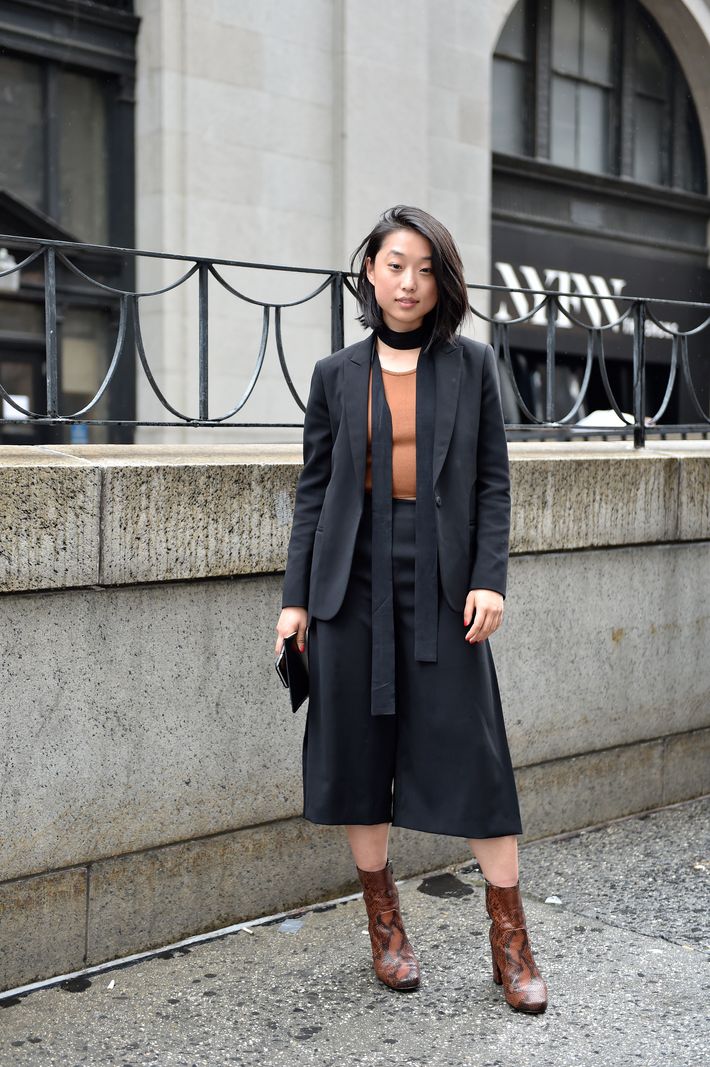 First-Runner-Up: Margaret Zhang
What, you don't think we award extra points for culottes?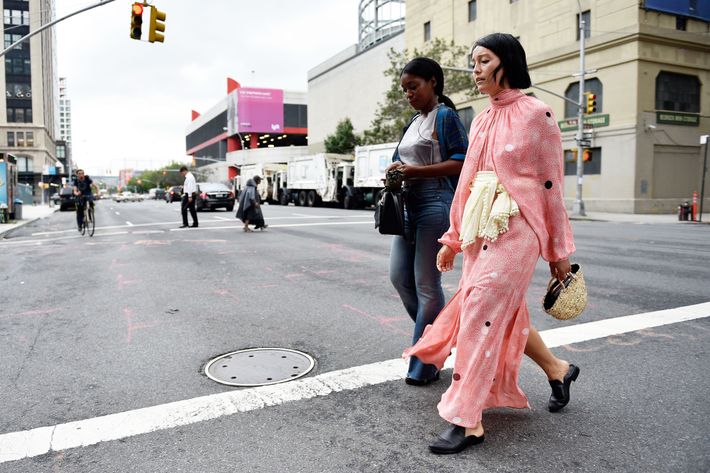 Bronze Medal: Rachael Wang
Between the vintage-inspired flowing pink dress and the quirky pom-pom scarf turned into a belt, Rachael looks like the most stylish cult member we've seen, earning her the third spot.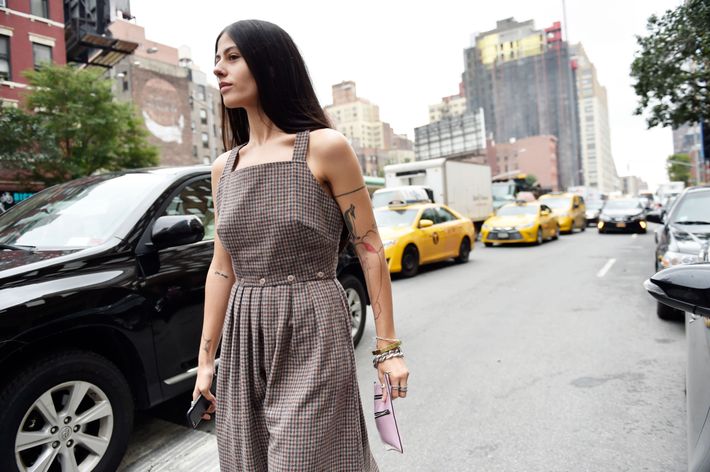 Silver Medal: Gilda Ambrosio
Normally a flannel dress is totally boring, but Gilda manages to use the piece to highlight her amazing tattoos. That plus the fact she's making her New York debut earn her the silver medal.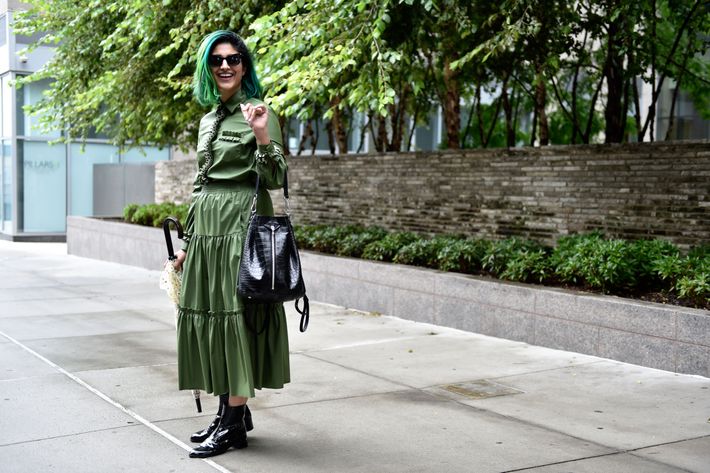 Golden Peacock Winner: Preetma Singh
Not saying that she coordinated her outfit to the scenery, but the girl knows where to pose. And wearing one color from her head to her toes says something about her level of commitment. Congrats!