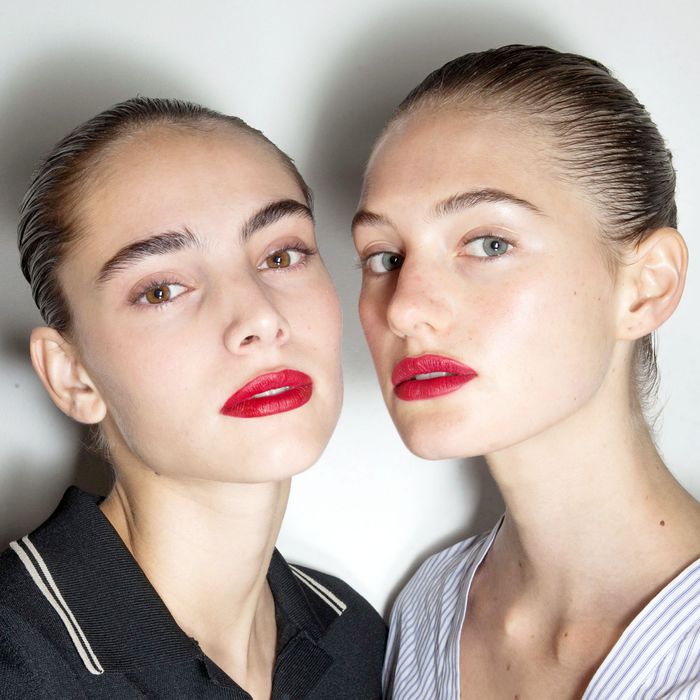 Models backstage at Jason Wu.
Photo: AntonelloTrio/Imaxtree
Fashion Week kicked off this morning with a master red-lip lesson at Jason Wu. Yes, "no-makeup" makeup was somewhat in effect — but rejoice, because there was also a bold, velvety red lip. Backstage, Maybelline New York's global makeup artist Yadim schooled the Cut on how to create the lushest, most sensuous red lip you could possibly imagine. Here are his five tips on overdrawing the lip, getting a velvet texture, and how to mix two shades of lip color together.
1. Think fresh, not overly spackled skin. To keep a red lip looking "fresh," a word makeup artists often use to mean modern and new-feeling, don't overdo it with the foundation. In what is now a popular refrain backstage, Yadim said, "No mascara, curled lashes, or even brows. Nothing." Models did get concealer for blemishes, but freckles and summer tans were preserved. "A red lip can easily go very 'madam,'" Yadim explained. To avoid that, you want to juxtapose the red lip with "minimal, raw skin."
2. Mix, then stir. To create a red lip with dimension, Yadim mixed two shades of Maybelline's Vivid Matte Liquid (out January 2016, but Superstay 24 Color Lipstick is similar). Combining an orange-red shade with a blue-red tone, he created a color that wasn't too cool or warm, but perfectly balanced — and complementary to a diverse range of model skin tones. "One of the first things Jason [Wu] asked me when he saw the lip was whether it was more orange or blue. I like that he asked that question — and that you couldn't tell," Yadim said. To ensure a balanced red, he mixed the two colors together first, rather than applying one on top of the other.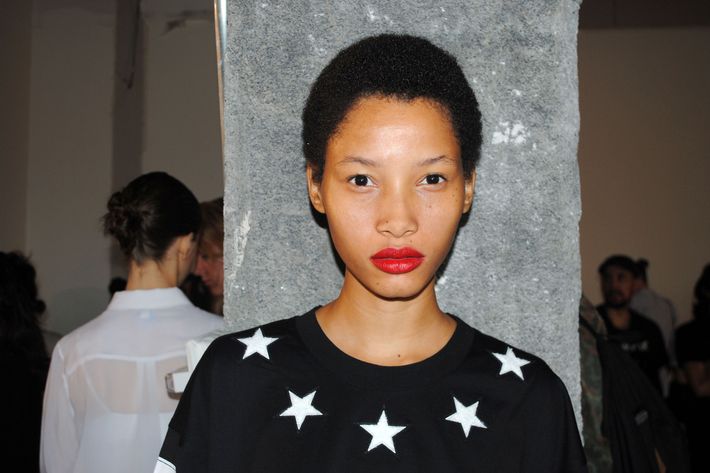 3. "Respect the integrity of the lip shape." This is something Yadim kept repeating to his artists, and what it means in a nutshell is this: You know the Kylie Jenner lip? Do the opposite. Yes, the model's lips were slightly overdrawn for the show, making them look especially lush and full. But Yadim and his team didn't go crazy with it, and were careful not to draw more than a pencil tip outside the natural line so as not to get a "drag" effect. Instead, when overdrawing, Yadim was careful to emphasize the roundness of the lips. Cupid's bows were drawn to be rounder so they were more like a "hill" than a sharp peak or valley. And the corners of the mouth were drawn slightly straight so they didn't curve down into a more cutesy heart shape. On the models, this resulted in a non-glossy Robert Palmer–like effect.
4. Don't sweat too much about the tools. Yadim uses his finger to apply the lipstick, but I saw makeup artists using everything from teeny, tiny makeup brushes to fingertip pads to pinkies. To achieve the look, you can do whatever works best for you, he advises. He cautions against using a large brush for the overall application, though, because it can look "too painted."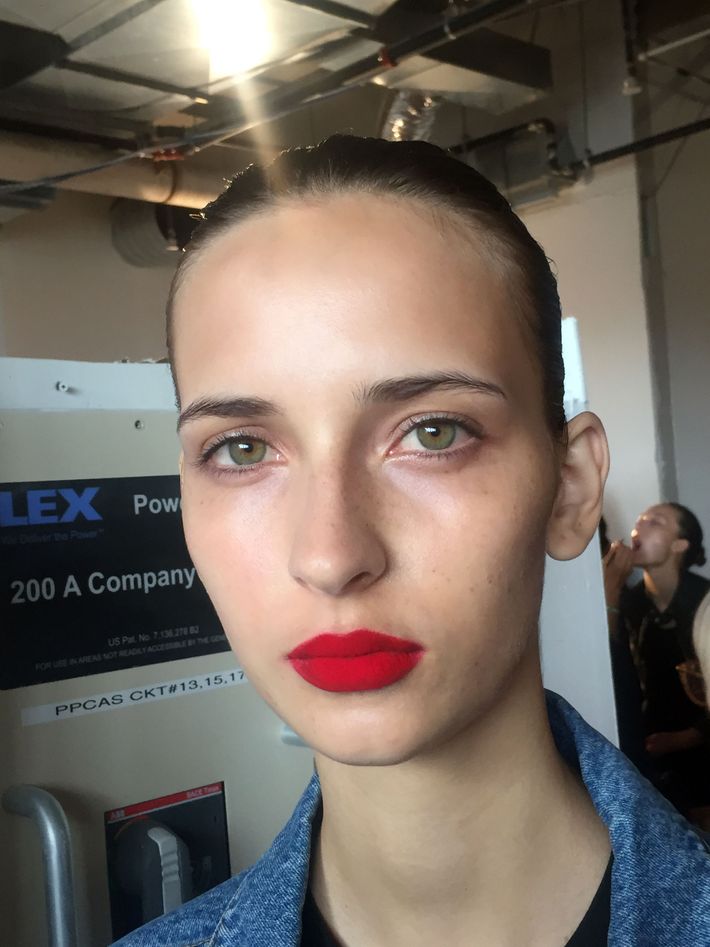 5. Press it on. To make the red lip look especially electric and velvet, Yadim dipped his finger into pure red pigment procured at the Maybelline labs and pressed it onto the center of each model's lips. "It's almost like contouring," he said of the effect, which makes the lips look especially plush and sensuous, darkening the color. You can try a similar effect using a pressed powder like a blush or eye shadow, but careful, as it can be a touch drying.