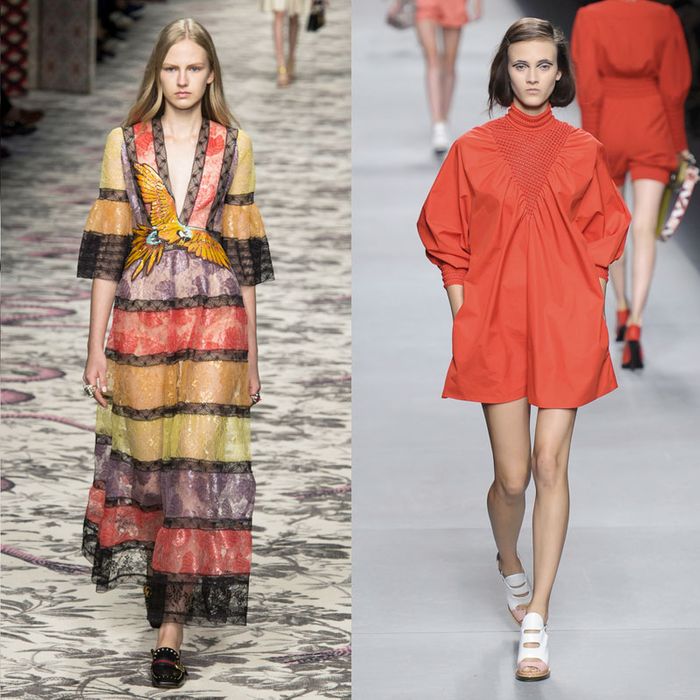 Fashion month usually brings over-the-top looks and accessories designed with fashion editorials in mind. But through all of it, we have to ask ourselves: What would we want to wear? Throughout Milan and Paris fashion weeks, the Cut brings you items from the runways we'd actually buy.
1 & 2) The frenzy for the newer, quirkier Gucci has resulted in more men and women softening their look and playing with color and madcap outfit combinations, and Wednesday's show only deepened the urge to pile on the sparkle and bows. There were beautiful mismatched florals and rich acid-colored suiting, editorial bait for days, but what stood out to me for pure wardrobe lust was a sensual, colorful striped lace dress with an embroidered bird across the bust. It's the sort of special dress I'd love to have in my closet to break out for festivities for generations to come.
In addition to the whimsical garments, the shoes were something to covet at Gucci. The now-ubiquitous fur-lined loafers will return next spring (good news for those too tardy to nab a pair this season, since they're pretty much all sold out), but also in a dreamy new style trimmed with oversize pearls.
3) As soon as I arrived in Milan, I began leaning toward an airy, hyperfeminine way of dress. The folk-inspired dresses at Alberta Ferretti came in desert colors and goddess silhouettes. I was most drawn to a lace slip dress, breezy in black and bronze, and nodding to the lingerie and pajama dressing that was so big in New York.
4) Shoulders and sleeves have been getting bigger post-NYFW, and Fendi's puff-shoulder crimson minidress was an ideal way to carry fall's Victorian look into the spring. The smocking at the neck makes this a more interesting take on the shirtdress.
5) "Approachable sparkle" is how I would sum up the paillettes at Prada. The 44th look was a gleaming white coat worn over a retro '70s-esque knit top and metallic striped skirt. Accessorized with ornament-size club-going earrings, a crocheted dickie, and T-strap pumps, it was a walking party, styled with exactly the right kind of excess. I'm equally excited about piling it all on, or taking it all apart as separates.