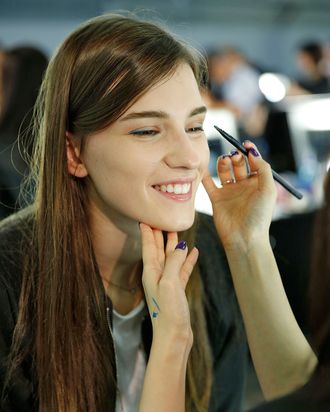 Photo: Victor VIRGILE/Gamma-Rapho/Getty Images
It's closely approaching Day I-Don't-Care-What-I-Look-Like-Anymore of Fashion Week. But before that, I bugged the expert hairstylists, makeup artists, and nail technicians backstage to teach me some other new beauty tips that us non-models can actually use at home. Read on to find out how to lightly contour and highlight at the same time, get a Britney Spears–"I'm a Slave 4 U"–like sweat, or buy the best hair ties on the planet.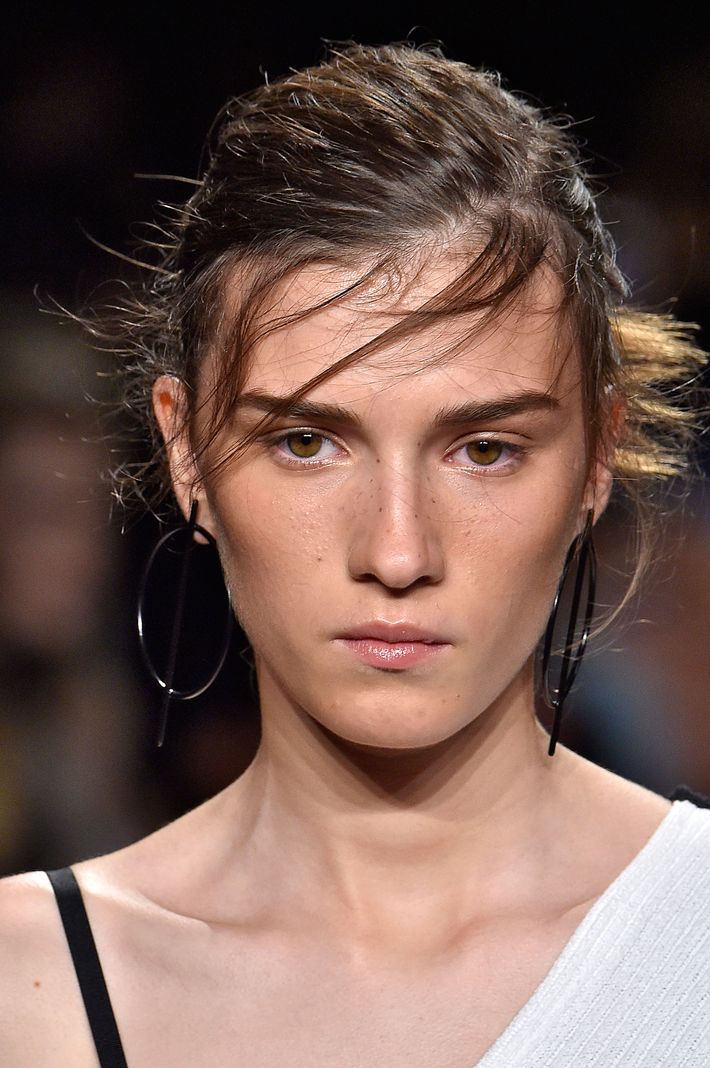 1. Asymmetry is beautiful. Science celebrates symmetrical beauty, but that doesn't apply to freckle-drawing, which is a weird thing that occasionally pops up in runway beauty looks because it seems "fresh." If you, too, want to look like Cintia Dicker, the key is to keep your faux freckles mismatched. Backstage at Rag & Bone, makeup artist Gucci Westman for M.A.C Cosmetics explained, "If it's too symmetrical, they look too cutesy, silly, or gimmicky." She uses M.A.C Cosmetics Eye Pencil in Coffee to do the job.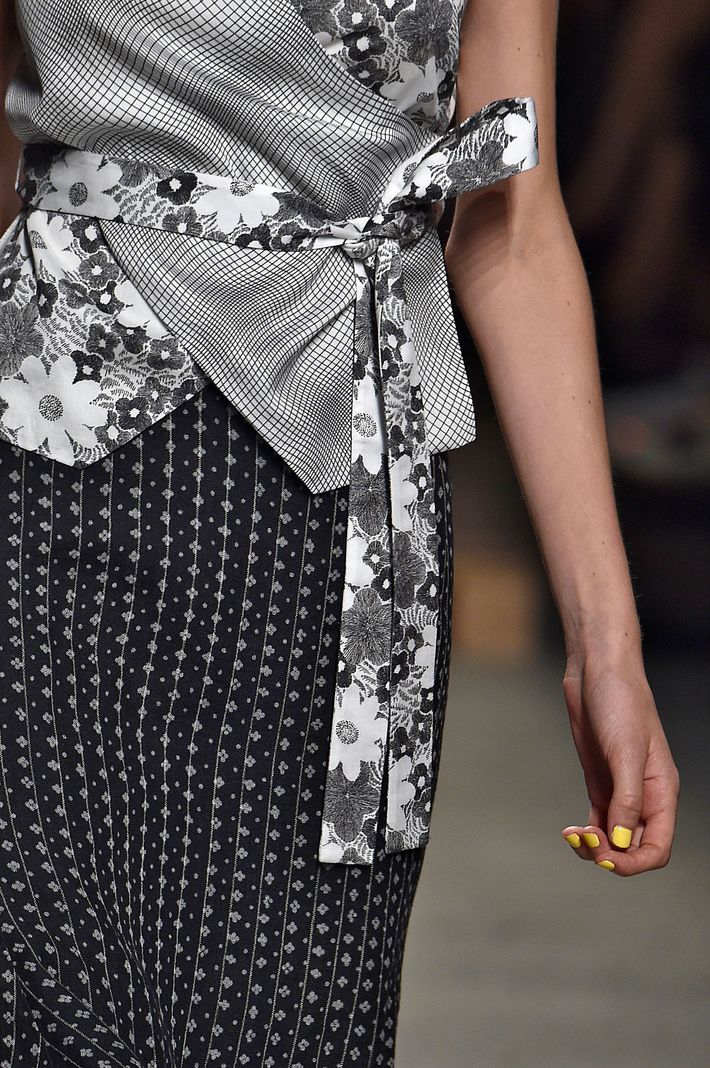 2. White is the new base. Skip a base coat and instead use an opaque white polish to make your nail color extra vivid. For the Creatures of the Wind show, Katie Jane Hughes, Butter London's global color ambassador, wanted a "true primary yellow," so she applied two thin coats of white polish (Butter London's Cotton Buds), which made the follow-up yellow polish look super-bright (Butter London's Cheeky Chops). If you want the white underneath to give the color a pastel feel, go for a milkier shade.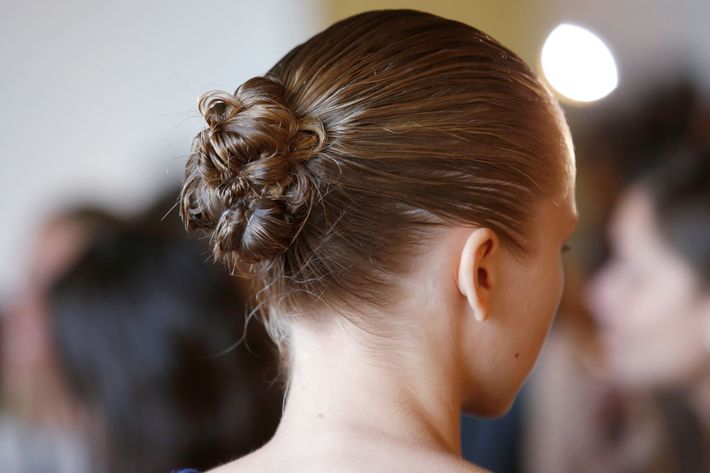 3. The best hair elastics come from Japan. The pretty bun seen at Jason Wu was constructed with lots of Kerastase Creme de la Crème and held together with a simple hair elastic. French hairstylist Odile Gilbert said, "My scissors are from Japan, my brush is from Japan, these elastics are from Japan. I love them — they are the best because Japan is very perfectionist with details and these elastics don't snag hair." She used Blax hair ties, which you can find on Amazon.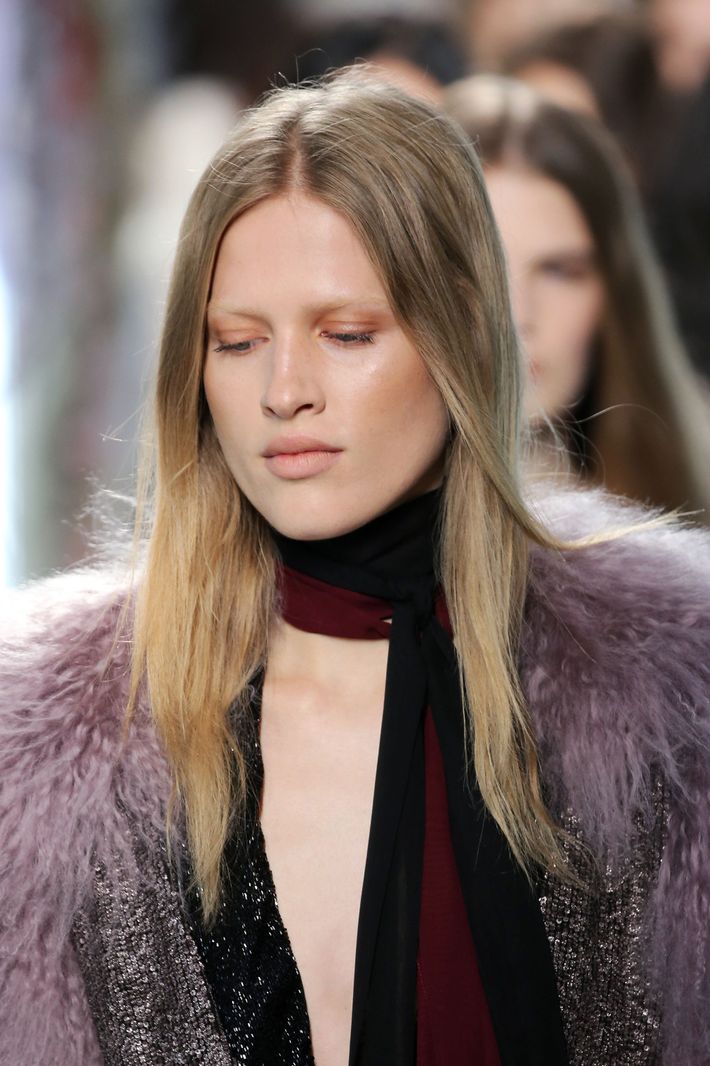 4. Contouring and highlighting can happen in one step. With the exception of Hood by Air, no one is contouring. This is probably because people like Aya Jones were born with natural contour. But should you want slight definition to the face without spending hours furiously blending stripes, makeup artist James Kaliardos has an easy solution. Backstage at Rodarte, he took NARS Dual Intensity Blush in Craving and swiped an angled brush over both the bronzer and highlighter at the same time. He applied it up along the cheekbone, being careful not to put it too close to the nose. It's a two-in-one that highlights and contours at the same time. As Kaliardos says, "Now you can get on with your life and get out the door without spending an hour doing your makeup."
5. Sweat is the new strobing. Your sweaty face continues to be an inspiration to designers. At Opening Ceremony, models were given a look described as "controlled, beautiful perspiration." "Like they just came in from a sauna or beach or greenhouse," explained makeup artist James Boehmer for NARS Cosmetics. To get a Britney Spears–"I'm a Slave 4 U"–like sweat, ignore the highlighter and dab on a super-high-shine lip gloss like NARS Cosmetics Triple X Gloss.
6. Want model-off-duty hair? Buy a diffuser. A diffuser isn't useful only for textured- or curly-hair types. At shows like Alexander Wang or Rodarte, when the hairstylists wanted to enhance natural texture, they all used diffusers, scrunching the hair with liberal amounts of texture spray like Redken Windswept, Kerastase Spray À Porter, or Bumble and Bumble Thickening Spray. This transformed straight hair into that elusive model-off-duty hair that's not quite straight or wavy, but somewhere in-between.