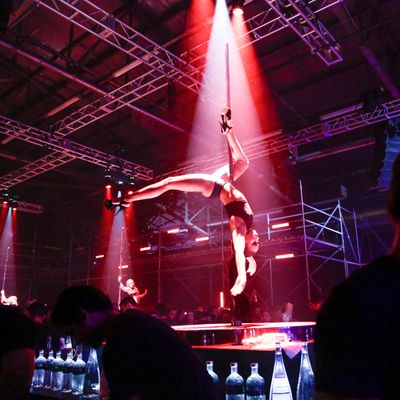 Alexander Wang's tenth anniversary show was full of thrilling moments. First, the collection itself, which somehow made the Wang cool kid even cooler (and included menswear my dream boyfriend would wear). Then there was the show's closer: a hypnotizing, hip-hop-soundtracked video retrospective of Wang's career.
Then, of course, there was the front row, which included Lady Gaga, Kylie Jenner, Tyga, Zoë Kravitz, Bella Hadid and boyfriend the Weeknd, Mary J. Blige, a surprisingly shy Kanye, and Queen Nicki Minaj, who was working it for the cameras. The Cut risked life and limb to get close enough to ask Nicki how she always poses so perfectly for the paparazzi. "No resting bitch face. I just remind myself to keep my face relaxed. If I don't, I think I look angry," she said.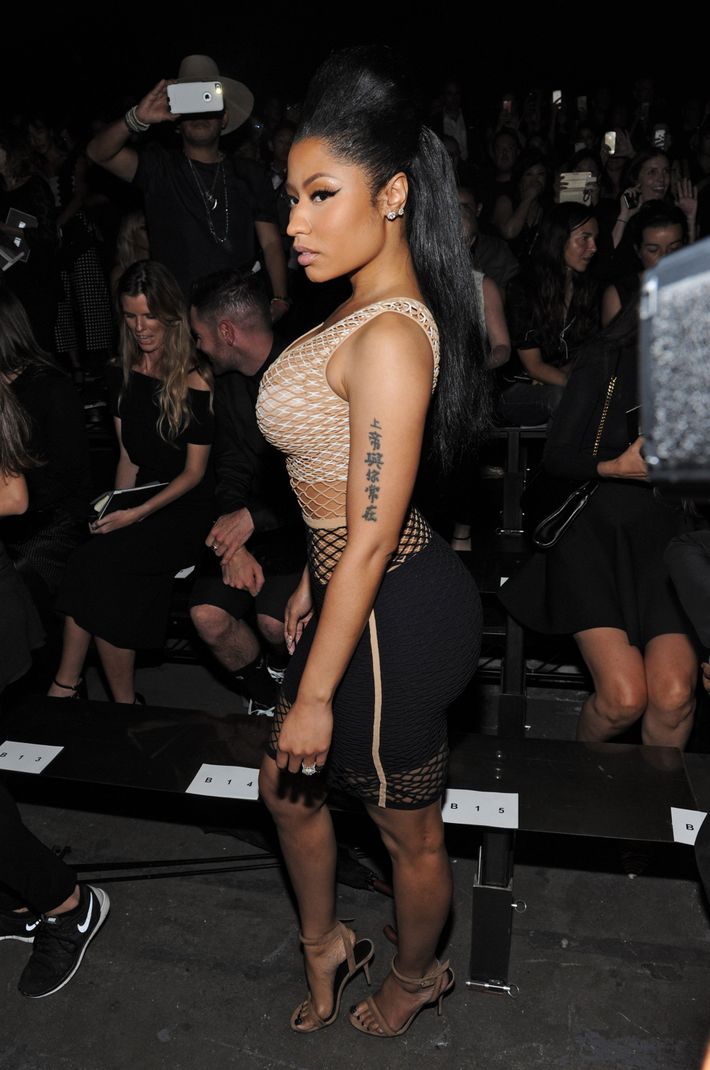 But those moments were eclipsed by the reveal of Wang's Hooters-catered, strip-club-themed celebration. The curtain dropped, Juicy J's stripper anthem "Bandz a Make Her Dance" started bumping through the speakers, and showgoers dropped all pretense of civility and dashed toward the party space, ready to get wild. "I'm gonna bag something tonight," I overheard a member of Tyga's entourage say as he walked toward the party, giddy as a kid in a candy shop (or a grown man in a strip club). 

Despite this auspicious beginning, the three subsequent surprise performances, everlasting sliders, hordes of awkwardly dancing models, and a shot luge, Wang's tenth anniversary was not actually the greatest party he's ever thrown. Still, it was one hell of a concert. Here are our favorite moments:
1. Wang re-created his own Hustler Club. There were $10 bills with Alexander Wang's face on them, cheap leather benches, and pole dancers. There might have even been a Champagne room somewhere in Pier 24, but I couldn't find it.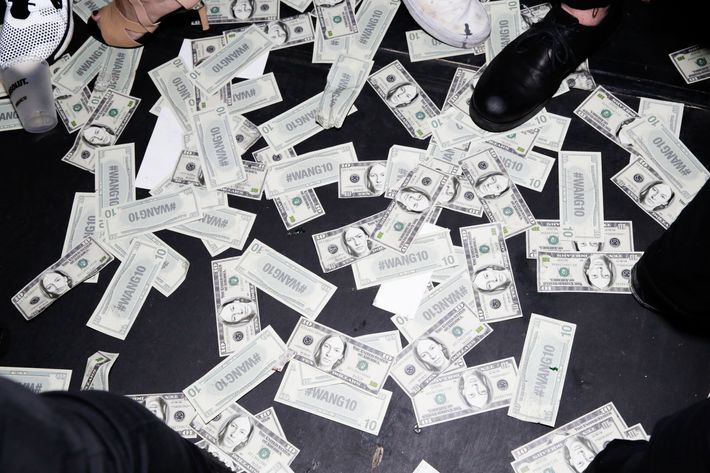 2. The pole dancers were on par with Cirque du Soleil acrobats. Speaking of the strip-club atmosphere, there were about eight incredibly hardworking dancers on poles, and their moves were unbelievable — we're talking upside-down, levitated splits, and twerking in mid-air, plus abs that looked like they were on loan from Adonis himself. "Are you from Cirque du Soleil?" I asked a petite redheaded dancer. "No, I'm a pole dancer at Hustler Club. Someone from Wang came in and recruited, and here I am!" she said. All of the dancers were clad in Alexander Wang sports bras and briefs with an A on one cheek and a W on the other. Branded twerking. Brilliant.
3. People came for Wang and stayed for wings. Partygoers lost all their chill when waiters appeared carrying trays of Hooters bar food. The menu included boneless buffalo wings, buffalo chicken sliders, and mini burgers — not to mention trays of burger patties sans bun for those who don't eat carbs. Wang may have gifted us the best hangover cure ever: After consuming obscene amounts of boneless buffalo wings, I was on time to my first show this a.m. despite all the mini-bottles of Champagne and margarita shots I chugged.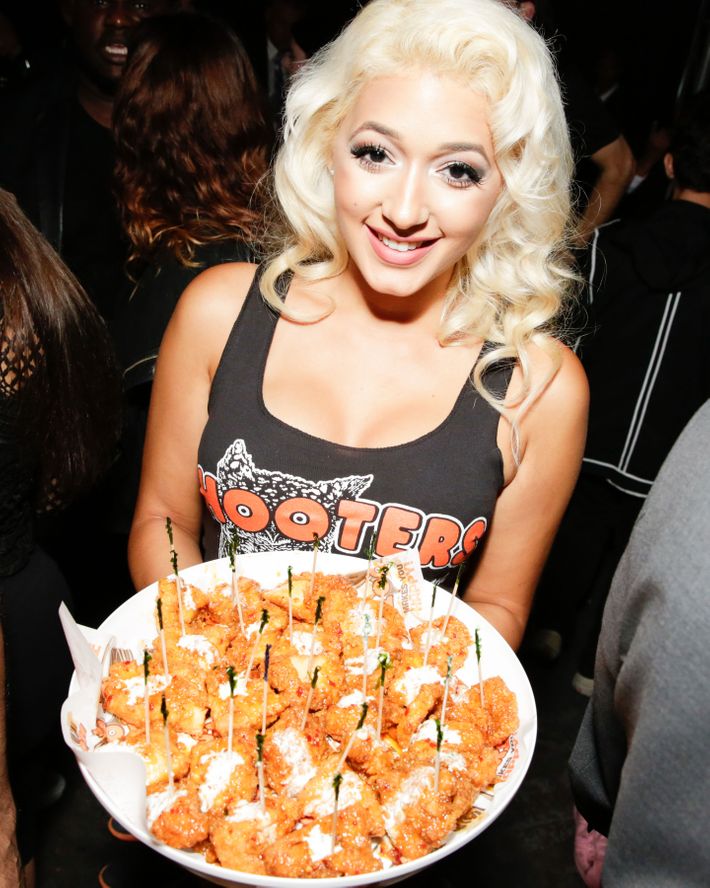 4. Wang really wanted everyone to get as drunk as possible. A good party host provides all the beverages their guests need to get sloppy drunk and super-rowdy. Last night there were tubs of mini-Champagne bottles, custom Alexander Wang Jello shots, and an actual shot ice luge.
5.  Celebs broke free of the VIP pen. Kendall Jenner, Kylie Jenner, Amandla Stenberg, Behati Prinsloo, and a crew of tipsy models dancing on banquettes all stayed safely behind the velvet rope, but others broke out. I spotted Kylie, Tyga, and their entourage leaving around 11:45 and tried to follow their trail of weed smell to the next party, but when I yelled, "Hey, Kylie! Where you going next?" I was met with hysterical laughter. Lady Gaga, on the other hand, exited the VIP area not to leave the party, but to hang out with us normies. One minute I was trying to get a High Life, the next Lady Gaga was sitting on the bar next to me, doing shots, dancing with fans, and taking selfies with pal Steven Klein while her handlers desperately tried to block partygoers from snapping iPhone pictures.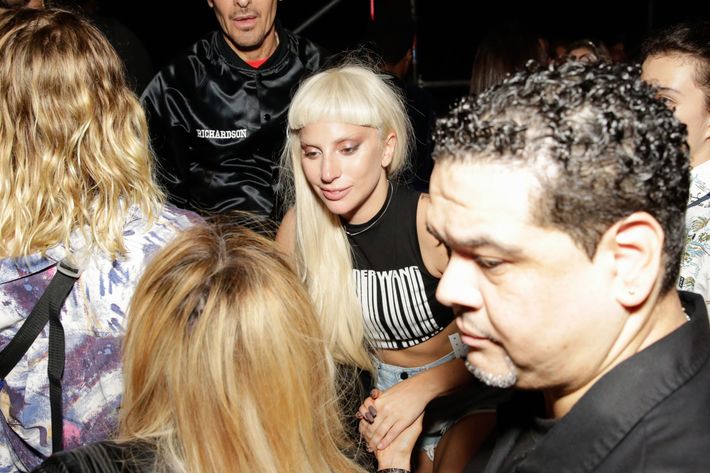 6. The "Who is going to perform?" speculation was almost better than the actual performances. Drake, the Weeknd, Kanye West, Beyoncé, Madonna, Fetty Wap, and 2Pac's hologram were all contenders for Wang's musical guests. So, who was it? Guests were treated to a dance-heavy performance by Tinashe, a sneak attack by A$AP Ferg, a nearly two-hour set by DJ Baauer, and, finally, a set from Lil Wayne. He came on at 1 a.m. and reminded us how much we all loved the song "Ms. Officer." At 2 a.m., people were still debating the rumored fourth performer, but I was heading home. Was there one? Did I miss a hologram?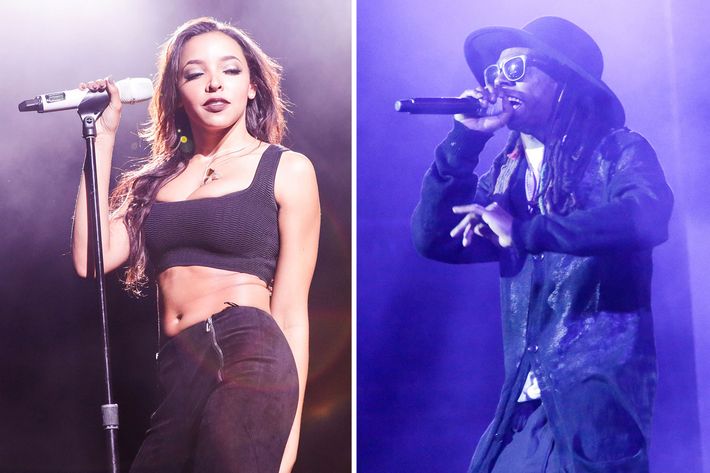 7.  There were A+ party favors. On top of gifting us three musical performances, a shot luge, mini bottles of Champagne, and branded Evian bottles, Wang offered his guests #WANG10 rolling papers and plastic lighters. But Alex, you forgot to give us anything to put in these rolling papers!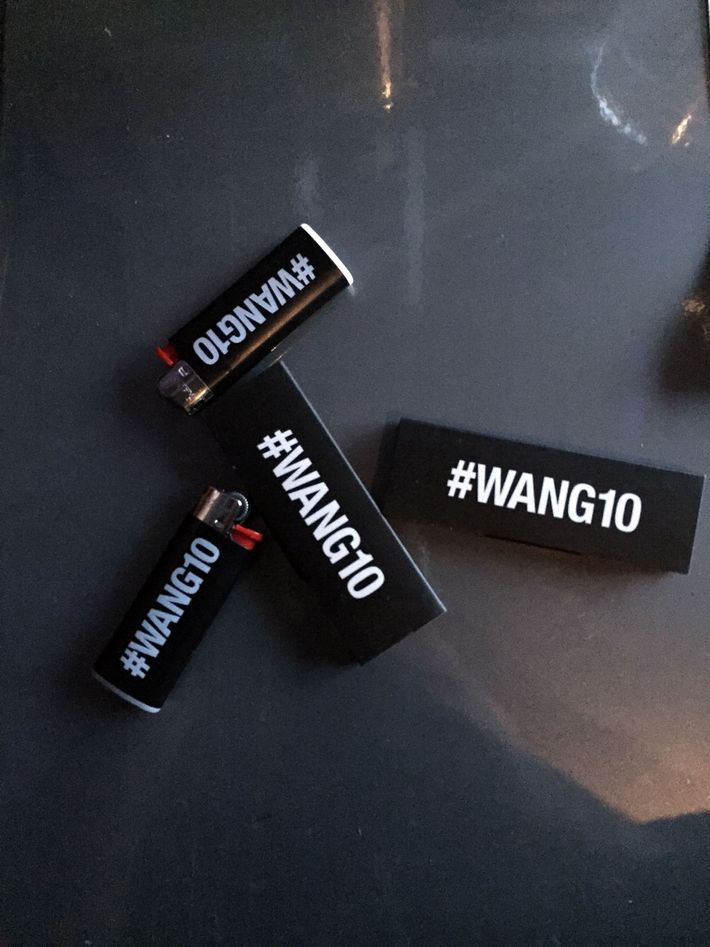 8. Truly dedicated partiers Instagrammed in the infirmary. There's no such thing as an inappropriate place to take a selfie. Just ask the guests who Jello-shotted their way into the Wang-party infirmary, where they were treated by on-site emergency medical services. One guest didn't let anything stop her from documenting the "best night of her life." Even while getting rolled out in a wheelchair, she was popping selfies like a champ, because nothing says "I made that party my bitch" like an Instagram from the back of an ambulance.