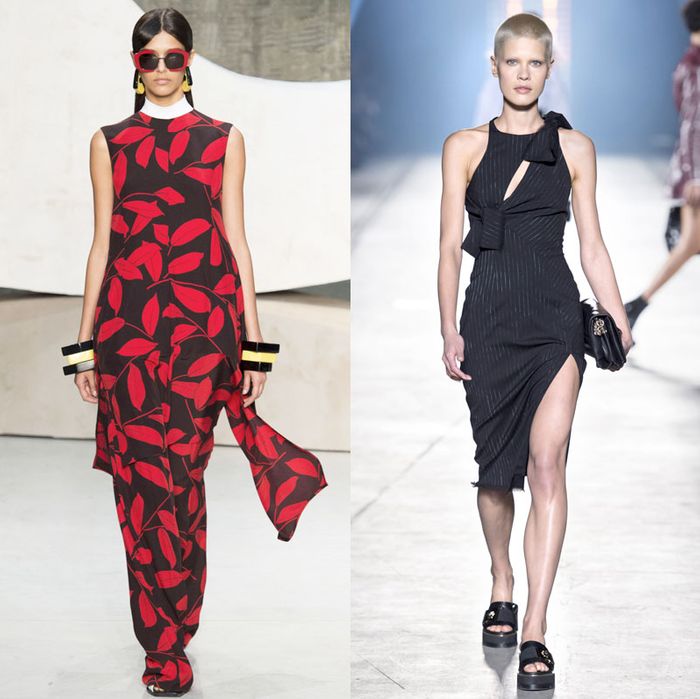 Fashion month usually brings over-the-top looks and accessories designed with editorials in mind. But we always have to ask ourselves: What would we want to wear? Throughout Milan and Paris fashion weeks, the Cut brings you editors' picks — items from the runways they'd actually buy.
1. This single look at Bally has three things I'm a sucker for: a menswear-inspired suit in a neutral color, elegant backless loafers in black with gold hardware, and a great coat (effortlessly styled 'round the waist). Bally's look book is done well and features some of the coolest models (Issa Lish, Jamie Bochert), but in person the pieces were great, too.
2. Marco de Vincenzo's opening look, a color-blocked striped coat of feathery shredded chiffon, would be just as fun to wear as it was to watch bounce down the runway (perfect for slow-mo videos that are gaining popularity on Instagram). It was a fun way to jazz up an otherwise head-to-toe black ensemble.
3. Donatella Versace staged the show in an arena setting, where an empowering pro-women soundtrack pulsated as veteran models and new faces strutted in military camo and leopard motifs. While I expected that I would leave the show most drawn to the slouchy suits in khaki and army green, the sensually slashed, curve-hugging dresses, like this pinstriped number, were what really got me.
4. Seeing gowns at Bottega Veneta is something like spotting a unicorn, but they are here for spring. The shapes are casual but intricately designed, echoing the sails of a boat. The ones mid-show were the best, with stripes of reflective details. I liked the deep-blue number with the open back.
5. The mustard leather coat at Jil Sander was one of the sole moments of color in a quietly neutral show, but it was luxurious and looked great paired with red pilgrim-style flats. It stood out among the lineup of spliced dresses and suits.
6. At Marni, bold colors and sporty, artful separates were piled on in a study in layering. Along with modern oversize earrings (big in Milan this season), the few prints of the collection are certain to be favorites, like this red-and-black leaf-print tunic and wide-leg pant situation.
7. There were a lot of pajama-esque ensembles spotted in Milan on and off the runway — they seem to be a new suit for casual weekend attire, and a direct reaction to some of the shows we saw in New York. The easy look of daytime pj's was quite attractive as well at Dolce & Gabbana, where this silken set printed with poppies and daisies embodied chic comfort.
8. At Salvatore Ferragamo, voluminous sundresses — in cotton with bows at the shoulders or in knitted stripes — were some of the season's best dresses. Both elegant and comfortable, they're made for hot-weather wardrobes. I loved this strapless powder-blue dress with cotton wrapped around the bodice and with a single flounce as a lower tier. It also made the case for a statement earring, a flattering way to show off one's neck here.