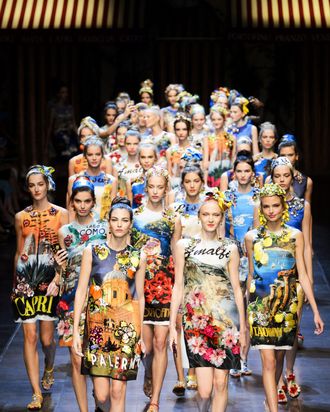 Photo: Alessandro Lucioni/Alessandro Lucioni
This season, Domenico Dolce and Stefano Gabbana celebrated the place they love best — their home country. While previous Dolce & Gabbana shows have involved odes to Sicily and pasta, this was a straight-ahead show of nationalism, full of molto Italiano motifs. So, for example, a yellow dress was embroidered with the words "Italia is Love" and a picture of a gondolier. All the greatest hits were present in the 90-plus-look lineup: the Leaning Tower of Pisa, the Coliseum, the Duomo, and even Michelangelo's David.
Aside from the celebration of touristy kitsch, there was a spring-appropriate emphasis on fruit motifs. The show's backdrop included a gigantic fruit stand, and both the brand's signature oversize headphones and tiaralike headbands were decorated with faux fruits.
As for the other accessories, they ranged from over-the-top (winged gold sunglasses) to adorable (beachy pom-pom bags). Some models carried Dolce & Gabbana shopping bags — a subliminal message to fashion editors looking to shop in between shows?
And in true tourist fashion, one model toted an oversize "camera" bag.
The overarching theme aside, Dolce & Gabbana stuck to their guns, design- and silhouette-wise. House totems like corseted dresses, black lace insets, bra tops worn with full skirts, and rich Baroque embroidery were everywhere.
The caftans and headscarves were very Elizabeth Taylor vacationing in Portofino with Richard Burton. They look even better in motion.
The casting in Milan has been excellent all week, and this show began with newcomer Maja Salamon opening, while also showcasing Imaan Hammam, Ella Richards (Keith Richards's granddaughter), and the designers' countrywoman Vittoria Ceretti.
If you want to send something slightly more memorable than a postcard, consider the duo's postcard-print minidresses, which showcased the Amalfi coast, Palermo, Capri, and more drool-inducing destinations. As always, the models emerged in a pack at show's end. But this time, there was a twist: They whipped out their phones to take selfies on the runway.