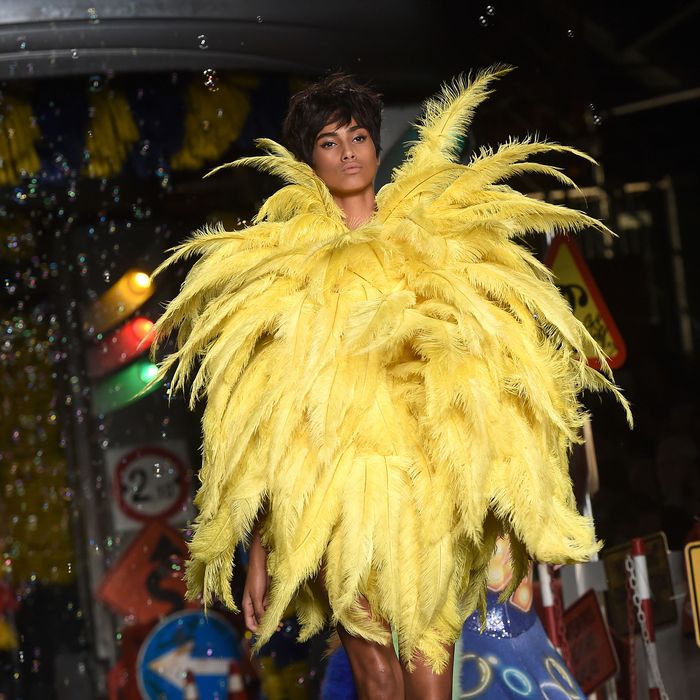 Moschino spring 2016
Photo: Jacopo Raule/Getty Images
As he did with his fast-food-, Barbie-, and toon-themed opuses, Jeremy Scott didn't just embrace a theme for his latest Moschino show — he practically tackled it head-on. Here, a cheat sheet of the most noteworthy moments from his construction-motif-heavy collection, shown today in Milan.
The set was covered in traffic lights and construction signs, plus a ticker that warned of "Dangerous Couture Ahead." K-pop star CL was in the front row, wearing Scott's teddy-bear shrug.
He played a funk soundtrack with a jackhammer tempo that  included a sample from Donna Summer's "Bad Girls."
The designer loves to upend stuffy "investment pieces" with some humor. Case in point? Ladies-who-lunch suits in traffic-cone orange and fluorescent yellow and trenches emblazoned with CAUTION tape.
Traffic cones were worn as hats, while Scott accessorized other looks with construction helmets, gussied up with black netting. (Both items also showed up as prints on dresses.) Was he inspired by Wills and Harry, perchance?
The accessories included DO NOT ENTER clutch purses and hubcap belts.
Midway through, he turned to '50s car-wash chic, with dresses whose shoulders flared out into headlights.
He poked his usual fun at logos with a shirt that said "BRAND" inside a cartoon-style sunburst and "NEW LOOK" on the matching skirt. A dress commanded "SHOP" on its sequined bodice. He even imitated the interlocking C logo in the form of nuts and bolts. But the feathered minidresses might have been the most traffic-stopping (sorry) of all the looks.
Did we mention there were bubbles on the runway?
The models got to have a little fun, with Anna Cleveland spinning and Hanne Gaby Odiele sashaying down the runway.