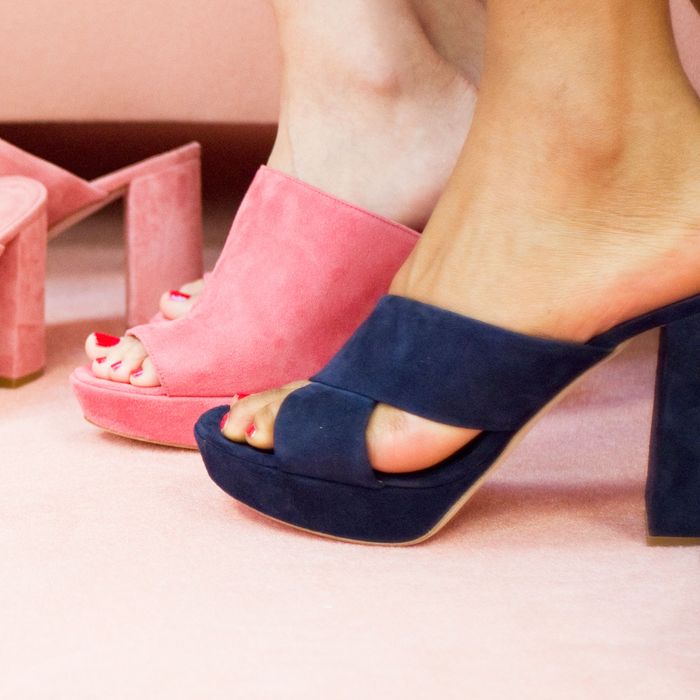 Photo: Courtesy of Mansur Gavriel
Uh-oh, buddy. Amidst the final hoo-hoorahs of New York Fashion Week, and as the closing ceremonies grow near, some labels have discovered that, despite the prevailing exhaustion, there is still a little fight left in them. Today in coincidences, two of your favorite cool-girl brands have come forward asserting that their designs have been knocked off by bigger fish in the fashion sea. And the evidence is fairly damning.
Exhibit A, we have that casual basic brand for laid-back hipsters, Everlane, who claims that J.Crew has taken its design for a black leather loafer, slapped it with the J.Crew name, and jacked up the price in the process.
Exhibit B, we have Maryam Nassir Zadeh's mules and a story in Women's Wear Daily where Zadeh asserts that Mansur Gavriel's newly premiered shoes are "way too close [to my own designs] to be an accident."
Why can't we all just get along?
[Update 9/21/15]: After Maryam Nassir Zadeh shared screenshots of receipts from Rachel Mansur's purchases at her store from 2014 (pointing to the likelihood that her shoes were indeed copied by the larger brand), Mansur Gavriel issued a statement to Business of Fashion. The brand said the accusation "deeply saddens us as any similarity is completely coincidental." The statement goes on to say that "we believe that neither she nor we can claim ownership of a mule or slide or block heel or colour, for that matter," and that they are "well aware we do not own the silhouette of the bucket bag or the tote." Zadeh has yet to respond to the brand's statement, but we'll update as soon as she does.