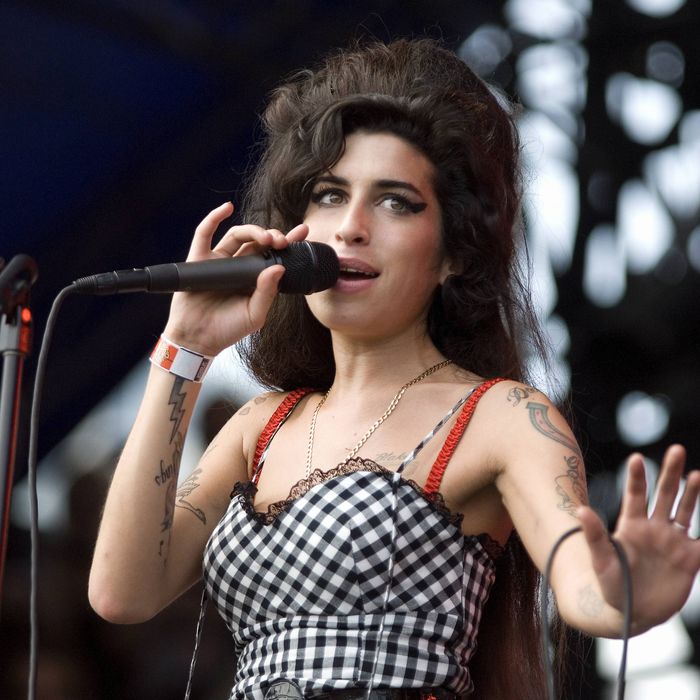 Amy Winehouse.
Photo: Daniel Boczarski/Redferns/Getty Images
Amy Winehouse was most known for two things: her incredible talent, and her equally formidable substance-abuse problem. Both qualities were  chronicled in this year's Asif Kapadia–directed documentary about the singer, Amy. The deep look at Winehouse's life from a young girl in North London to her explosive success, along with her life as an addict, is a tragic piece of cultural history. Now some people believe that watching the singer-songwriter's spiral toward death could actually be a lesson to others on how not to live.
The Associated Press reports that social workers at the Thai Health Promotion Foundation and the Stop Drink Network arranged for 100 juvenile delinquents to watch a special screening of Amy this Wednesday. The therapists and counselors were hopeful that seeing Amy's addictions on film would inspire the young lawbreakers to consider their own dangerous life choices, and perhaps inspire them to rehabilitate early.
"I think Amy's story is a real story that reflects real problems in the society, especially among teenagers," Kamron Chudecha of the Stop Drink Network told the AP. "When Amy felt too much pressured, she acted out and started drinking, but she was gifted and she found that gift. It's not too late for the students to find their gifts and learn from her mistakes. Amy lost the battle, but these kids still have a chance."