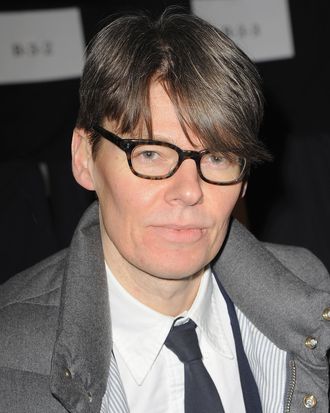 Andrew Bolton.
Photo: Chance Yeh/Getty Images
Last night, the Metropolitan Museum of Art's Costume Institute announced that Andrew Bolton, curator of the department, will be taking over for curator in charge Harold Koda, who will officially step down in January. The owlishly bespectacled Koda is known for his sweeping retrospectives on Poiret, Schiaparelli and Prada, and Charles James, among many others, and is in charge of the Institute's upcoming show on Countess Jacqueline de Ribes. He spent his early years at the museum working under Diana Vreeland, an experience he recently recalled for the Cut. Natty Brit Bolton is known for curating the hit exhibits "Punk: Chaos to Couture,"  "Alexander McQueen: Savage Beauty," and "China: Through the Looking Glass,"  both of which shattered records for the museum.
"During his time at the Met, Harold has brought great change to the department, including the transfer of the Brooklyn Museum Costume Collection to the Museum, and the two-year renovation and reopening of its space as the Anna Wintour Costume Center last year," said Thomas Campbell, the director and CEO of the museum, in a statement. "He has led his talented team in contributing to the field of costume in groundbreaking ways including landmark acquisitions, exhibitions, and publications. I am certain that Andrew, known for his extraordinary creativity and scholarship, will carry on Harold's tradition of curatorial excellence.  His rigorous research and innovative approach to installation make him a visionary curator and a great collaborator with colleagues both within and beyond the Museum." And given his way with a blockbuster exhibit, we have a feeling there will be more lines wrapping around the Met very soon.