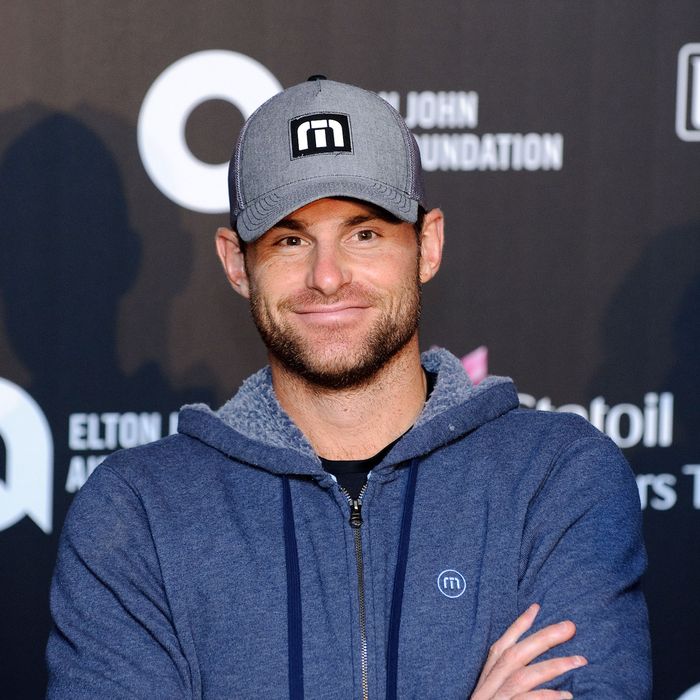 Andy Roddick.
Photo: Imagesport/Corbis
Some people spend their retirement volunteering or playing canasta, but former tennis pro Andy Roddick  is spending his days being really, super-nice to the women in his life. First, in an interview with The Observer, Roddick fanboyed out over his colleague Serena Williams:
We have been friends since we were 8 … [T]o see her become just this complete icon and the best female athlete of all time … I love the respect she's getting this week in the lead-up [to the U.S. Open], too. She has the support of an entire country. To see her at this moment, and on the precipice of doing something great, and that will be remembered forever, it's just so cool.
He even noted the double standard Williams has been subject to:
We threw lots of fits on the court. I was a dick a lot of the time, and I didn't get a quarter of the criticism that she ever got.
He shared how excited he is to be a stay-at-home dad and prioritize wife Brooklyn Decker's career:
I'm going to try to figure out how to be a father first, that's going to take priority for a while. I'm pumped. We've been married six years now, so we are ready for it. She has a Netflix show, Grace & Frankie, going on right now, so she has something. For too long, I think my career took too much priority, so basically between being a mother and working, I'm going to be there to support her any way that I can. My days are not a priority any more.
Roddick isn't the only player on the men's side who's pro-woman. Andy Murray (maybe they are all named Andy?) recently told the French site LÉquipe that he has become a feminist, after seeing the sexist treatment of his coach, Amélie Mauresmo:
[I]f being a feminist is about fighting so that a woman is treated like a man then yes, I suppose I have. My upbringing means that I'm quite attuned to the whole thing. I came to tennis thanks to my mother. I always had a very close relationship with my grandmothers. I've always been surrounded by women. I find it easier to talk to them. I find it easier to open up to them. It's a crying shame there aren't more female coaches.
Sirs, we appreciate the solidarity. But we'll still be watching the women's games over yours at the Open this week.