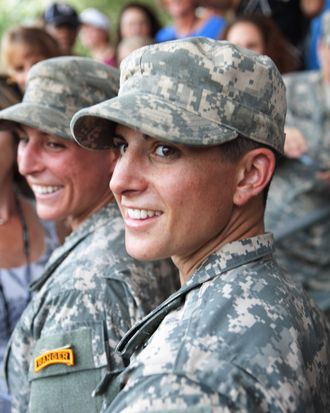 Captain Kristen Griest and First Lieutenant Shaye Haver.
Photo: Jessica McGowan/Getty Images
After Captain Kristen Griest and First Lieutenant Shaye Haver graduated from Army Ranger School at the end of August — making them the first women in history to do so — the U.S. Army has said that Ranger School is open to women permanently and without restriction. Hell yeah.
Prior to Griest's and Haver's successful completion of the grueling Ranger School course, the Army had an assessment period for women wherein they'd determine if it was feasible to allow women to join. The two new female graduates had to pass the 17-day Ranger Training and Assessment Course (RTAC) at Fort Benning in order to be determined eligible.
Now, those barriers have been lifted. A press statement released Wednesday said that qualified personnel would be able to attend Ranger School, regardless of gender. Secretary of the Army John McHugh said, "We must ensure that this training opportunity is available to all soldiers who are qualified and capable and we continue to look for ways to select, train, and retain the best soldiers to meet our nation's needs."
Progress, of course, is still slow: Despite having graduated from Ranger School, Griest and Haver are banned from many roles in the U.S. Army, including the elite Ranger Regiment, simply because they are women. By next year, due to a Pentagon order in 2013, this ban on women (like badasses Griest and Haver) is expected to be lifted and gender will no longer determine who can fight in combat.