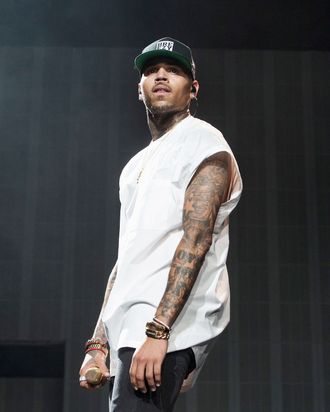 Chris Brown.
Photo: Erika Goldring/Getty Images
Last week, Chris Brown shared with the strange hangers-on to the fan club once known as Team Breezy that he'd be touring Australia in December with his One Hell of a Nite tour. Well, he hoped to, anyway: It's possible that Australian authorities will block his entry to the country.
While Brown has disciples far and wide, Australia senator Michaelia Cash, who is Australia's minister for women, is apparently more resistant to his charms. Because Brown pled guilty to assault in 2009 for beating his then-girlfriend Rihanna, Cash announced at a press conference in Melbourne that there was a likelihood the government would not approve Brown's visa application.
"People need to understand, if you are going to commit domestic violence and you want to travel around the world," she said at a press conference connected to a national domestic-violence program. "There are going to be countries that say to you, 'You cannot come in because you are not of the character that we expect in Australia.'" This is not the first time the Australian government has taken this action. In February, Floyd Mayweather was denied entry on similar grounds.
Cash isn't alone in her sentiments. A petition protesting Brown's tour, one that begins with "No, Chris Brown. You're not welcome in Australia," already has more than 12,000 signatures.