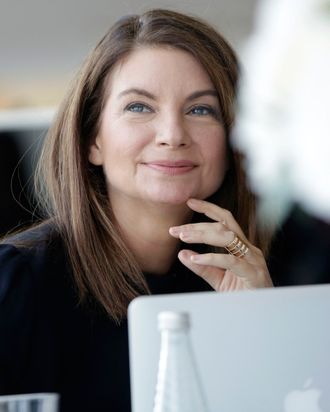 Natalie Massenet.
Photo: Matthew Lloyd/Bloomberg via Getty Images
After rumors swirled yesterday that Natalie Massenet would be parting ways with the company she founded 15 years ago, Net-a-Porter has confirmed, via a press release, that she is, indeed, leaving the company. Said Massenet in the statement, "After 15 extraordinary and exceptional years at THE NET-A-PORTER GROUP, the completion of the merger with Yoox Group is the right time for me to move on to explore new ideas and opportunities."

Speaking to Jessica Pressler for New York's Fashion Issue, Massenet was cagey about her future plans. "Nice try," she said in response to a question about whether she'd remain at Net-a-Porter. And when asked about her reaction to Yoox's Federico Marchetti telling The Financial Times that he would be in the No. 1 spot at the company, she deflected the query.
"I don't think I need to answer that," she said evenly, and continued without changing her tone. "I just have to say that if you are going to pursue this kind of questioning and if your article in any way insinuates any kind of rift or difficulty or am I leaving or am I staying here — I am here to talk about the business. I am chairman of the combined entity, I have a responsibility to a publicly listed company, and I am not here to be gossipy or salacious about anything, and I think it's important that we keep on that tone."
She dropped a larger hint when adding, "Since the day I started the company, I have thought about what it will take for this business to have momentum and keep going forward regardless of who is in the company." Looks like that time has come. As for her next step, WWD says she has a yearlong non-compete agreement with Richemont, so don't expect her to move to another online fashion property anytime soon.