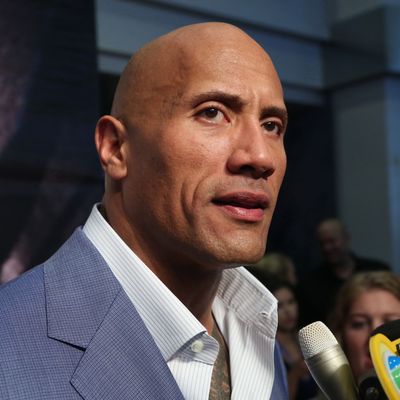 The Rock.
Photo: ChinaFotoPress/Getty Images
Dwayne "the Rock" Johnson is arguably the kindest and most benevolent person in the entertainment industry, if not on earth. How could we possibly know that? From his overwhelmingly positive Instagram posts to his inspirational role as a motivational guide on a show called Wake Up Call to the cheesy face Johnson made when he announced a few weeks back that he'd added two baby French bulldogs to his family. But while the Rock may seem tough as nails and happy as a clam, bad things can happen even to him. Is there any reprieve from suffering?
On Instagram Tuesday afternoon, the Rock shared that one half of the dynamic bulldog-puppy duo he'd acquired only three weeks ago died from eating a poisonous mushroom. This is "another reminder we have to live and love as greatly as we can today, because tomorrow is never guaranteed." Little Brutus was on life support until last night, when the Rock and his girlfriend had to send his little soul to "pup heaven."
Bad things can happen even to good people. Bad things happen even to the Rock. Rest in peace, Brutus.