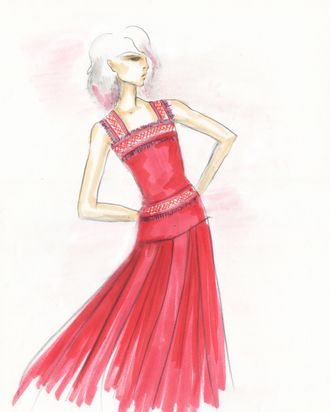 Photo: Courtesy of Timo Weiland
As part of the CFDA's initiative to support New York manufacturing, Banana Republic has partnered with the governing body of U.S. fashion to support emerging designers who work and produce locally. Timo Weiland, the five-year-old label with a history of Garment District production, is the first designer collaboration of the program.
At the outset, the idea seemed like a win-win for everyone: Banana Republic would benefit from Timo's youthful NYC perspective, the partners behind Timo would benefit from Banana's support, and the Garment District would get a little more love. What no one expected was how close they would all become. "This is a lot more intimate than a lot of other collaborations that even Gap has done," said Banana Republic creative director Marissa Webb. "This was definitely more of a mentorship."
Next week during Banana Republic's spring 2016 show, the Timo team — Weiland and partners Donna King and Alan Eckstein — will debut the limited-edition capsule collection that came out of the partnership. Though we haven't seen the full collection yet, it sounds like the dose of young blood has given the quintessential American retailer a bit of an edge; expect body-skimming knits and stretchy silhouettes. "Our mantra is really about creating pieces that we would want to live in and wear a lot," said Weiland. "We've evolved as a brand — it's been five years, and we've expanded and interacted with more women."
Both Webb and the Timo Weiland design team are particularly excited about one firecracker red dress with raffia-fringe trims, seen in the sketch above. The full collection will be showing next week and in stores by March 2016.