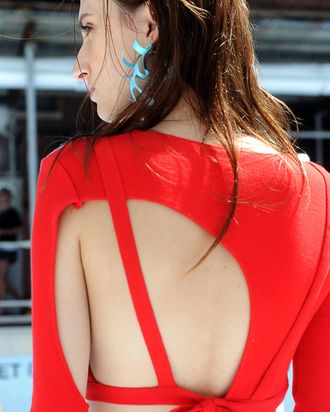 Photo: Diane Bondareff/AP/Corbis
"Why is vulnerability as a woman a weakness?" Chris Gelinas asked rhetorically. "When it's actually quite strong."
The designer was standing inside a deceptively calm walled garden next to the High Line in high season, surrounded by his flowery spring collection for his label, CG. The question of vulnerability was the starting point for a masterful lineup of shirting-inspired dresses whose ease belied their complexity.
"I wanted a lightness, something more delicate this season," he said, to contrast with last season's austere suits and coats. He set out to redefine vulnerability as "an empowering trait," with strategic openings in the garments — slit skirts, open plackets in the backs of shirts, sleeves intentionally undone. Punchy colors — especially grass green and bright orange — leavened the delicate whites.
And Gelinas worked on fabric innovation, like a waxed crepe that everyone could've sworn was leather on a standout full skirt. When everyone is selling strong-shouldered strength and power, it was nice to see a collection that asserted the undeniable power of letting one's private self peek through, just a little.
Four feet below sea level, Rosie Assoulin's mermaids wore her signature sweeping pieces in colors like sea green and shell pink. While Assoulin wasn't asserting anything about vulnerability necessarily, her clothes had some overlap with Gelinas's vision — unexpected openings, overwhelming softness. A shirt slipped off a shoulder to reveal a half-triangle of bikini top, and pants slipped down well below the hips, exposing bathing-suit cutouts.
She showed the collection in a drained public pool in the West Village that was painted with a Keith Haring mural. If that seemed like a strange choice of location for such formal clothes, the designer pointed out, "It weirdly works. Look at that orange" — pointing to a pool umbrella — "and then just look at that." Her gaze went to a pair of swimming trunklike pants in the same hue.
Whether it was intentional or not, the brights of Haring's manic figures were evident everywhere in the clothes. The swimwear motifs came through in the trompe l'oeil outline of a bikini on a long zip-up dress/vest hybrid, and in the low-slung, lace-up pants that existed at the intersection between skater, lifeguard, and debutante.
The best thing about Assoulin's collections is that just when they threaten to drift into straight-up ball-gown territory, she brings in a casual, even silly element to lighten the mood. So, for example, "We have overalls, because I wear them every day and we have to. I just felt like I would be a fraud if I didn't." Her girl wore earrings, designed by her mother-in-law Roxanne Assoulin, for Lee Angel, in shapes somewhere between conches and Matisse cutouts.
So, is she a mermaid? "I don't know what she is. Some kind of glamazon," Assoulin said with a laugh. Click below for the slideshow of her collection, and here for CG.