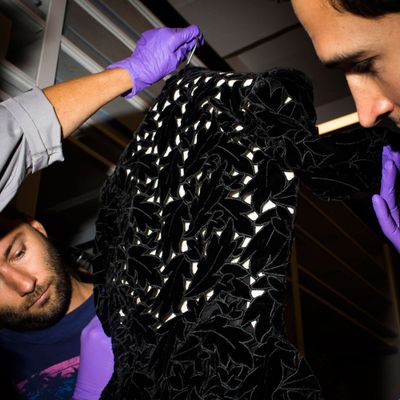 Photo: Landon Nordeman/© Landon Nordeman, ALL RIGHTS RESERVED, 2015.
Fashion films, with their lightning-fast editing and penchant for glitz, don't always show the intense work that goes into making a collection. This season, Proenza Schouler decided to lift the curtain via a photo essay instead. They worked with Landon Nordeman, a frequent contributor to the Cut, on a series of behind-the-scenes process images from fall 2015 that they are premiering this week on their Instagram account. Today's dispatches will focus on art research — designers Lazaro Hernandez and Jack McCollough visited the Helen Frankenthaler Foundation to soak up inspiration for their Abstract Expressionism–driven lineup. Next, Valerie Steele walked the duo through midcentury couture pieces from Balenciaga, Christian Dior, and Charles James at FIT's revamped archive. Hernandez and McCollough had to don gloves to look at one 1938 Balenciaga dress in detail — a piece Steele calls her favorite from the collection, "black as a night without stars." From there, it was on to production of the tweed and feather pieces they debuted at their New York Fashion Week show, and a fashion shoot with W's Edward Enninful.
Why Instagram? Explains Hernandez, "It is a great platform for visual storytelling, and it allows us to communicate directly to our followers and engage." Adds McCollough, "Instagram feels like the most resonant social media platform for us creatively. It has permeated our everyday lives and has become so influential in terms of visual culture."
Watch Proenza's Instagram account for a visual preview, and click through the slideshow to see outtakes from the project.