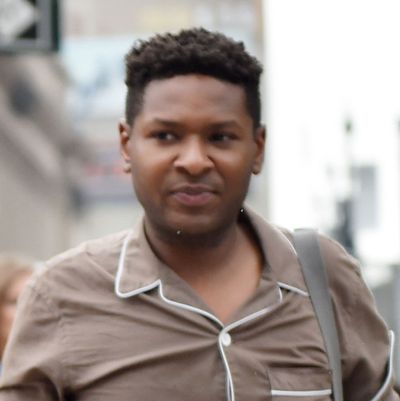 Despite the photos of tall, beautiful, lithe people marching in and out of places you've never heard of before, New York Fashion Week does take place in New York, home of the aggressively friendly bystander. Which means that members of the general public — whether they're dressed in their finest or just living their damn lives — are going to sneak into a few street-style photos. Maybe they'll wind up there by accident, or maybe they'll do it on purpose, like the Karlie Kloss photobomber from early last summer. We've rounded up some of the resulting photos, along with what we imagine they were thinking.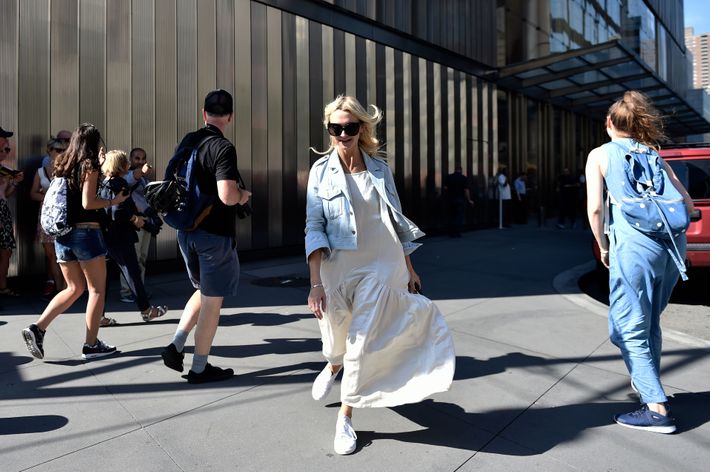 "Hey!" yells the man watching Zanna Roberts Rassi strut past. "I have those very same sunglasses!"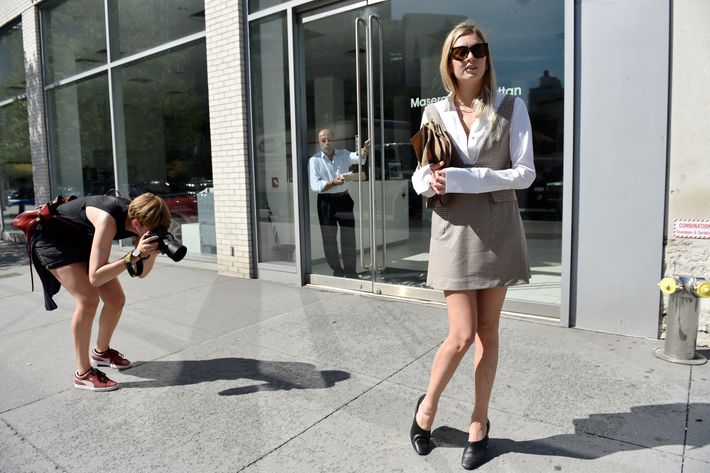 A Maserati dealership employee wonders about Camille Charriere's shoes, "What are thooooooossseee?"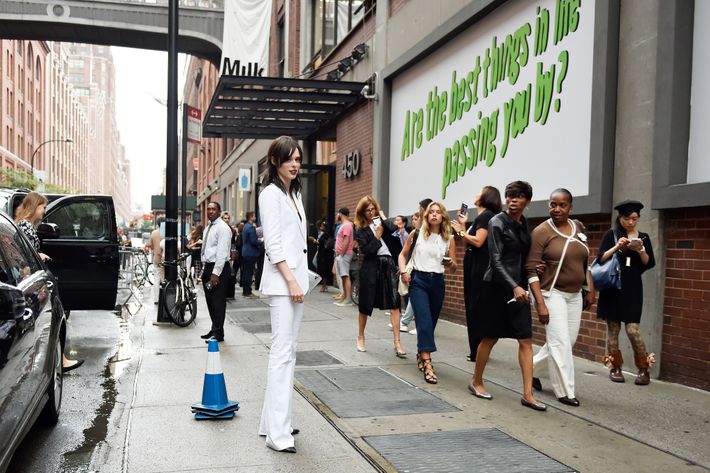 There is only one thing those bystanders could be saying, and that is "I hope she has a Tide pen."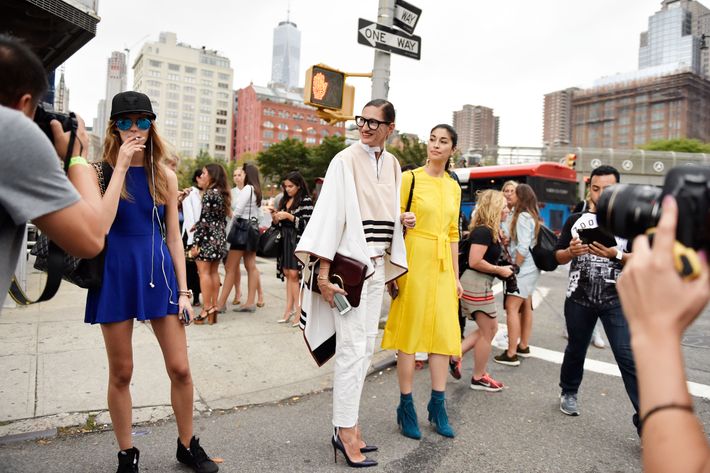 Jenna Lyons, normally the subject of street-style photography herself, takes a backseat to the smoking woman with the attitude, draped coolly in royal blue. Her cape suddenly makes her feel overdressed.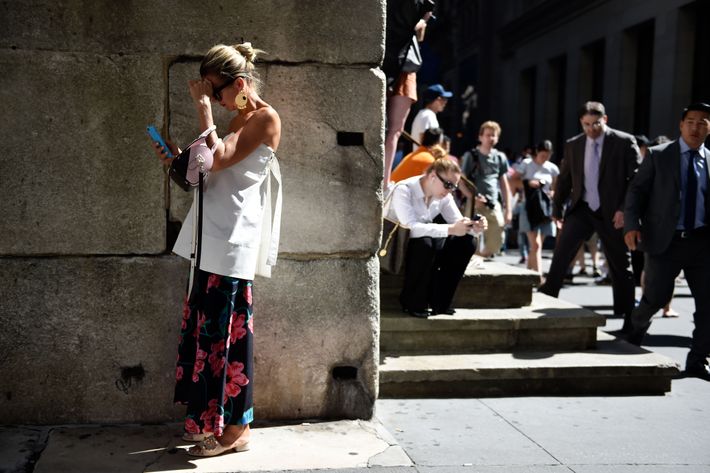 Behind Natalie Joos, businessmen on their lunch breaks stare in envy. "Why do the ladies get to have all the fun?" one ponders as his body swelters in the furnace of his stuffy suit.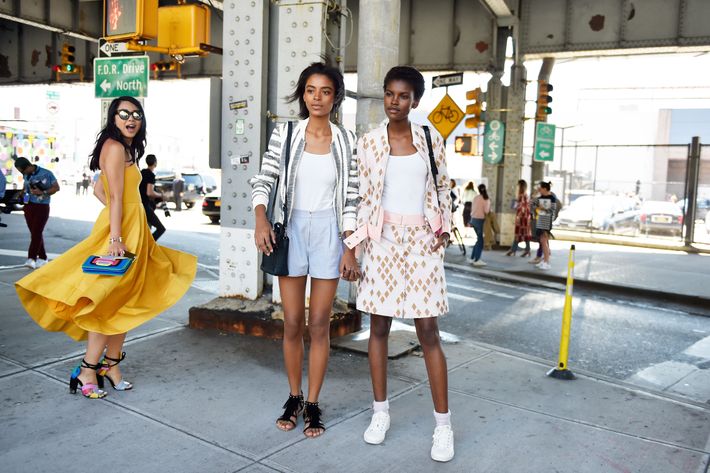 Quarter-turn. Half-turn. Full spin. I thought with certainty that my canary-yellow dress and rainbow shoes would immortalize me in photos for Fashion Week, she whimpered to herself. Instead, she whirled like a dervish in front of the indifferent cameras. They'll surely capture me now!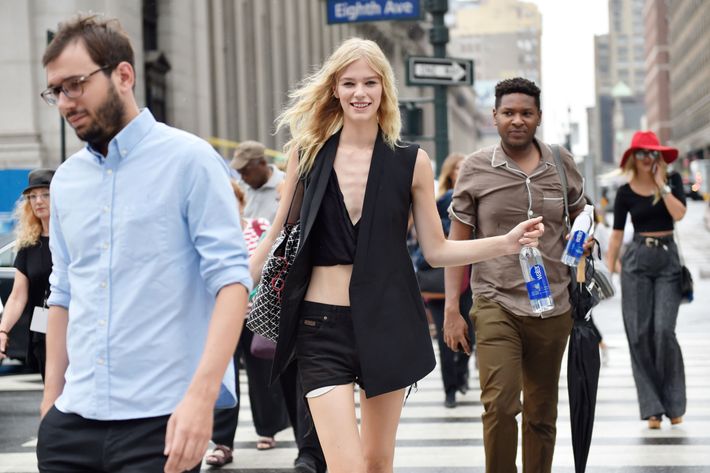 "I love Smart Water!" the blonde model shrieked to the camera. Behind her, a man in brown wrestled with the fact that he was merely a fan of the water brand, not an ambassador, but was being photographed endorsing it. For the rest of the day, he debated the perils of capitalism.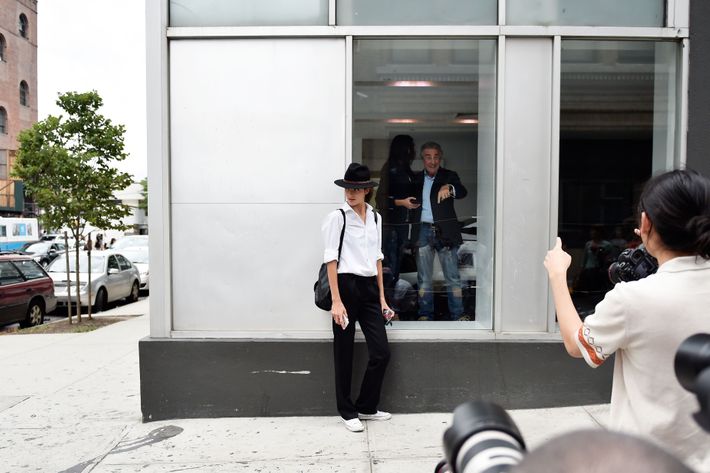 "Me? You're taking a picture of me? Where do I stand? Is this the right spot? Do I look good in this color? How do you want me to pose?" The photographers, otherwise preoccuppied, ignored him.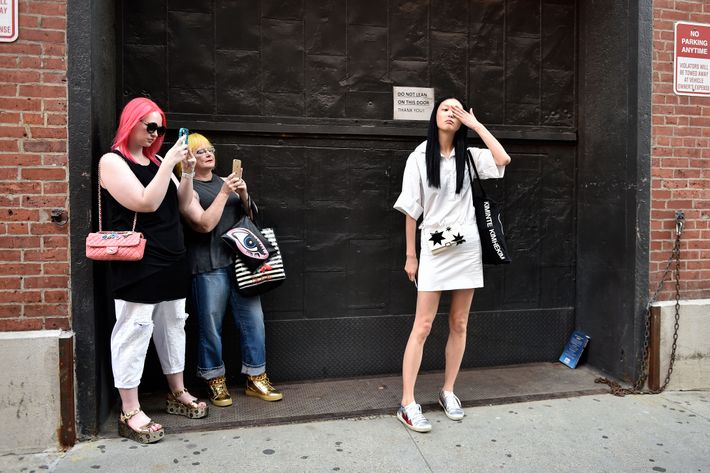 Everyone in the biz knows that the best street-style photo is taken from barely five feet away, with the subject not facing the camera, and with a nimble hand held over the subject's right eye. This is standard protocol.