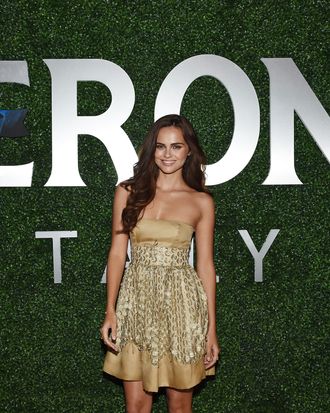 Xenia Deli at the launch of Margherita Missoni's Peroni collaboration.
Photo: Dimitrios Kambouris/Getty Images for Margherita Missoni X Peroni Nastro Azzurro
Xenia Deli, the model who has been thrust into the spotlight after appearing in Justin Bieber's steamy "What Do You Mean" video, turned up in New York on the eve of Fashion Week. Does this mean the Moldova native will be walking the runways? "Let's see," she said coyly at Tuesday's launch party for Margherita Missoni's collaboration with Peroni Nastro Azzurro.
Deli says that job offers have increased since the video hit, but so far, there is no concrete deal she can speak about. But the rush of media scrutiny is real. "I was thinking I would chill today and drink some Champagne, but no, interviews again," she laughed.
Despite the protracted, celebrity-studded "What Do You Mean" social-media countdown leading up to the single's release, Deli says they only shot the video two weeks before it debuted. And she admits some trepidation about the Biebs's bratty reputation. "I was worried when I first got to the shoot," she told the Cut. "You know how stars act like … stars? I was thinking about how I would deal with him for two days. But no, he's so simple in real life, he's so nice, and he's actually a very spiritual person."
And it just so happened that the song hit No. 1 on the Billboard charts that same day, making it Bieber's first No. 1 hit ever. "I'm so happy for him, and I'm proud of him, because he's a very good guy."