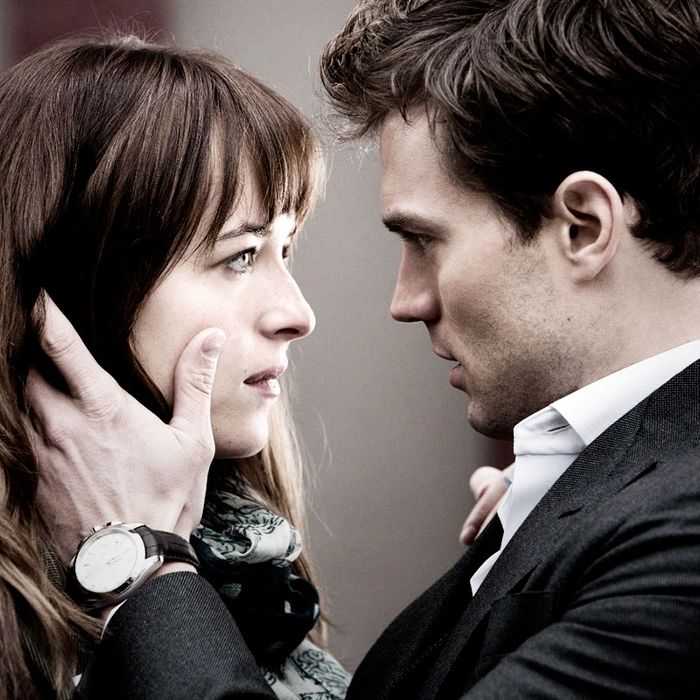 Photo: Universal Pictures
New York's Sex Diaries series asks anonymous city dwellers to record a week in their sex lives — with comic, tragic, often sexy, and always revealing results. Check back Tuesday for your weekly peek behind doors left slightly ajar. This week, a grad student in a nonmonogamous, long-term relationship: female, 31, Queens, bisexual.
DAY ONE
9.30 a.m. Jay is asleep at the far end of the bed. I get up and brush my teeth before returning to bed. Something good, if fuzzy, happened in the night, to the dreamt version of me, and it's left me wanting him.
He scoots closer, and I turn so that he's pressed into my back. I like this way of starting morning sex: mouth on my neck, hands sliding up and under my T-shirt. I come almost immediately in missionary position. It's like my brain fluffed me in my sleep. It surprises me that my body still responds to something as simple as missionary sex with the man I've loved for a decade. For Jay to come … he turns me over and fucks me from behind.
Jay and I were monogamous for the first four years of our relationship, and that changed when I started graduate school for art history. The rules have relaxed over time — from only doing one-off stuff when out of town to having long-standing relationships with people we're even allowed to see on a weekend night. "Open relationship" doesn't quite cut it as a descriptor for us, but "polyamory" has its own pitfalls (do we have to all meet each other and form a poly pack?). Labels matter less to me than behaving in a way that feels ethical.
10 a.m. We lie in bed talking and laughing. We're not living together right now. I've been house-sitting somewhere else for a few weeks. This is a good thing for us, breaks up the routine. I turn on some music.
12 p.m. Jay has a third date tonight with a woman who works in his department. He's nervous. I ask him about his plans and suggest a few bars. This might sound weird — helping your boyfriend come up with fun things to do with the woman he's dating … but it actually feels okay to me. It's harder for men in open relationships to find interested third parties, so I want to be supportive.
1 p.m. Before Jay goes home, we agree that based on these three weeks apart, the decision to become un-cohabitational again is for the best. Better to be opt-in than opt-out. This is why I like the nonmonogamous model: that way, it's a choice to be together, not a given.
3 p.m. I'm on the train to see my friend Kim when my phone buzzes. It's a message from the guy I've been seeing for the past 14 months. It's a photo. In it, he's lying on his bed, shirtless, his jeans partially undone, the outline of his cock visible through them. I've been reading a book, but it's hard to focus after that. This man — I'll call him PG, because he's anything but — likes to know when he's made me distracted. He's very good at it.
5 p.m. Kim apologizes for propositioning me for a threesome with her boyfriend when they were high on coke. She says she just wanted to make his fantasies come true in the heat of the moment. It's no big deal. But I'm curious: Did she ask me because she assumed I'd be DTF (I mean, of course I'd be DTF!) or because they actually desired me?
7 p.m. My friend Helen and I are going out. She is newly single and bi-curious; I'm looking forward to meeting interesting women myself. Unfortunately, we don't find any women to kiss.
DAY TWO
12 p.m Late start to the day. On top of my studies, I work freelance at a large museum, which means I lead a cobbled-together life and spend a lot of time running from libraries to work to school. But my late nights are always free and PG is coming over tonight.
3 p.m. We message about plans for the evening. I suggest nearby bars; he says he thinks there's plenty of entertainment at the house. That's when I know what sort of evening I'm in for.
4 p.m. Skype with a friend in Boston, Tara, who is also in an open relationship and who has recently been having fourgies (four-person orgies). For her, I think the sex is the least interesting part of being in an open relationship. What she likes best is observing people, getting to know them intimately and seeing how they work. Also the anal sex she gets to have (her BF isn't that into it). Fair points, all.
6 p.m. Nervous. Really?  Still? But I can't help it. PG is predictable only insofar as he is always voracious. PG and I met over OKCupid. We agreed dolphins were the jocks of the sea. He sent me a post from a sex blog he used to write. I sent him a recording of my voice as I read from Nicholson Baker's Vox.
I resolve to try to take some control over how it plays out tonight.
8 p.m. He's late, took the wrong train.
8.15 p.m. He pushes me against the wall as soon as he's through the door. So much for my resolve. He kisses me and his hands stray to the low back on my dress.
9 p.m. We sit on the couch, talking, his hands on my thigh, tugging at my necklace to pull me closer … his hands never off me. I like that we can talk. We talk about our weeks, about the proposition I made to him back in May about watching him with someone else, or being watched with/by him.
10 p.m. We actually put Fifty Shades of Grey on the TV. We're kissing, me straddling him, as Anastasia asks what buttplugs are. We burst out laughing. When Christian says he'd like to fuck her into the middle of next week, we turn off the movie. I'm on my knees in front of PG.
He pulls out some travel-size lube. I know what's coming. If he hadn't initiated it, I would've asked. The first time I ever had anal sex, I asked for it. I tend to initiate anal with men, but I don't have to tonight.
12 a.m. First-ever shower together.
1 a.m. We finish the movie. It is really terrible. We keep shouting at the screen: "Go down on her!"
3.30 a.m. He orders an Uber. He's got sleeping problems; I've got sleeping problems.
DAY THREE
11 a.m. Long run. I'm stiff in ways I didn't expect. My shoulders, the backs of my thighs. I like it, though.
2 p.m. I'm buying a coffee when I remember how, near the beginning of the night, PG held my legs open and put his fingers on my clit through my underwear, and said: "I want my tongue right here." Full-body blush.
6 p.m. Jay comes over. I haven't seen him since before both of our dates and we have a very good kiss hello before going out for a few drinks. We talk about the woman in his department. She is dark, sexy, and Latina. I am not those things. Comparing myself to his dates is the one aspect of being in an open relationship that can be tricky for me. It's not exactly jealousy; it's just not healthy to compare oneself to others. Talking about feelings and boundaries, the scheduling, the constant reflection on what you actually want out of your life and relationships, that's the stuff I like …
10 p.m. We're both tired, so it's an early night.
DAY FOUR
4 p.m. Skype with my oldest friend, whom I'll call Raquel. She is also in a nonmonogamous relationship, and is a ridiculously accomplished scientist and is the first woman I ever went down on. We like to joke that it's a lucky thing for our friendship that I turned out to be good at it. Or maybe that she comes easily.
Whenever we find time to hang out, I don't want her to feel obligated to fuck me. Or fuck me and PG — something she and I have discussed. Just as she doesn't want me to feel obligated to fuck her and her BF every time I see them just because I have in the past. Having friends in nonmonogamous relationships means good advice, great stories, and admittedly blurrier boundaries.
11 p.m. PG is heading to Germany tomorrow as part of his sampling-the-women-of-Europe tradition. We text until we both fall asleep.
DAY FIVE
10 a.m. The house-sitting gig is up, and I've moved back into the apartment with Jay for what I imagine is not much longer.
3 p.m. I Facebook-message with a guy I kissed in 2012. It was a good kiss. Apparently good enough for three years of FB friendship, intermittent contact, and one instance where I suspect he masturbated while we chatted. He suggests we meet up "for wine and some small plates." I like how overly specific that suggestion is.
8 p.m. Unexpected argument with Jay about the future. He's finishing up his Ph.D. and will need to move for a post-doc. I can't move for the next couple of years because of the program I'm enrolled in, and I don't think he should take being near me into account when he applies for positions. He says I can't stop him from taking me into account.
DAY SIX
9 a.m. I have a lot of tedious work to do today.
1 p.m. OKCupid message. It literally reads: "Meet now fuck you fill you mouth leave." From an 80 percent match. Grounds for serious self-loathing?
3 p.m. Investigating a website PG told me about, one that was recommended to him for organizing "adult parties" and meeting people for three-ways. Basically it's supposed to be "OKC for sex." It looks like it was made in the very early days of the internet. I browse through a few profiles. So many penis profile pictures. Most people have written so little. I don't get it. Surely the sex would stand a better chance if you made some effort. I do not message anyone on the site. I do message Raquel to tell her about it.
8 p.m. Drinks with a married-but-not-nearly-as-normal-as-she-thinks friend. Slightly drunk on the bus home, I listen to Jagged Little Pill and somehow it still feels terribly meaningful and relevant. Switch to Kanye at the bus stop and walk-dance home.
DAY SEVEN
6 a.m. Weird dreams. My brain is the worst.
7 a.m. Get up. All the coffee.
3 p.m. Music festival out of state this weekend with Helen! We get there and we draw on our faces. We're ready. Helen wants to make out, and we do a little.
4 p.m. I get talking to a photographer in a hoodie. He's based in England and has glitter in his beard. I ask for his phone number, having decided that this will be my thing this weekend: talking to people, making the first move. We agree to meet later in the weekend.
6 p.m. Amazing music and dancing for hours. Helen and I get ourselves into the VIP area.
12.30 a.m. One of my favorite lead singer arrives! I've heard that he's awkward in person, and I usually hate going up to famous people, but I've had enough wine to and decide to approach. He is not awkward. We talk day jobs, pill-dick, and Roald Dahl's erotic fiction. I offer to send him some recommendations for other erotic fiction, because of course that's what one does. He keeps putting his hand on my back. Handshake and a hug good-bye. Resolve to find him on Facebook in the morning …
Want to submit a sex diary? Email sexdiaries@nymag.com and tell us a little about yourself.