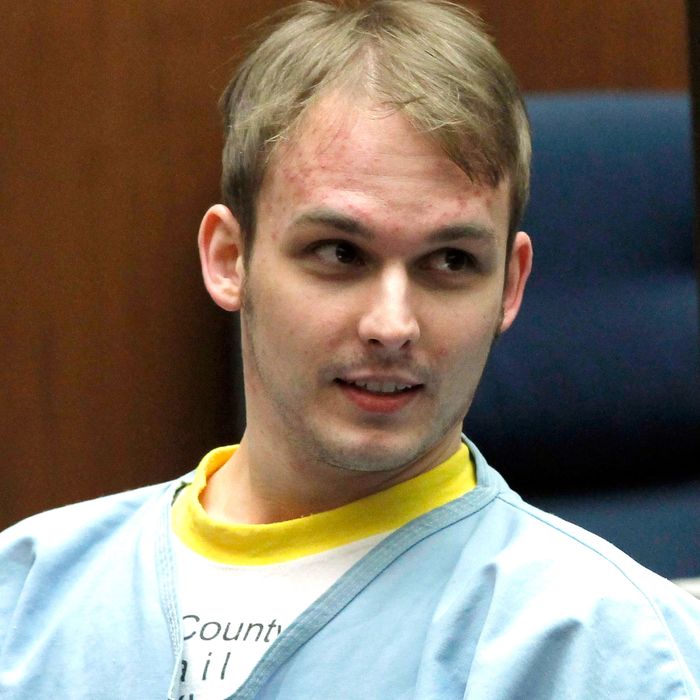 Nicholas Prugo.
Photo: Nick Ut/Corbis
Back in the heady days of 2008, a handful of L.A. teens burglarized the houses of celebrities, earning themselves a cool crew name ("the Bling Ring"), a popular biography, and eventually a Sofia Coppola movie about their exploits. While many of the members of the real-life Bling Ring have changed their ways (Alexis Neiers, she of "four-inch Bebe kitten heels" fame, has a really cute baby), others … not so much. Nicholas Prugo is back in trouble with the law, this time for stalking.
Prugo, who was released from his one-year Bling Ring jail sentence back in 2013, has been charged with stalking and soliciting rape, after Hollywood esthetician Dawn DaLuise accused him of harassing her and her two daughters, as well as framing her for a murder plot of a rival salon owner. Police also say Prugo and another man, Edward Feinstein, posted an ad on Craiglist with DaLuise's name and address, soliciting men to rape her.
If convicted, Prugo could serve up to 14 years in state prison, where he will have plenty of time to reminisce about his misspent youth trying to steal Paris Hilton's dog.