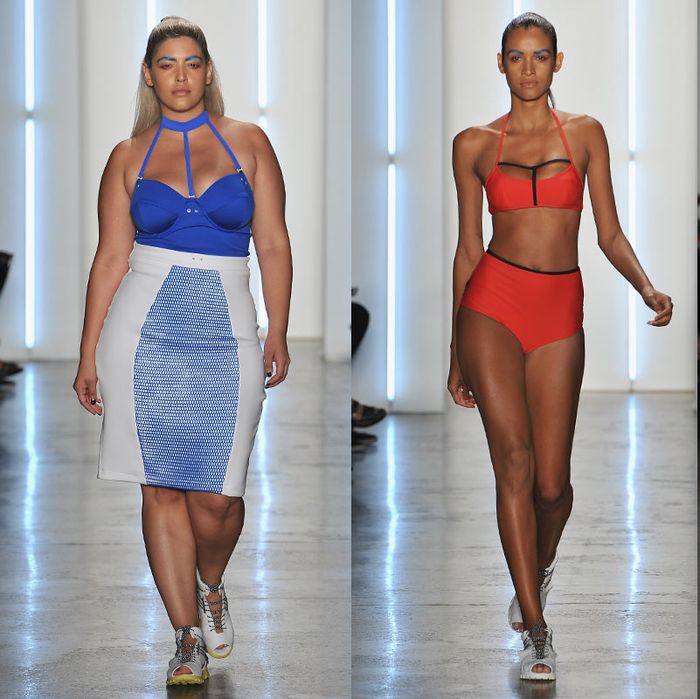 Photo: Fernando Leon/Getty Images
The most striking thing on the Chromat runway (well, a close tie with the huge animatronic wings sported by the finale model) was the casting — a mix of curvy, athletic, and slender bodies that all looked great in designer Becca McCharen's sexed-up athleisure pieces. Backstage after the show, McCharen said that many of the models were her friends, "people that I really love and respect," and that she wanted to "give them the visibility because they should be runway models."
True body diversity is a rare sight at shows, and designers often use the excuse that their samples are a certain size to paper over their use of a size-zero lineup. But, says McCharen, that's all really up to the designer. "It's a matter of whether you choose to use your pattern-making resources for non-straight-size [models]," she said.

But back to those wings. McCharen worked on them as part of a collaboration with Intel. Coming from an architecture background, she is uniquely attuned to the engineering side of fashion. "I expect clothing to do work," she says. "It should respond to the body." So, for example, that crowd-pleaser of a winged gown was engineered to respond to adrenaline, with a band around the ribcage that measured breathing and triggered the movement of the wings. Ideal fantasy evening attire for when you want everyone to know exactly how stressed out you are to be at the party.
Click through the slideshow to see all the looks from the Chromat spring 2016 runway show.