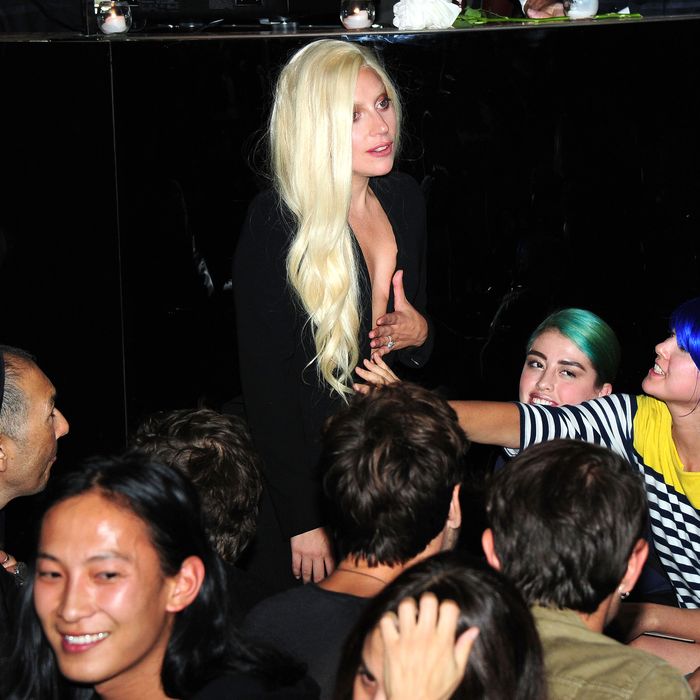 Lady Gaga at Brandon Maxwell's debut show.
Photo: Patrick McMullan
"Ya got mah grandson's name on ya britches," said a chic white-haired woman with a deep-in-the-heart-of-Texas drawl. She was addressing someone in the crowd gathered outside Mr. Chow, who had affixed his Brandon Maxwell backstage pass to the knee of his pants.
It was an early sign that Maxwell's debut show would be a friends-and-family affair: It was significantly smaller than the typical runway show, with attendees sitting on café chairs and sipping Champagne. However, those friends included Lady Gaga, whom Maxwell has styled for three years; Nicola Formichetti, Gaga's onetime stylist and Maxwell's former boss; Alexander Wang, Steven Klein, and Inez van Lamsweerde and Vinoodh Matadin.
Maxwell, despite technically being a newbie on the calendar, is far more entrenched in fashion than the typical first-timer. "Everyone that's sitting at the show, I know [personally] in some capacity or another, I've worked with or has helped me," the designer said pre-show, looking serious with his salt-and-pepper hair and oversize Prada glasses.
And they weren't just there to passively take in the show — Maxwell was blessed with a hands-on crew. "Nicola's fixing the lighting, Inez is looking over the hair, Gaga is going through the run of show and talking to the girls," he said. "How much better can it get? It makes me feel more safe."
Indeed, before the show, Gaga could be seen walking around, unrecognizably casual in wide-legged pants, and she had spent the past week chronicling every detail of the show prep on Instagram, from padding the models' shoes to last-minute sewing. Minutes before the show was set to start, she reemerged in a low-cut black jumpsuit of Maxwell's design and heavy liquid liner, escorted by Formichetti. She implicitly declined interviews by bookending herself with two large bodyguards throughout the night.
But other attendees were more than happy to sing their friend's praises. Van Lamsweerde said she'd prodded him to start designing on his own.  "He's always worked dressing other people, in other people's clothes," she told the Cut. So when they were on vacation last year, "I said, 'But who is your woman? Where do you get your inspiration?' And then, 'Maybe it's about doing a collection. Maybe it's about going for it.' Because he was saying, 'I don't have a chance to really express myself.' A year later, we're here, so I'm really excited."
"He's one of the sweetest, most down-to-earth, real people I've met in this industry," said Wang. "He's such a nervous wreck. I told him, 'The clothes are beautiful. You have nothing to worry about.'" (Was this a rare Upper East Side excursion for the downtown darling? "You know what, that's so funny. I love uptown!" he said. "I love freaking people out when I'm up here.")
Formichetti was, in a word, verklempt over the collection. "The way it's made, it's so exquisite. I was breathless earlier," he said. "It's very Brandon. It's very minimal, sophisticated, and glamorous. We had so much fun together making crazy things and I'm so proud of him — I — I — I'm gonna cry!" He made it through dry-eyed, though Gaga was seen wiping away tears during the show's finale. Apparently, there is crying at Fashion Week.
Despite the Texan twang, Maxwell has spent a fair amount of time uptown, which is why he chose to show on the Upper East Side rather than one of the standard far-west Fashion Week locations. At 18, he moved to the neighborhood from Longview, Texas, to attend college at Marymount Manhattan. "I'm not a very downtown person," he admitted. "I like the sort of old-school feel of it." Grandma was just one of what he joked were "43" Texan grand dames in attendance; she ran a clothing store where Maxwell used to spend his time every day after school. "I grew up under a clothing rack with her," he recalled. "Growing up in a small town, shopping at Bell's and JC Penney, I really understand when a woman goes in and really puts her money down."
And so the collection was notably understated, coming from someone who looms largest in the cultural imagination for creating a meat dress. Clean-lined jumpsuits and gowns in black and blush predominated; the only hint of pop-star-stylist antecedents were the extremely low-cut necks. One bubble-sleeved gown nearly brushed attendees as the model walked down the narrow aisles to the strains of Edith Piaf and Billy Joel.
When Maxwell graduated from high school, Manhattan-bound, his beloved grandmother threw him a party and hired a singer who performed "New York, New York." "'If you can make it here, you can make it anywhere.' And here she is watching me tonight," Maxwell said. "Who knows if I'll make it, but I'm really happy to be in New York doing what I love."
He looked out at the crowd of well-wishers. "I might not ever get a wedding, but this feels like that moment."