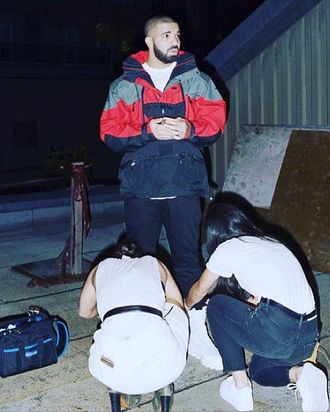 Drake.
Photo: champagnepapi/Instagram
Oh, Drake: our luscious friend, our playful enemy, our millenial life partner. Yesterday evening it was revealed that the boy was the 100th cover subject of The FADER, a fact we celebrated by texting our exes "U up?" and declaring "What a time to be alive" into our empty, lonely rooms. And it is, because the shoot yielded a rare insight into the life of Drake.
A curious outtake from the shoot appeared on Drake's Instagram today (above). In it, two women, presumably stylists, are kneeling before the man. Are they genuflecting? Are they fixing creases in his pants? The caption told another tale, perhaps exposing a problem with the Canadian educational system:
*Canadian flag emoji* *diamond emoji*
I can't tie shoes
*Canadian flag emoji* *diamond emoji* 
Drake removed the photo an hour later. Did he prefer to not be seen having minions tie his shoes? Was he worried about losing his authenticity — more precious than diamonds? Or was he afraid his fans might discover that, despite his skills at rapping, acting, and pouting, he truly never learned how to tie his damn shoes? We will never know, although the fanfiction possibilities are endless.
Thankfully, for Drake and for us all, the internet exists.