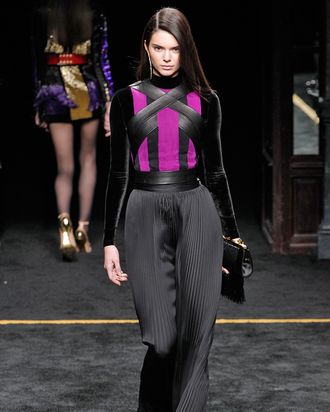 Kendall Jenner.
Photo: Victor VIRGILE/Gamma-Rapho/Getty Images
Wondering whether Gigi or Kendall will be the catwalk queen this fashion month? Not to worry, science has the answers. Researchers from the Indiana University School of Informatics and Computing geeked out on predicting which models would rule the runways (or, in the words of Emilio Ferrara, the school's research assistant professor, "the social and professional determinants of success in the fashion industry").
Here's how the study worked: Between September and December 2014, Ferrara and co. culled Instagram and the Fashion Model Directory for intel. From the former, "we counted how many posts the models did, and how many likes and comments each post would get, on average," Ferrara tells the Cut. Then, using the directory, "we collected the data on their portfolios: how many runway walks the models had already done, and a few other figures such as height [and] shoe size."
The team then fed this data into multiple algorithms. They were able to predict a model's popularity — as defined by runway walks in the subsequent February and March shows — with 80 percent accuracy. Unsurprisingly, more likes and more frequent posting correlated with success, while the tone of comments did not seem to affect things one way or the other (after all, with popularity on any scale, you're going to attract a few haters). Because any finding worth its salt needs a catchy name, they've dubbed this phenomenon "the Kendall Jenner effect."
Getting paid to look at supermodels' Instagrams is indisputably not a bad gig. And social media is certainly determining more and more of models' success. One caveat, however, as someone who's been following models nearly as closely, if less clinically, as these researchers have: Walking the most runways might make you popular, but it doesn't necessarily make you an elite model.
Exclusives (in which a designer has dibs on a model for the entirety of a fashion week or month, effectively benching them for other shows — Prada is a big proponent of this approach) are a high-status gig for models and can lead to lucrative campaigns in the long term, even if they cut down on their catwalk mileage in the short term. And walking in an important show, especially as the opener or closer, can make more of an impact than walking ten lesser runways.
It also bears repeating that the runway, while incredibly glamorized, isn't necessarily essential to success as a model — Gisele, the sector's highest-paid talent for many years running now, rarely sets foot on a runway these days, and when she does, it's headline-making. Just something to keep in mind for next semester, guys.