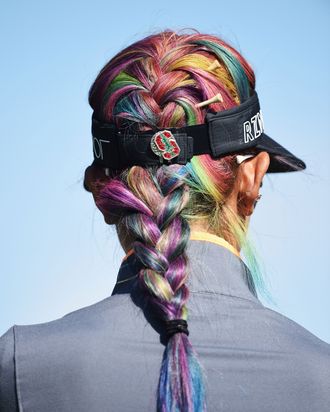 Michelle Wie's "unicorn" hair.
Photo: Stuart Franklin/Getty Images
Golfer Michelle Wie, 25, is competing at the Evian Championship near the French Alps (the last major in this year's LPGA Tour) wearing a pink-and-camouflage high-top golf shoes and magnificent Technicolor strands that she appears to have dyed herself ("Project Unicorn"). It's the latest in a series of hair changes for the 2014 U.S. Open winner, who's struggled with injuries this year: She tried purple in May (#stresshair) before going blonde about a month ago. Wie showed off her rainbow color on Instagram last week, but it looks even more enchanting in a French braid.