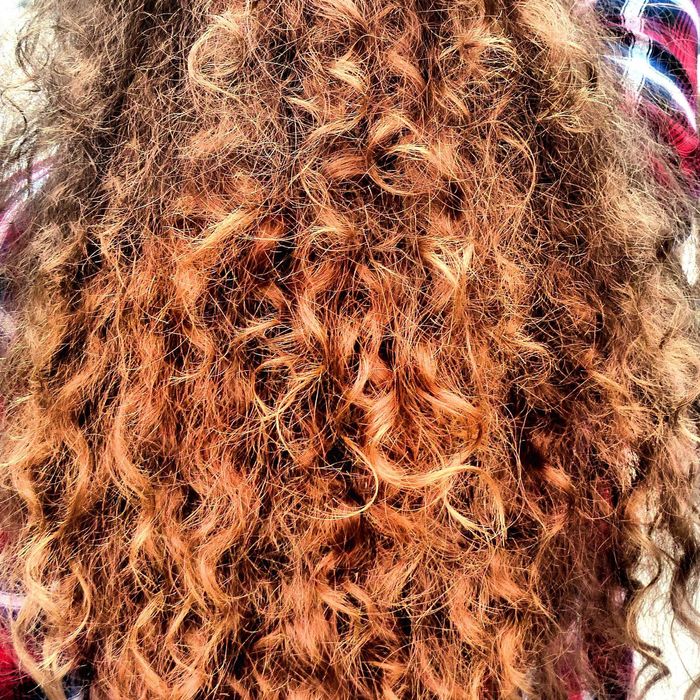 Photo: Flamell/Getty Images
If your hair is curly and you'd rather it wasn't, you have a number of options. Professional-grade flat irons reach up to 450 degrees, burn your hair into straight submission, and are available for about $100 (and up). If you'd like someone else to do the work for you: There are keratin treatments, which chemically smooth hair for about ten weeks, or hair-drying salons like Drybar, dedicated to leaving customers sleek and frizzless.
Opposite in ethos of these curly-to-not treatments are the products and companies urging customers to embrace their curls: Lines DevaCurl and Ouidad specialize in curly-hair care, while more general brands like L'Oréal Paris have added curl-specific products. And out of a long-standing beauty industry catering to women of color, new treatments and products have emerged, such as Folake Oguntebi's GoodHair Salon, a drybar specializing in natural hair.

More than ever, hair happiness, via money and time, seems to be widely available to curlies (especially to white women, who have an easier time sidestepping race-related political and historical baggage in their styling choices). But I've noticed that the curl-positive and the curl-negative alike often serve their hair feelings with a side of angst.
Angst, in general, features heavily in Rachel B. Glaser's intense and wholly original debut novel, Paulina & Fran. Students at a New England art school, Paulina and Fran are busy wondering how they fit into the world as artists (Fran is a painter, Paulina an art-history major), lusting after mythic-seeming fellow students, and doing the very serious work of dancing hard at parties. While Paulina is brash, outspoken, and determined to give life to her fantasies, Fran's existence is quieter, content to dwell in daydreams. Friends for a brief, explosive burst, Paulina and Fran share a defining physical trait: curly hair.

Glaser's novel is definitely curl-positive. On page one, Paulina touches her own "elegant auburn curls" and calls curly hair "the hair of creative geniuses" and "the mark of originality in a woman." Our first glimpse of Fran finds her dancing alone in front of a just-shattered mirror, its shards reflecting how "light, curly hair whipped across her forehead." Glaser's protagonists aren't above caring how they look — they both spend quite a bit of time defining themselves by what might be in the mirror. But looking beyond their own moods and actions to achieve a certain reflection never seems to occur to them. When it comes to their curls, Paulina and Fran take no direction.

Real-life curly-haired women (at least in the annals of fashion journalism) tend to crave a little more guidance. In 2011, the New York Times published Judith Newman's "Making Waves, With No Apology." Newman chronicles her own path toward curly-hair acceptance alongside our culture's; in the end, she arrives someplace positive, but it takes a journey to get there. Three years later, the Times published "Curls Get Their Groove Back," taking on curls as a trend (and making me wonder where the groove had previously gone). But the apparent trendiness is not without struggle: There are stereotypes to overcome ("loopy and zany and can't be taken seriously"), ignorant stylists to avoid, special products to seek out. Fashion-website owner Claire Mazur says of curly-hair care that "there's such a connection over the pain of figuring it all out."
Almost eerily, a quote from Drybar founder Alli Webb, in Taffy Brodesser-Akner's Times profile of the blowout business, echoes her words: "… there's girls like me, who have curly hair, who have been figuring out this their whole life." It's striking that two women with drastically different curl philosophies — one curling them tighter, one blow-drying them into oblivion — chose the same language to describe their relationship to their curls. What is it about curls that takes so much figuring out, that leaves such a mark?

Glaser's world has its share of curl struggle. (Once, Paulina's curls "had been a ball of frizz. In the bathroom, she'd try to mat it down with water.") But there's less of a sense of cultural forces at work here. The characters aren't looking outward for cues about how to look; and if curly products dissatisfy them, they don't waste time complaining. In fact, like Drybar's founder, Paulina takes it upon herself to fill a need: In her case, this is making homemade hair products.

At this point, I have to wonder about women without curly hair. Straight-haired women: How does it feel? What struggles have you undertaken to be you, and do you have the right hair products? Is your first thought upon seeing a curly-haired woman I hope she's not too zany? I have curly hair, and I would like to know.

The current curly-hair climate insists that an attitude adjustment can make curly hair okay (especially with the right products). But why the attitude adjustment, why the journey, why pile on the products? I love that these aren't considerations in Rachel Glaser's novel: Rather than emphatically bestowing curly-haired power on the crowns of these young women, this book does not acknowledge a world where it isn't there already.
Their curl faith persists even in the bleak world beyond art school, where Fran lands a boring full-time job writing test questions and Paulina, fired from a restaurant job, successfully pitches her line of homemade beauty products to a beauty investor.

After discovering Paulina's curl-world success, Fran asks a hairstylist to permanently straighten her hair, a process, he cautions her, that "erases your hair's memory." She travels to New York as a flat-haired Fran unsure of who Fran is, wishing she could go back to her curls. Curl evangelist Paulina, staring at the unrecognizable Fran hesitating in her lobby, considers the possibility of this young woman with straight hair. Paulina is lonely enough to open herself to this possible companion, while Fran herself hesitates.

What neither young woman fully realizes — yet, I think Glaser is gently telling us — is that the very nature of curly hair rejects all equations. It does not absolutely require tools to solve it, or some remapping of outside notions. I would go as far as to say the concept of curly hair as a finicky animal is misguided. It seems to me that curly hair can mean and be many things, can go in many directions. Even, should you feel like it, straight.