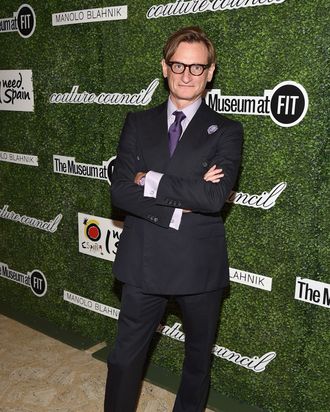 Hamish Bowles at the Couture Council's luncheon honoring Manolo Blahnik.
Photo: Bryan Bedder/Getty Images
Shoe designer Manolo Blahnik was honored at a Couture Council luncheon earlier today, and while all the women in attendance were reminiscing about their first pairs, whom they'd received them from, or where they'd worn them, Hamish Bowles had the best memory of all. "I had a hysterical moment, never to be repeated, of going to the movies with Manolo," the Vogue editor told the Cut.
It happened in the 1980s, when Bowles was working at Harpers & Queen. "I can't remember what movie we saw, but nothing terribly good, because it was completely eclipsed by his performance during the movie," he said. "It was only after that that I realized he had been banned from every movie house in the greater Kensington and, in fact, wider London area, because he keeps up this incredible, Blahnikian running monologue at very high pitch, primarily focused on the feet of the protagonists in the movie." Bowles added, laughing hard at this point, "But it was truly, truly, unforgettable.