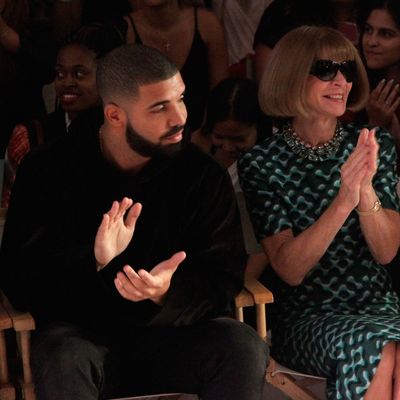 Drake singing the lyrics to "Best I Ever Had" in his head.
Photo: Thomas Concordia/WireImage
Drake — looking swoll, clad in a black velour hoodie, probably smelling of Tuscan Leather and our unrealized sexual fantasies — sat next to Anna Wintour in the front row at the Serena Williams for HSN presentation today, providing ample eye candy for an audience (me) who struggled to stop watching him during the whole show.
We've all witnessed Serena's rumored manfriend watching his Goddess for the past few months, even if neither of the two will admit they're dating. Recent footage of the two sucking face might serve as proof enough, but we still chose to stare at him unabashedly during the show to see if his eyes would confirm what his mouth will not. (No other reason, just want the facts.)
Drake managed to maintain a cool, calm, and composed demeanor as models sauntered down the runway in Williams's backside-friendly designs (lots of low-back gowns, fringed skirts, and leather leggings). Nobody could tell if he was imagining Serena's butt in all of the short-shorts, or if he was resisting the urge to stand up and cheer at every look, or cursing himself for not bringing her flowers. He remained sphinxlike, even when two of his songs, including "Hotline Bling," were used in the runway soundtrack. (Dude, that's love.)
It wasn't until Williams appeared to take a bow, and Gigi Hadid leaned over and whispered something to him, gesturing toward Williams as she walked off the runway in a butt-baring fringe skirt (we imagine she said something like, Dat ass, or: You don't deserve dat ass) that Drake cracked a huge, adoring smile, and hustled backstage.