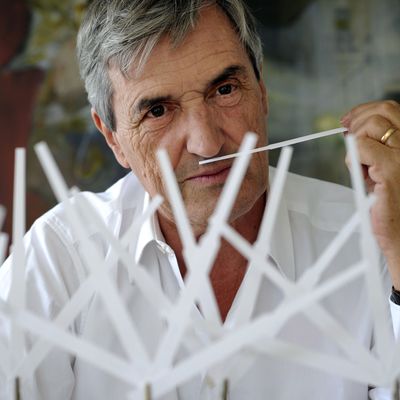 Perfumer Jean-Claude Ellena of Hermès.
Photo: ANNE-CHRISTINE POUJOULAT/AFP/Getty Images
About a year ago, the perfume industry buzzed with the news that Hermès's legendary in-house perfumer, Jean-Claude Ellena, was getting a partner. The brand has appointed Christine Nagel, who created Narciso Rodriguez for Her and many Jo Malone fragrances, to join Ellena as part of its in-house team.
A year since that time, the two have grown so comfortable together that they finish each other's sentences. In town to celebrate the new Hermès Parfumerie at 225 Liberty Street in Brookfield Place, Ellena and Nagel talked to the Cut about why they don't believe in marketing and why fragrance is inherently selfish.
Why is perfume a good vehicle for storytelling?
Jean-Claude Ellena: You need a story because people are looking to make sense, to have meaning. If you can go into the shop and you know what you want to buy and you buy it, at the end you buy a product. You don't buy a story. You don't buy something that says something to you.
I believe people are more looking for things with meaning. Behind the perfume, it's years and years of work. We have to talk about this work and we have to talk about the story. We don't have a marketing approach at Hermès, so we don't care about the markets. We don't make the market tests. When we are sure of what we've done, the perfumer presenting the decision to put this product on the market puts this perfume on the market.
But perfume is a product as well, right?
J.C.E.: Of course it's a product, like a painting, like music, but it's not only a product. If it's just a product, it's not anything at all. For example, a soap is a product, not a perfume.
What makes soap a product and not a perfume?
J.C.E.: Very simple. Soap has a function. Perfume does not have a function. It's more than a function. It's not necessary. It's not particularly useful. In Hermès soap, the concentrate of the eau de toilette is in the soap. This is exceptional. We are the only company in the world that would do this kind of thing. We put in the soap, the costs of the eau de toilettes.
What do you think makes a perfumer a good storyteller?
J.C.E.: A perfumer is always a better storyteller than marketing because he made the product so he knows what he put in the perfume. He knows what thought came from him and is in the perfume. So for this reason, he's a storyteller. The marketing approach is to reach a certain type of people or a certain type of class. It's an economic approach and not a poetic approach.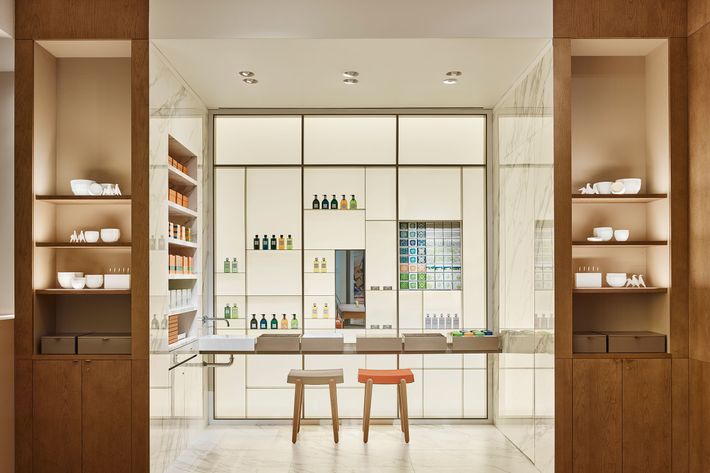 So when you're starting with a story, you start with the name and title first?
Christine Nagel: Yes, for me it's the beginning of the story. I can spend hours trying to find a title and then I will add textures. I will add colors. I will add all the things that are very personal, and that's how the story happens. To create a perfume is to tell a story. Every one has its own way of telling a story.
How has your working relationship changed? I know when I first met you it was kind of still new?
J.C.E.: Want the scoop? We're in love! [Laughs.] We're better and better. We love each other.
C.N.: Hermès gave me the time to explore the story of the company and that is how I evolved and now I am ready to create my first fragrance, which will launch in January.
J.C.: She arrived more than one year ago, and at Hermès, we give the time. No rush, take your time, really take your time. Understand Hermès. Understand Jean-Claude. This is my time to understand her. There are no deadlines, so really take your time. We have time to do things. Hermès has been alive since a long time.
How do you consider yourselves to be different from each other?
C.N.: Like you have two painters, two different painters, two different artists. We are both perfumers but I have a very different approach. I like to exaggerate certain things, and push things, I am very tactical. I look for unexpected things. I like to play with colors. Maybe because I have a science background, I like to have a microscopic approach and really look at things and explore it. We talk about physical perfumery, essential perfumery, exploring the physical contact with the skin. A perfume is intellectual anyway because you think of a perfume with your mind. So first you think of it and then you write about it.
J.C.: Her approach is very physical. My approach is very intellectual. So both, maybe we can do something.
When you're talking about the perfume's feel, what kind of feel can a perfume have on the skin?
C.N.: When we see a perfume, we don't see it as something that is flat. We see it as something that has structures. There's a very specific relationship between the perfume and a human being and the skin. It's really something that's not tangible.
Jean-Claude, you have said that for you a key aspect for perfumes is forgetting. Why do you think creativity is linked to forgetting?
J.C.E.: The physical nature of the perfume is that it evaporates, and disappears. Nothing can prevent the perfume from disappearing. Because it disappears, if you want to find that sensation, that smell again, you have to perfume yourself again. It's the same thing with food. It's more interesting because you take a spoon and taste something and the actual taste only lasts one or two seconds, no more. But you start again, and you eat again. To start again and again and again and again until you are filled up.
C.N.: So it's very important to work on the first impression if you want the strongest smell. This can be very addictive actually and overwhelming. It's very selfish, the desire to spray yourself. It's just for you.
Is perfume selfish?
J.C.E.: Why, of course.
C.N.: It's even narcissistic.
J.C.E.: Because perfume is your image so you look at your image. It's like a mirror.
C.N.: It's impossible to wear a perfume that you don't like. If you took more time to smell people rather than looking at them you would understand them better. If you took the time to do that.
In what way?
C.N.: The trend is pink, then everybody's going to wear pink. If you have a perfume you don't like you're not going to wear it. The relation to the perfume is somebody that's very human. When you don't love a man anymore you don't love his smell anymore. Every time I wasn't in love with someone anymore I realized that I didn't like the smell anymore. It's very important.
What if you meet someone and you don't like their smell?
C.N.: You will never be with that person, it's impossible.
J.C.E.: No way. You have to like their smell.
This interview has been condensed and edited.