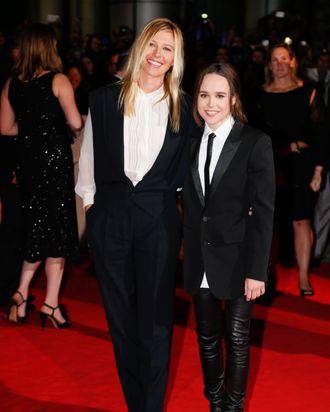 Samantha Thomas and Ellen Page.
Photo: Bernard Weil/Toronto Star via Getty Images
While the Big Apple is preoccupied with the goings-on at Fashion Week, our Canadian friends have been celebrating their own major yearly event: the Toronto International Film Festival. At times, it can be hard to tell the two apart. At a red-carpet event for her forthcoming film Freeheld, Ellen Page stepped out in a YSL tuxedo so sharp it was as if she'd swapped TIFF for NYFW.
Oh, and one other thing: This is the first time Page has brought her girlfriend, Samantha Thomas, to the red carpet — and Thomas stepped up for the occasion by wearing her own tux, taking couples cosplay to a whole new glamorous level. "I'm in love!" Page declared to E! News with a big smile. Freeheld is an independent drama about a lesbian couple fighting government bureaucracy for recognition, a noteworthy premiere for making a relationship Hollywood Official. "Walking down the carpet holding my girlfriend's hand is pretty special," she said. "It's pretty awesome."
Love looks good on everyone.