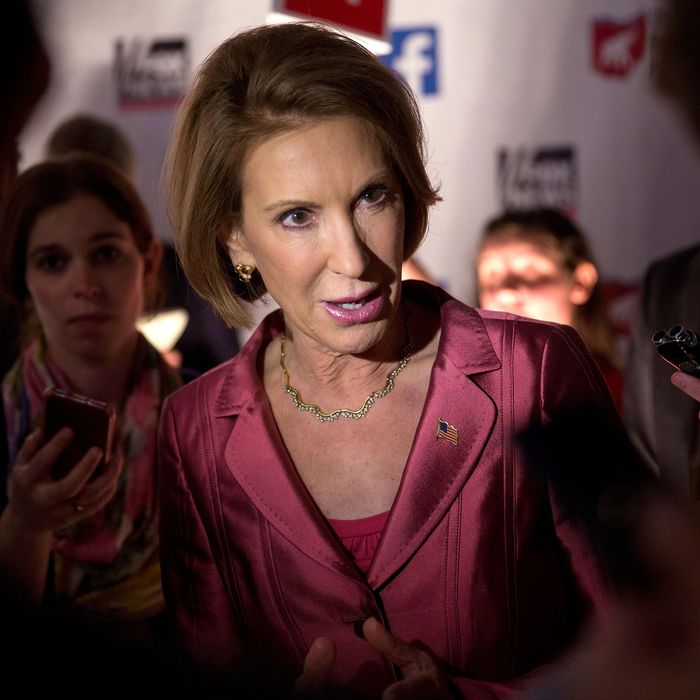 Photo: Andrew Harrer/Bloomberg Finance LP/Getty Images
This week, surging Republican presidential candidate Carly Fiorina offered some praise of Democratic candidate Hillary Clinton. "She's smart, she's hardworking, she's giving it all she's got," Fiorina said of Clinton. "I feel empathy with every woman who is working really hard and giving it all they've got — and Hillary is."
It's not the first time Fiorina used the word empathy about Hillary Clinton. Back in 2008, after Clinton failed to clinch the Democratic presidential nomination, Fiorina said, "I have such great admiration and empathy for Hillary Clinton." Fiorina then went on to talk about how Clinton and other powerful women are "characterized, scrutinized differently than their male counterparts are."
But that's not all.
When asked about Ben Carson's comments that a Muslim should never be president of the United States, Fiorina disagreed, telling Jimmy Fallon that whatever a leader's particular religion, "faith gives us humility and empathy and optimism and I think those are important."
Earlier this month, after Vice-President Joe Biden spoke tearfully about the death of his son Beau on Fallon's show, Fiorina spoke in an interview about her own loss of a child and her battle against cancer. "I have great empathy for Joe Biden," Fiorina said.
In April, trying to distinguish herself from Mitt Romney — another CEO who recently tried (and failed) to become president — Fiorina said that policy matters in campaigns, "but I also think empathy and connection are hugely important." Romney didn't have it, but she does, Fiorina asserted.
And in 2013, Fiorina — who infamously fired 30,000 workers while the head of HP — spoke on an academic panel about bringing more compassion to the business world. Fiorina reportedly praised Steve Jobs's empathy for Apple customers.
Empathy is an interesting word to frequently wave for a conservative female candidate who has eschewed identity politics on her own campaign website while simultaneously implying Donald Trump's attack about her face was sexist and using it to score points with women voters.
The word empathy originally derives from Greek, meaning "feelings" — or even, in a more highly gendered variation, "passion" or "a state of emotion." This is a common charge against having women in leadership positions — that they'll be too emotional, a mess. At the same time, this definitively essentialist presumption about women is often harnessed by feminists and women leaders themselves to make the case for female leadership — that more emotional, sensitive, feeling leadership is a good thing. Is Carly Fiorina implicitly or explicitly adapting this argument to promote her own leadership and candidacy? Perhaps. 
Just as interesting is the way Fiorina uses the word empathy, though. Usually compassion is one of those "show, don't tell" kinds of things. Saying something like, "I can only imagine how Joe Biden's heart is breaking into a million pieces over and over again," with genuine concern and feeling in your heart (and your eyes and your face) — that shows people you're feeling empathy. Fiorina says "I have empathy" so frequently that it begins to sound more forced than, you know, empathetic — that she in fact decided the cold, calculating CEO Romney didn't win because people didn't think he was an empathetic person, so Fiorina has decided, instead, to very consciously and deliberately tell people she is. "I have empathy" is like a Sally Field–at-the-Oscars sort of move of desperation: "Like me, voters! Please! I have empathy!"
In its earliest uses, empathy was apparently popularized in art discourse — as a term "that maintains appreciation depends on the viewer's ability to project his personality into the viewed object." Can voters project their own hopes and dreams onto an elitist business executive who has the audacity to run for president after firing 30,000 Americans and running her company into the ground? Something tells me no, no matter what words she uses.